Dr. Aubrey Engel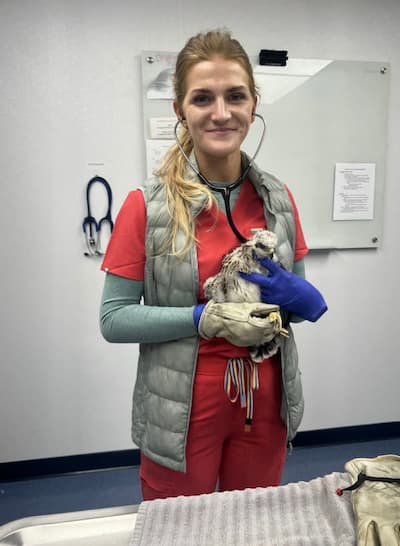 Dr. Engel has been our Zoological Medicine Specialty Intern since August of 2022, and she will be moving on to our anesthesia service at the University of Illinois Veterinary Teaching Hospital to complete a one-year specialty internship. When she talked about her favorite memories of the Wildlife Medical Clinic (WMC), she said, "Working in the WMC for the last six years as an undergraduate, then vet student and team leader, and now a house officer, I have made SO many favorite memories! I love teaching, so many of those memories are associated with teaching students new skills or about new species. I have really enjoyed surgeries like wing fracture repair and turtle shell repair procedures!!"
She is also deeply passionate about zoo and conservation medicine, as well as anesthesia and pain management. She shared with us her passion and plan, "My overarching career goal is to make an impact in the conservation of endangered and vulnerable species. I look forward to finding ways to do this by combining those passions in clinical practice." Dr. Engel also emphasized that she believes "anesthesia plays a vital role in our ability to care for zoo and exotic patients, and I am eager to become more proficient in this area of specialty."
---
Dr. Danielle Lang
Dr. Lang is our first-year Zoo and Aquatic Animal Resident since August 2022, who will be moving on to Shed Aquarium and Brookfield Zoo to continue her next two years of residency. When asked about her favorite memories at the Wildlife Medical Clinic, she shared some of her favorite surgical cases: removing a lead BB in a goose and suturing lacerated arteries on a goose. She said, "I enjoy working with and teaching students the skills. It is very rewarding to see them grow." And when asked about her favorite species, she said, "I love working with raptors, especially on the fracture repair on birds."
Dr. Lang's love for wildlife started at a young age. "… I was inspired going to the zoo as a kid and learning about their importance in the world. I wanted to contribute to public education and inspire them to care more about the wilderness and the planet," said Dr. Lang. She hopes to positively impact the conservation and preservation of the planet while sharpening her problem-solving skills through creativity and collaboration.
To our WMC volunteers (past, current, and prospective), she would like to say, "Thank you for making this an incredible year; not only do I get to teach, you all teach me a lot. And if you ever have questions about the career, feel free to reach out."
And to all our wildlife lovers interested in the field, "Know what you love and make a difference, have great passion and perseverance. It can be a long and challenging journey; finding those who will support you makes a huge difference. Support you and your classmates; collaboration is the key. Because one person can't anesthetize the elephant alone, it takes the whole village."
Dr. Lang and Dr. Engel have played an integral part in the operation of the Wildlife Medical Clinic in the last year. Their passion, knowledge, and great patience positively impacted every student they worked with. As they move on to the next step of their journey, we wish them the best and a flourishing career ahead!
This article was interviewed and summarized by second year student YiYing