1. What inspired you to be a manager at the Wildlife Medical Clinic?
I remember watching the senior manager of the WMC when I was just starting in the clinic as a first-year vet student, and I was thinking how awesome it was for her to be in this position. She was calm, cool, collected, and always knew how to handle any situation. She devoted all her time to the clinic and the patients. She truly tried to make the best out of something that was rapidly changing due to COVID-19 restrictions. I started as the WMC manager in the middle of the pandemic when the WMC only had about 60 student volunteers compared to the normal 120 and I remember being interested in the position from the beginning despite the clinic running at full speed with half the help. Ultimately, watching her do her job and do it well inspired me to apply for this position and luckily, I was hired.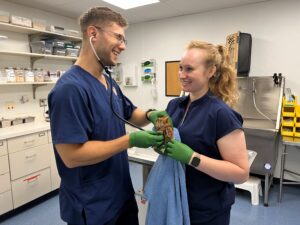 2. As a manager, what was your favorite part about working in the WMC?
Since I am an out of state student, I was seriously considering transferring to my in-state vet school, and I think I would have done so if I didn't get the manager position. Being in this position has meant the world to me and I have enjoyed taking care of the clinic so far. My favorite thing about the WMC is that it made the University of Illinois my home.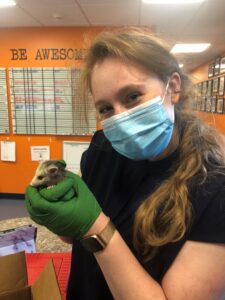 3. What has been your favorite case during your time as manager?
Just before I started working as the WMC manager, I became the secondary case manager for a Virginia opossum that had sustained multiple injuries after being attacked by another animal. I was able to select treatment options and be present for exams, and this was the first time I truly realized why the WMC was created. Being able to successfully treat and release this patient meant a lot to me and is one of my favorite cases because of that. Additionally, during the winter academic break of 2021, we had an American white pelican that quarantined with us before being transferred to a permanent facility. I placed our Critter Camera on him so my grandma could see him and me as I fed and cared for him during the day. This case was special to me because it brought my grandma, who is back home in Louisiana, and I closer together as we would talk about him on the phone almost every day. By getting to know this patient, I feel that I have a better understanding and appreciation for pelicans as a species.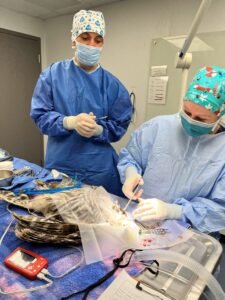 4. What is your career goal after graduation?
I would like to complete a small animal rotating internship and a specialty internship before finding a wildlife rehabilitation and medicine facility to work at under the guidance of a seasoned wildlife veterinarian. I also want to get another degree at some point after veterinary school, and I would like to obtain either a master's in public health or a PhD in entomology.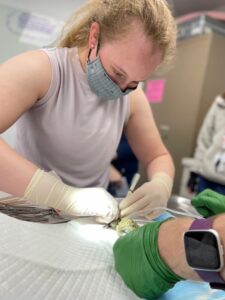 5. What is one thing you would like more people to know about the WMC?
I wish the public knew how much we care for our critters at the WMC – especially the patients that are humanely euthanized. We take our positions as stewards to all animals very seriously and that is something I've appreciated getting to see students develop as they spend more time in the clinic.