By: Kathleen Rafferty, University of Illinois College of Veterinary Medicine Class of 2021
 "Saving the world, one box turtle at a time" – it's a well-known phrase for the University of Illinois Wildlife Epidemiology Lab. The Lab conducts the largest Eastern box turtle health assessment and research project in the world, all with the help of John Rucker's seven Boykin spaniels that love to sniff out and retrieve turtles. Dr. Matt Allender, zoo veterinarian and head of the Wildlife Epidemiology Lab, met John 12 years ago when he learned about his dogs' special talent – and asked if he could help him accomplish something huge.
Illinois veterinary students have the unique opportunity to volunteer for the Lab's aptly named "Turtle Team" during weeks throughout the summer.
The mornings begin early with tent and lab station set up and preparing for sample collection. When John's trailer arrives, you can hear the dogs whine in excitement, knowing they are about to do their favorite job. Mr. Rucker attributes this excitement to the turtle dogs being the "super dogs" of the litter – "that's why they have this degree of excitement, passion, and drive. It plays out in the field when you have a low density of turtles – they have to have that relentless drive."
Students gather their materials and begin their hike with their rubber boots and turtle backpacks on.
When a dog finds a turtle, they alert the humans in this project without moving or injuring the turtles in any way. Students then quickly work to gather information such as the GPS coordinates and the type of habitat where the turtle was found. The animal will then be brought back to the lab station to collect health data and samples, including swabs to screen for infectious diseases. Katy Klein, upcoming third-year veterinary student, is enjoying being a co-team leader for such an important project this year: "Turtle Team is a large health surveillance project that is important in understanding the relationship between Eastern box turtles and their environment. It is an amazing and unique experience for the students, and I am so excited to be a Turtle Team leader this year. I cannot imagine spending my summer any other way!"
Every turtle gets measured, a physical examination, swabbed for various pathogens, and a blood sample collected. They are then marked for future identification and returned exactly to where they were found in the field. Some turtles have been found multiple times over the years, providing critical data on their continuing health in potentially changing environments throughout the state of Illinois.
A day on Turtle Team doesn't end in the woods – another set of students waits in the laboratory to further process swabs and blood samples taken from that day's hike. Lab data includes everything measuring white blood cell counts to extracting DNA from whole blood.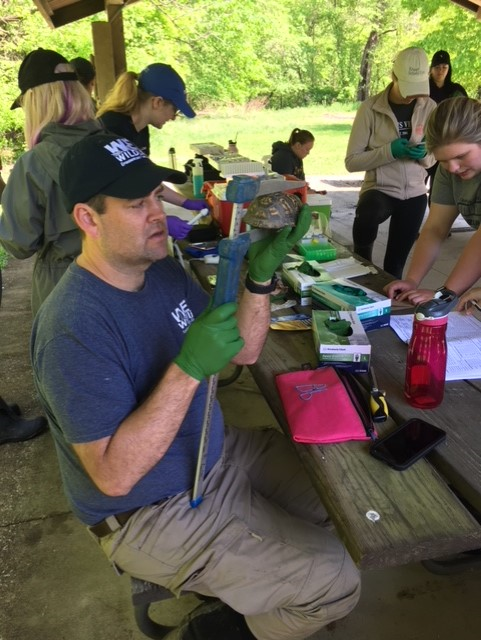 The entire process of a day of turtle team takes about 10 hours, but with a lot of planning and efficiency, procedures go quite smoothly.
The Eastern box turtle database that Turtle Team works to gather information for is relevant to the "One Health" concept, emphasizing the idea that animals, people, and the environment are all interconnected and reliant on one another. Dr. Allender explains, "Box turtles are ectotherms and whose metabolism relies on the environment. They are a good sentinel species because they use both terrestrial and aquatic environments, they are long-lived, and they have short home ranges. The health of these turtles is very reflective of the natural system that they live in and the natural resources that we draw from for our society."
If you would like to learn more about the University of Illinois Wildlife Epidemiology Lab and Turtle Team, visit their website at www.vetmed.illinois.edu/wel. You can also watch the Turtle Dogs on the Boykin Spaniel episode of Animal Planet's "Dog's 101", which can be found at the following link: https://www.youtube.com/watch?v=_SK4W00iGYA&t=329s.