State parks provide a unique opportunity to experience nature and observe local wildlife. You can commit to immersing yourself in the environment for a camping trip or just spend a day hiking. Being able to experience wildlife in their native habitat is a helpful reminder of the importance of conservation efforts. These parks stay clean and healthy through the efforts of the Illinois Department of Natural Resources and dedicated community members alike.
We've highlighted some state parks and native animals you may find there. If you visit a park on our recommendation, share a photo of on social media and tag the Wildlife Medical Clinic – we would love to take part in your adventure, too!
Bald Eagle – Starved Rock
This park is known for being a home to bald eagles! They flock to this state park during winter months to feast on plentiful fish. They're not the only wildlife you can look for here. There are miles of trails passing waterfalls, canyons and cliffs. Each of these features creates the ideal habitat for a particular type of animal, so make sure to explore them all!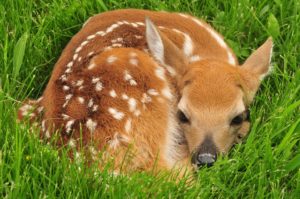 White Tailed Deer – Matthiessen
Known for its rock formations, Matthiessen park hosts a variety of ecosystems. White-tailed deer take advantage of the wooded forest's cover and the nearby prairie's abundant food sources. For this reason, it was called Deer Park before it became a state park. Deer tend to be most active at dawn and dusk, so if you want to catch a peak it is best to time your explorations accordingly.
Silvery Salamanders – Kickapoo
Silvery salamanders are a rare type of amphibian that call this state park home. They're even more unique because they're all females! Silvery salamanders rely on another salamander species for reproduction. Kickapoo has historic ponds that sustain these salamanders, other amphibians, and many varieties of fish. Where there are fish, there are also piscivorous (fish eating) birds such as herons or egrets!
Monarch Butterflies – Goose Lake Prairie
Did you know monarch butterflies are the state insect of Illinois and a group of monarchs is called a congregation? While we get to enjoy these beautiful insects from April to October, they migrate south in the winters, making a journey of up to 2,500 miles to Mexico each year! Goose Lake Prairie Park is known for fields of native Illinois flowers which serve as perfect habitat for butterflies and many nesting birds. The park website provides a list of butterflies and moths to look for. Try to find them all!
American Bison – Midewin National Tallgrass Prairie
This park is known for its herd of bison that were reintroduced to the park in 2015 as part of a conservation experiment. The area was chosen because of the plentiful space for bison and potential for sustaining native prairie flora. If you can't visit the park in person, there are resources online including a live camera in the bison pasture!
By Cailey Vandermark and Monika Liszka