The University of Illinois Veterinary Teaching Hospital Medication Dispensary serves as the medication hub for the entire hospital population, including small animal patients, large animal patients, wildlife, and zoo animals. The medication dispensary is involved in the following and more:
Provide drug information resources
Compound medications when patients require a different dosage form, strength, or ingredients
Provide support for research
The Medication Dispensary offers a unique opportunity in that medications are dispensed for both inpatient and outpatient use and are refilled for clients. Therefore, we function as both an inpatient and outpatient pharmacy. This provides for a variety of experiences for students and allows them to hone their skills interacting with clients and clinicians.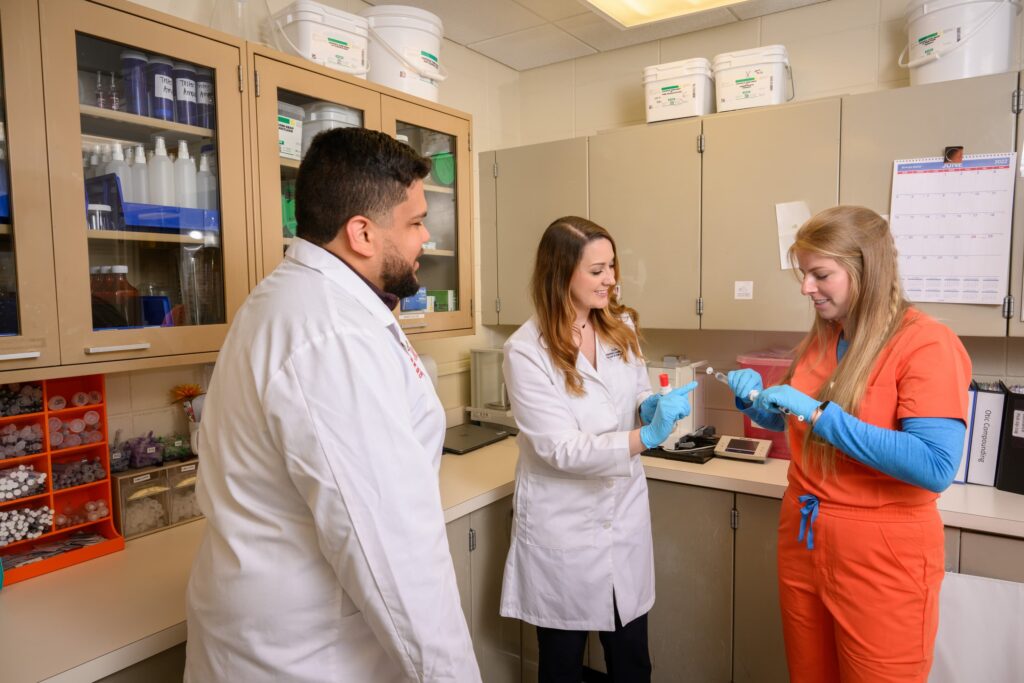 Veterinary medicine utilizes many human medications; however, we have some unique drugs and compounds you will not have seen before. This will allow students to put what they have learned about class-wide mechanisms and side effects to the test, apply themselves, and think outside the box.
During this rotation students will acquire experience in compounding:
suspensions
solutions
capsules
otics
transdermal medications.
Students will also learn about veterinary pharmacy regulations, pharmacokinetic and pharmacodynamic variability in different species, common zoonotic diseases, and the most common disease states encountered in veterinary pharmacy, along with the appropriate treatment options.
The University of Illinois Veterinary Teaching Hospital Medication Dispensary is currently accepting Introductory Pharmacy Practice Experiences (IPPE) and Advanced Pharmacy Practice Experiences (APPE) students. We have agreements with the University of Chicago, Butler, Findlay, and the University of Maryland. If you would like to complete a rotation with us but your School of Pharmacy does not currently have a site agreement, please contact us at agochena@illinois.edu to get the process started.
Prepare for Your First Day
Pharmacy Hours
Monday – Friday: 8 a.m. to 5 p.m.
Saturday – Sunday: Closed
*Arrive at 8:30 a.m. on your first day
Dress Code
The dress code is business casual with white coat and closed toed shoes. For certain shadowing opportunities you will want to bring scrubs. If the Zoo is available for a shadowing opportunity during your rotation, you will also need nice tennis shoes/boots/hiking shoes that you do not mind getting dirty as well as a non-branded or UIUC-branded jacket or sweatshirt.
Parking
You may park in meter spots near the Veterinary Teaching Hospital and pay the posted rate or contact UIUC Parking Services (https://parking.illinois.edu/) and purchase a permit that will allow you to park in a lot near the school.
Navigation
Enter "1008 W Hazelwood Dr Urbana, IL 61802" into your maps system. You will drive past the Small Animal Emergency entrance (first parking lot on the right). Then take a right into the second entrance, you will see the sign for "Pharmacy" at the bottom. Walk through the door that says "Prescription Pick Up" above it and ring the doorbell to have a member of the staff let you into the pharmacy. Please note, you will not be able to park in this parking lot (review parking options above).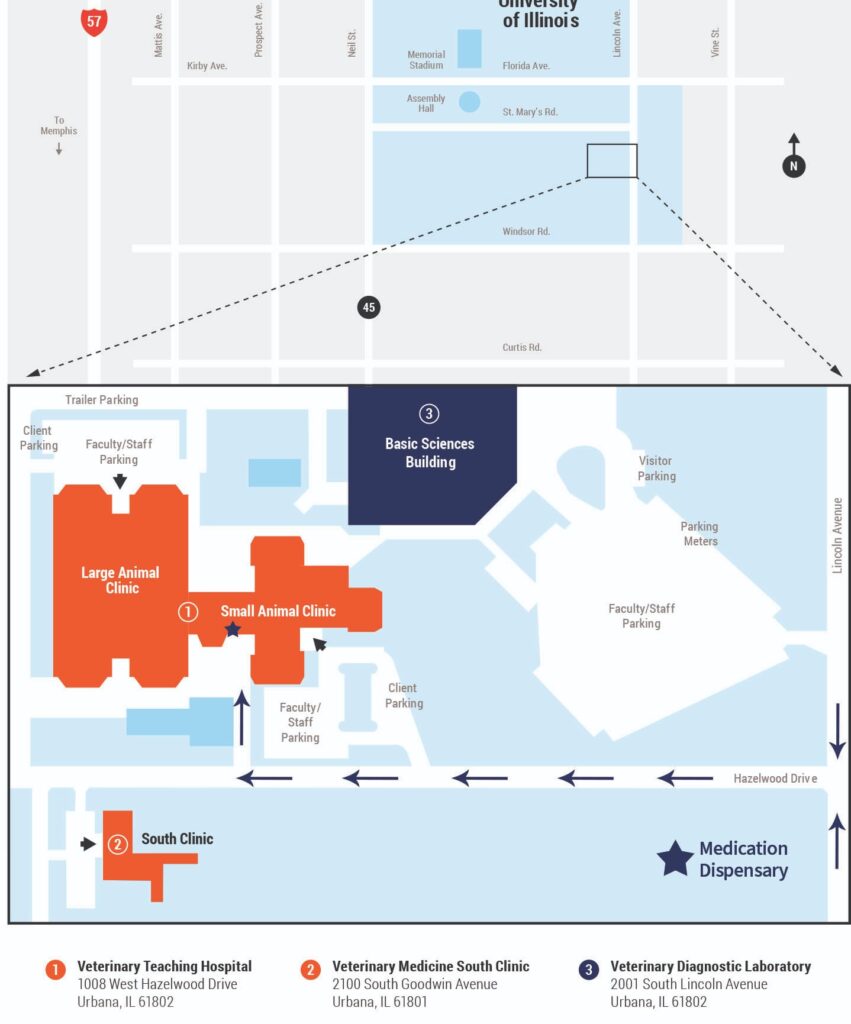 Lunch Options
You will have access to a full-size refrigerator, microwave, and Keurig
Grubhub, Doordash, Ubereats, etc., deliver to the hospital
Walking Distance: Einstein's (This location has limited hours especially when school is not in session)
Driving Distance: Culver's, Arby's, Biaggio's Ristorante Italiano, Le Peep, Slim Chickens, Moe's Southwest Grill, Starbucks, Aspen Tap House, Smoothie King, Oberweis, Moki Sushi, Steak and Shake, McDonalds, Everyday Kitchen, Merry Ann's Diner, Houlihan's, Rainbow Garden, Meatheads, Papa Del's Pizza Factory, El Toro, Little Caesars Pizza, Dunkin Donuts, DP Dough, Chipotle, Jimmy Johns, and more
Public Transportation
Forms of public transportation can be found at the following link: https://fs.illinois.edu/services/more-services/tdm/transit
MTD
MTD is a public transportation service that provides transportation on and near the University of Illinois Urbana-Champaign campus. Maps, schedules, and pricing can be found here: https://mtd.org/
Housing
For students who do not have housing in the area, options include Airbnb, extended stay hotels, and on campus housing (https://housing.illinois.edu/Living-Options/Apartments/Short-Stay-Options). There are also students who sublease their apartments through the following groups on Facebook: Free & For Sale UIUC, Illinois Vet Med Free and For Sale, as well as others.
Assignments / Expectations
You are not expected to complete any work prior to the start of your rotation. Your syllabus and assignments will be available on Canvas. At the start of your rotation you will be provided log-in details.
Interested in a Veterinary Pharmacy Residency?
Are you considering a career in veterinary pharmacy? Download our tips on learning more about this field and setting yourself up for residency while you complete your pre-pharmacy and PharmD coursework. Preparation Tips Download.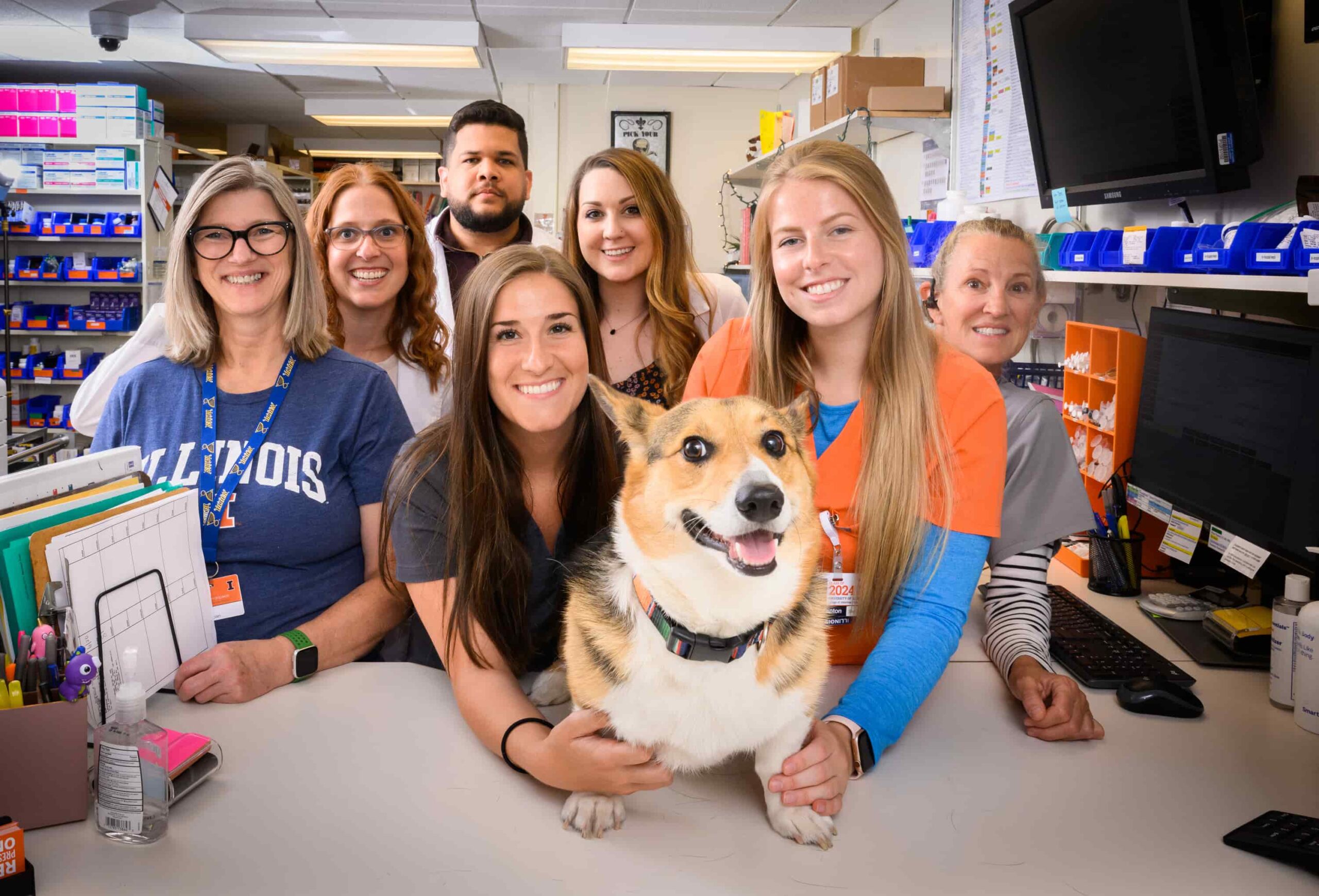 Medication Dispensary at Illinois
The medication dispensary facilities include a large non-sterile compounding room, a USP 797/800 compliant cleanroom, and a drug room housed at our Veterinary Medicine South Clinic location.
Pharmacists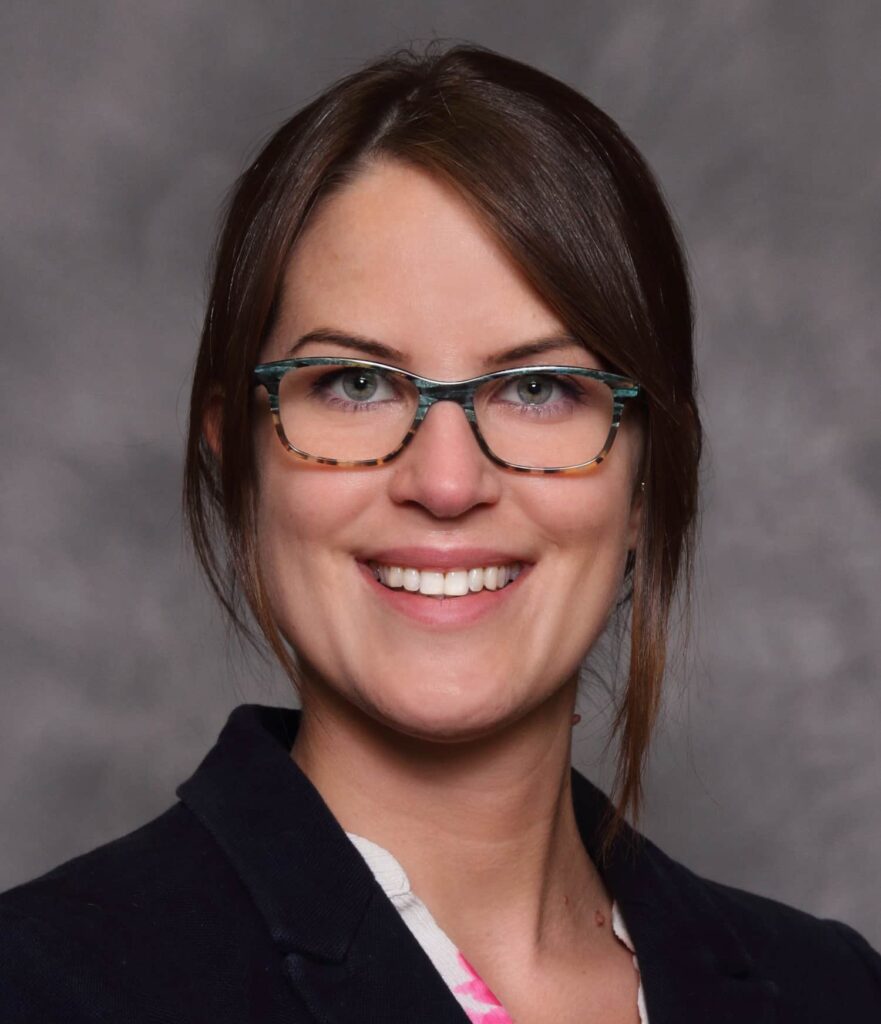 Jessica Barazowski, PharmD, FSVHP
Dr. Barazowski was the first Veterinary Pharmacy Resident at the University of Illinois Veterinary Teaching Hospital from 2022 – 2023. She graduated from the Medical College of Wisconsin School of Pharmacy in 2021 and completed a 1-year Community Based Pharmacy Residency in Kenosha, Wisconsin prior to starting her residency with the University of Illinois. She is currently a staff pharmacists with us but would love to support veterinary clinics via the addition of pharmacy services.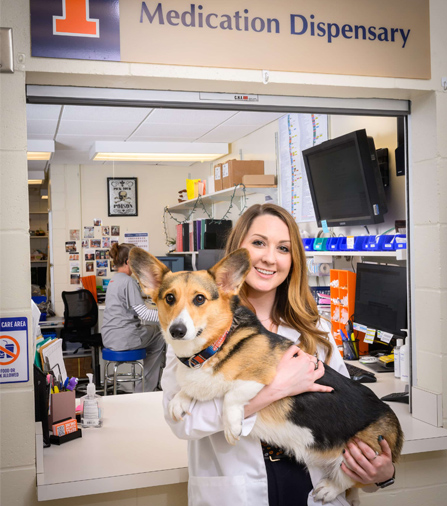 Alexandria Gochenauer, PharmD, FSVHP (preceptor)
Dr. Gochenauer is a Clinical Staff Pharmacist at the University of Illinois Veterinary Teaching Hospital. She graduated from the University of Mississippi (Ole Miss) School of Pharmacy in 2019 and completed her veterinary pharmacy residency at Purdue University's Veterinary Teaching Hospital. Following completion of her residency, Dr. Gochenauer started her position with the University of Illinois. She also works as a consultant for Plumb's Veterinary Handbook (Brief Media), develops social media content for the Alliance for Pharmacy Compounding, and writes content for the American College of Veterinary Pharmacists.
Leslie Horner, RPh
Leslie Horner is a registered pharmacist who has worked in veterinary pharmacy for many years. She has also spent time in community pharmacy practice and is a wealth of knowledge.
Resident
Sarah Lira, PharmD, FSVHP
Dr. Lira is the second Veterinary Pharmacy Resident at the University of Illinois Veterinary Teaching Hospital. Prior to her residency she graduated from Midwestern University of 2023. She has previous experience as a veterinary technician and has an interest in research and teaching.
Technicians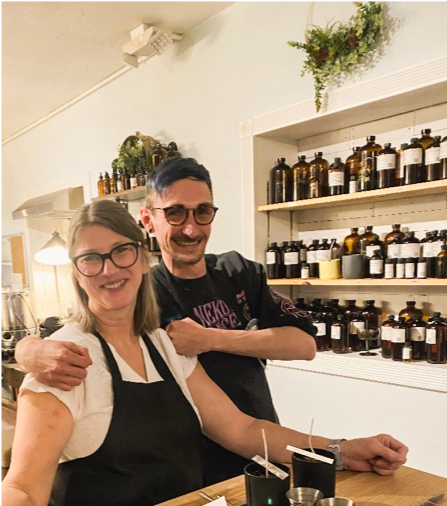 Linda Blan, CPhT
Heather Simmons, CPhT
Office Manager
Austin Smith, CPhT
Student Workers
First- through third-year veterinary students work in our pharmacy during veterinary school to expand their medication knowledge.