We want to introduce you to our new Wildlife Medical Clinic Program Coordinator, Sydney Oliveira! We asked her a few questions to share with you and included them here! We are looking forward to all of her contributions to our program!
Where did you attend school?
I attended Southern Illinois University Carbondale where I earned a Bachelor of Science in Zoology with a Minor in Anthropology. I am also a graduate of Central High School, right here in Champaign.
How did you end up at U of I?
I was born and raised in Champaign, Illinois. Even during college, I returned to Champaign in the summer and worked at the U of I during break. After I graduated college, I moved near Saint Louis, MO and became an employee at the Saint Louis Zoo. I worked there for 14 years and then moved back up to Champaign after my husband accepted a position at the University. While I enjoyed working at the zoo, one of the reasons for our return to Champaign was to be closer to family. My husband and I still have a lot of family that resides in and around the Champaign area.
What is your favorite wildlife species?
This is a tough question as there are too many to choose from and I feel like I would provide a different answer each day. Overall, birds are my favorite and so I am going to go with Pelicans, American Coot, or Turkey vultures for native wildlife species. If you are asking about exotic wildlife species, I would say a King Vulture (I got to help hand rear two of these when I worked at the zoo) or a short beaked Echidna. Echidnas are such a unique mammal and only one of two types of mammals that lay eggs.
What is your favorite part about being involved in the WMC?
Aside from the ambassador animals and getting to educate the public about wildlife and conservation, I would have to say the people at the clinic. We have a great group of faculty, staff and students that work in the clinic. It is awesome watching everyone bounce ideas off each other to come up with the best possible treatment for our patients. I also love watching the students learn and grow throughout their time at the clinic. There are never two days that are the same, as we never know what animals will arrive that need our help.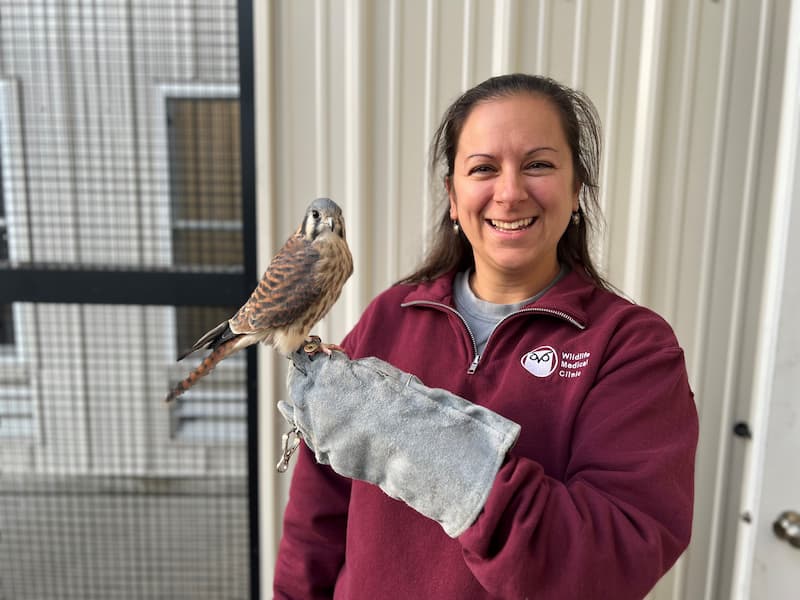 What are some fun facts about you?
I am married and have two sons.
I love being outdoors and participating in activities such as hiking, camping, bird watching, etc.
I love escape rooms, board games and different card games and enjoy participating in these
activities with my family.
I grew up playing softball, I was a catcher and my sister was a pitcher on our high school softball team.
We are so excited for Sydney to be a part of our program and hear more about her as time goes on!