We are excited to announce our new incoming junior manager: Tyson Jenkins, class of 2026. Over the next 8 weeks, he will be training alongside our current managers so that he is ready to fill his manager role in March, when our current senior manager, Chloe Dupleix, heads off to clinics.
We wanted to learn a little more about Tyson, so we asked him a few questions that you can see below!
Where are you from? What college did you attend for your undergraduate degree? What degree did you earn and what year did you graduate?
I grew up in South Elgin, IL, and then lived in Oak Park, IL for two years. I attended Roosevelt University in Chicago, where I received my Bachelor of Science in Biology, with a concentration in conservation biology and a chemistry minor in August 2021.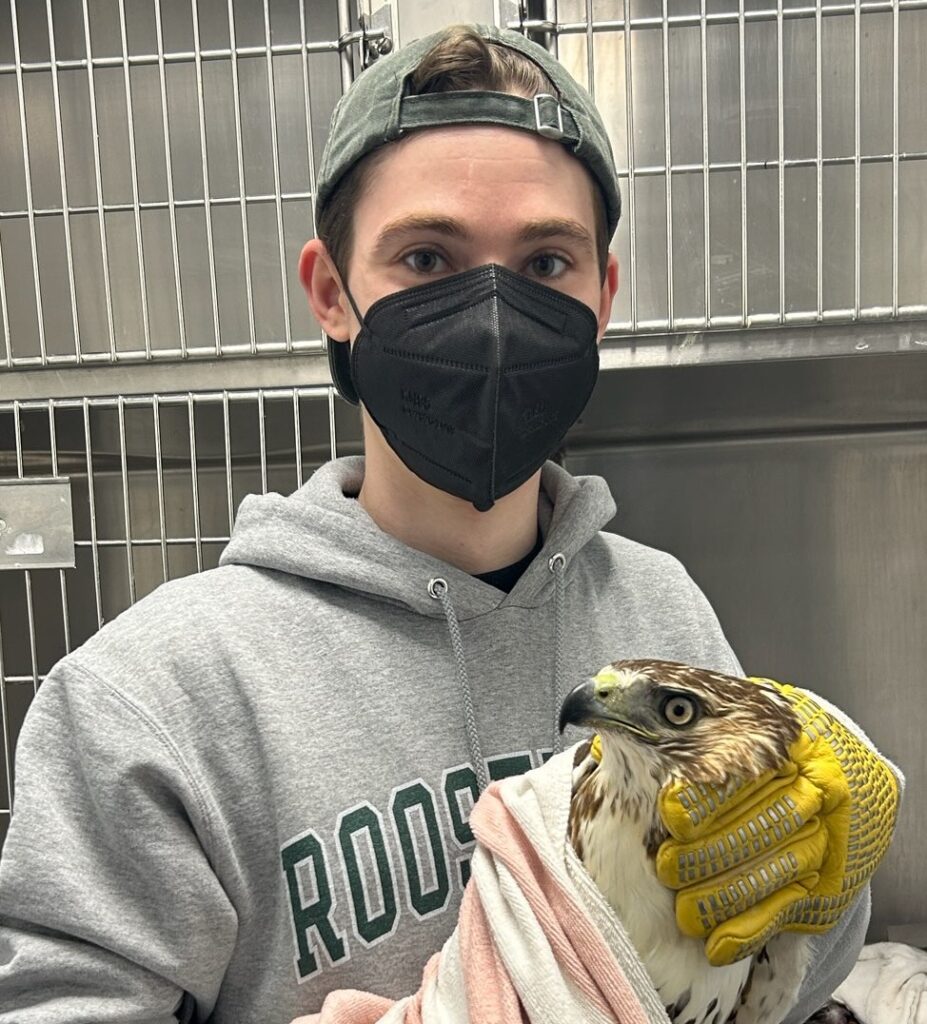 Tell us about your veterinary career journey so far.
My entire life, I've been surrounded by animals. From dogs to fish to a cockatiel that's older than I am (and still going strong), my family has always had a wide variety of pets. I started working with animals in an official capacity when I was 16 years old, as a caretaker for a park district ambassador program mainly focused on rescued reptiles and amphibians. I stayed there until the program was closed indefinitely to prevent the spread of COVID-19. Knowing I wanted to work with animals in some capacity, I applied for a kennel technician position at a veterinary clinic. It was there that I fell in love with the profession and decided that veterinary medicine was the path for me. I ended up taking a gap year to strengthen my vet school application, working in various roles at multiple clinics in the Chicagoland area.
What field of veterinary medicine are you interested in?
I am interested in zoological and wildlife medicine with a focus on conservation. I absolutely love all the weird, wild, and wonderful animals that aren't often in the spotlight, and the unique challenges their care poses. Now, more than ever, these animals need conscientious human intervention to circumvent extinction, and my goal is to be at the forefront of this process.
What made you want to join the WMC?
There are very few opportunities for vet students to practice hands-on clinical medicine in their first two-three years of school, and even fewer opportunities to practice on non-traditional species. The WMC offers those exceptional opportunities in an environment dedicated to safe learning. I'll never forget catching a raptor on my very first day in the clinic, or the joy I felt the first time one of my patients was released. Even if you don't want to focus on wildlife in your future career, the WMC teaches you the skills you need to manage any case.
Why did you want to become a manager at the WMC?
Every single time I walk into the WMC I learn something new. I've only spent one semester there, but the skills and knowledge I have gained have been invaluable, and I know I've only just started to scratch the surface. The community of students and faculty working behind the scenes at the clinic inspires me every day to do more, learn more, and teach more. The manager position is an opportunity not only to do those things, but also to lend a hand in making the clinic, the local community, and the world a better place.
What has been a favorite memory/patient in the WMC?
One of my favorite patients was a juvenile Virginia opossum that was found in a local home improvement store with symmetrical abrasions and lacerations along his face, gums, and front feet. We suspected he had gotten his face stuck in some sort of trap and had hurt himself escaping, because he was otherwise very healthy and quite feisty. He was started on antibiotics and pain meds as well as cold laser therapy, a treatment that stimulates wound healing. After two weeks of care his wounds had healed and he was released back into the wild!