In 2018, the Wildlife Medical Clinic welcomed Delphine, a female Virginia opossum. She was initially brought to the Wildlife Medical Clinic after a well-intentioned member of the public attempted to rehabilitate her. Unfortunately, this led to Delphine becoming too habituated to humans for her reintroduction to the wild. Additionally, some abnormalities in Delphine's gait were of concern. Upon further testing, and it was determined Delphine required a Femoral Head Ostectomy (FHO) due to suspected past trauma to her hip. This surgical procedure removes the head (top portion) of the femur to relieve pain and increase patient mobility when severe disease or trauma has occurred previously. On the bright side, Delphine's calm demeanor and overall good health meant she was a good candidate for the Wildlife Ambassador program! Her FHO surgery went well and, after a little bit of physical therapy, Delphine is now happily working with our other amazing ambassador animals!
Delphine is one of the first mammals to join our Wildlife Ambassador Program. Since her joining, Delphine has been working with numerous veterinary student volunteers to adjust to her new lifestyle. One of her trainers is Allison Wright, a second-year veterinary student. We sat down with Ally to ask her a few questions about Delphine.
How did Delphine get her name?
The name Delphine comes from the scientific name of the opossum, Didelphis virginiana.
What unique challenges have you experienced with Delphine being one of the first mammal Wildlife Ambassador?
Having a mammal in the program has proven that their care is very different from the birds and reptiles that the program has historically been dominated by. Our enrichment programs had to be altered and customized based on the specific needs for mammals – such as using scent and tactile stimulation. Her diet, as a marsupial, has been very fun to develop. We provide enrichment with a vast variety of different vegetables, fruits, and proteins while maintaining proper nutritional requirements. Plus, our laundry loads have increased.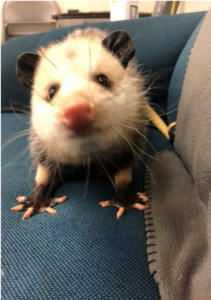 What kind of training does Delphine do with the Wildlife Ambassador Team?
All training for Delphine is used to facilitate proper medical procedures as well as maintaining her comfort at outreach events. We are currently using clicker training to shape behaviors such as stepping on the scale, walking into her carrier, and being harnessed.
What does a day in the life of Delphine look like?
Delphine has a day full of enrichment and exercise, as well as plenty of naps! The Resident Ambassador Team makes sure to have Del outside of her enclosure for as long as we can. We take her on harnessed walks to different places within and outside of the clinic building. Her food is hidden in different places around the resident room and incorporated into fun activities for her to encourage mental stimulation and foraging behaviors. Her enclosure is cleaned every day, with her "furniture" rearranged for enrichment.
What has been the most rewarding part about working with Delphine?
Delphine is extremely smart and progresses quickly in her training. It is always fun to watch her figure out her puzzles and obstacle courses for food rewards. It is also extremely rewarding to have her as an ambassador for a species that the public normally regards as 'scary'. Informing the public on the ecological benefits of opossums, such as consuming ticks and other pests, has helped change perception of this species in our audiences.