Each Envirovet Summer Institute features a large number of superb teachers and role models. All faculty are hand-picked, based on established expertise and career productivity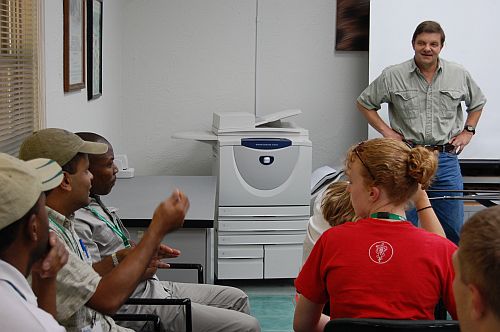 , to bring essential real world perspectives and commitment to students. Their specialties range from biomedical and ecological sciences, to policy, law, economics, ecotourism, game ranching, agriculture, aquaculture, engineering, and sustainable development. They represent career possibilities from academia to industry, consultancies, non-governmental organizations, and governmental agencies. They offer knowledge, techniques, and especially mentoring to the students. Envirovet provides immersion-like experiences for its participants, who put in 60 to 80 contact hours per week throughout the Summer Institutes.
Envirovet groups develop their own dynamic cohesion within a very few days, and remain close thereafter. Moreover, to be among the Envirovet alumni of any year creates a mutual understanding of the opportunities and responsibilities at hand. Envirovet participants act on these, investing their lives in improving the conditions of wildlife, domestic animals, and human beings.
Envirovet Summer Institute is comprehensive, addressing terrestrial and aquatic wildlife. It will retain the proven unique intensive approach of earlier Envirovet Summer Institutes. All applicants accepted into the Summer Institute should plan to devote abundant energy to the instruction and experiences provided
With the leadership of former Summer Institute participants and other partnering experts and organizations, Envirovet organizers are also working to prioritize environmental education research and ecological rehabilitation on continents around the world.
Eligibility
Eligibility for participation in Envirovet Summer Institutes requires a statement regarding commitment to a career in wildlife and ecosystem health, as well as at least one year of veterinary school or an advanced degree in a relevant discipline, including a defined animal health component.
The non-refundable course fee, which includes room and board as well as round trip airfare from the U.S. to the overseas location, is anticipated to remain at $7,500 for veterinarians, postdoctoral trainees, and students currently enrolled in veterinary or graduate school. Students are responsible for their round-trip travel to White Oak Conservation Center in Yulee, Florida, and Harbor Branch Oceanographic Institute in Fort Pierce, Florida. Applicants from developing countries may apply for a fee waiver based on economic need and record of promise in the wildlife/environmental field. It is essential for such individuals to seek funding to offset the travel costs, as well as part or all of the course fee.