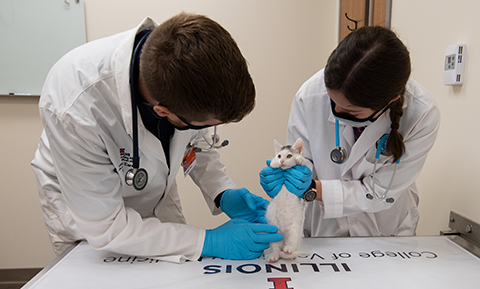 Online Programs and Extension
Our Mission: To facilitate the engineering of comprehensive solutions to improve animal, human, and ecosystem health, and the production of a safe food supply by collecting, organizing, synthesizing, and delivering information and resources to the profession, the people of Illinois, the United States, and across the globe.
We equip individuals with the knowledge and problem solving skills to help their organizations and communities prosper.   
Dr. Jim Lowe
For more than 60 years, the College of Veterinary Medicine at Illinois has been a leader in veterinary education. For much of that history, Illinois has pioneered the use of technology to advance learning. Illinois is also known for producing graduates prepared to meet real-world challenges, particularly in food supply veterinary practice.
Online Programs and Extension combines the college's strengths in educational technology and in advanced knowledge transfer designed to enhance workplace performance.
Trying to decide if this program is the right fit for you?
We would be happy to answer any questions you have.