Who Are All of These People Working on My Horse?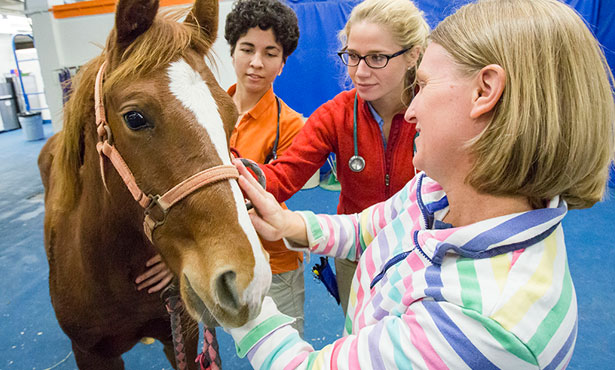 As a second-year veterinary student walking through the Large Animal Hospital at the University of Illinois, I often will see a horse being examined, and what seems to be dozens of people all watching intently. I used to wonder exactly who are all these people, and what role do they all play? As I've spent some more time around the clinic I have started to figure it out!
When a horse is brought to the University of Illinois Veterinary Teaching Hospital, there is a whole team of people dedicated to providing the best care possible. From the client services representative who helped make the appointment, to the head doctor working on your horse, everybody has a specific role on the team.
Faculty Clinician: The senior clinician on the case is a licensed veterinarian who works for the University of Illinois treating patients; teaching residents, interns, and students; and in some cases doing research. Many of our clinicians have completed advanced training and are board-certified specialists in their field.
Resident: The resident treating your horse is a licensed veterinarian who is doing a three-year training program to become specialized and board-certified in a specific area. They previously have completed at least a one-year internship training program in academia or private practice. These doctors are at different phases of training while they are at Illinois, and still receive mentorship from their senior faculty clinicians. In addition, they are doing research and studying to pass their board certification exams.
Intern: The newest doctors on the team are the interns. These doctors are licensed veterinarians who are doing a one-year training program before possibly going on to a residency or working in private practice. Often these doctors have recently graduated and are doing an internship to gain experience with structured mentorship before going out on their own.
Fourth-Year Veterinary Student: The fourth-year veterinary student is in their last year of schooling before graduating, taking their licensing exam, and becoming a veterinarian. All fourth-year students at Illinois are required to spend time on the equine rotation. They are taught and closely supervised by the interns, residents, and faculty clinicians.
Underclassmen Veterinary Student: At Illinois, the curriculum is structured in a unique way so that first- and second-year veterinary students get the opportunity to spend time in the clinic. At this point in their learning, students are mostly observing, and grateful for the opportunity to see cases and learn from the clinicians while they work on their patients.
In addition to those mentioned above, there is an incredible team of support staff that contributes to the care of patients. The Veterinary Teaching Hospital is a unique place to bring your horse because not only will you receive premier care, but you will also be giving students the chance to learn.
—Amy Narotsky, second-year student