Wildlifevets.com, Mpumalanga, South Africa, 2012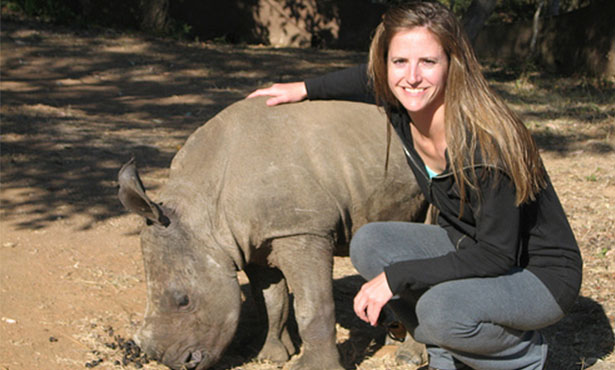 Wildlifevets.com's Introduction to Wildlife Medicine was a phenomenal, once in a lifetime experience.  Located in Mpumalanga near Kruger National Park, our accommodations boasted comfortable, spacious rooms, attentive staff, wildlife just outside your window, and spectacular sunsets.  Following my late Sunday afternoon arrival, one could say we hit the ground running.  Thirty minutes later, we had our introduction and mass game capture lecture, and by 6am the following morning, we were driving two hours north to our first mass game capture.
Students participated in the boma set-up, mass capture, and tear down process, which spanned several days.  Mass game capture and relocation included species such as blesbok, hartabeest, zebra, and wildebeest.  Several times, there was only a tarp curtain separating you from the animals.  On the second day, I even caught a female blesbok by the horns as she tried to escape!
Throughout the trip, there were daily lectures ranging from chemical immobilization to snake handling, and ample opportunities for hands on experience.  Placing a catheter in a white rhino's ear prior to dehorning, sexing crocodiles, and monitoring a white lioness's breathing during her spay surgery were among my numerous first hand experiences.
Additionally, we assisted Dr. Raath's drug trial on crocodiles, which included calculating and preparing dosage, drug administration, and monitoring breathing and immobilization.
Other activities included treating a juvenile male hippo's wounds, dart preparation and shooting practice, and assisting with the work up on a darted roan, cape buffalo, white rhino, and sable.
We even had the unique opportunity to necropsy a two-month-old rhino, which revealed a severely underdeveloped left ventricle.  Witnessing 4 of the Big 5 at Kruger National Park and observing the picturesque view of God's window, were among the many beautiful sites on this trip.
The course offered a fantastic and unforgettable experience in wildlife and international veterinary medicine and solidified my career interests in both.