Learn about Wildlife Babies on April 15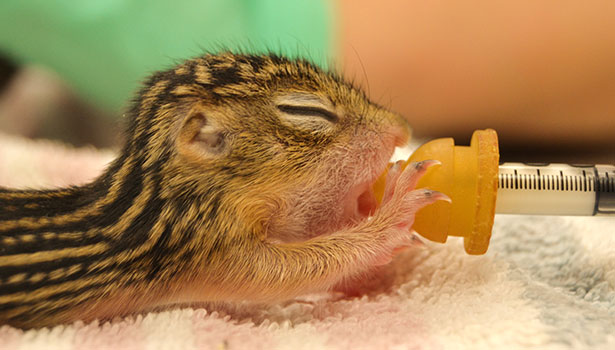 Spring means the arrival of many new mouths to feed at the University of Illinois Wildlife Medical Clinic. Each year, dozens of wildlife baby orphans are delivered to the clinic needing care and nurturing, prompting the organization to host an annual Wildlife Baby Shower to stock up on the supplies needed during its busiest season of the year.
The event will take place on Saturday, April 15, between 11 a.m. and 2 p.m. at Prairieland Feeds, 303 S. Dunlap St. (Route 45) in Savoy. The public will get to meet the clinic's resident birds of prey, see wildlife orphans, and play baby shower games while helping the clinic prepare for its new arrivals.
Baby shower attendees are encouraged to donate gift cards from grocery, discount, or office supply stores or items from the clinic's wish list, some of which can be purchased at Prairieland Feeds. There will be a free talk about wildlife orphans and what to do when you find a baby wild animal.
According to caregivers at the Wildlife Medical Clinic, about 40 percent of the baby animals brought to the clinic aren't orphans at all. They are animals—typically cottontails, fawns, and fledgling birds—that are healthy, but a well-meaning bystander "kidnaps" the young animal because no parents appear to be watching the nest.
"Sometimes a mother staying with her babies for too long is actually dangerous. A mother rabbit has essentially no way to defend her babies from predators, so her best bet is to feed quickly, rarely, and leave the quiet, unscented babies hidden," explains Dr. Nikki Rosenhagen, an instructor at the College of Veterinary Medicine.
Unless the animal's parent is dead or the animal is clearly injured or ill, it's best to leave baby animals in the nest.
The Wildlife Medical Clinic is a non-profit organization that provides care for more than 1,500 ill or injured animals every year.
To make an online donation in support of the University of Illinois Wildlife Medical Clinic, visit our giving form. For more information about the event, see the Facebook event notice. For the latest news, follow the clinic on Facebook at facebook.com/UIWMC.