What's New for Illinois Veterinarians in 2018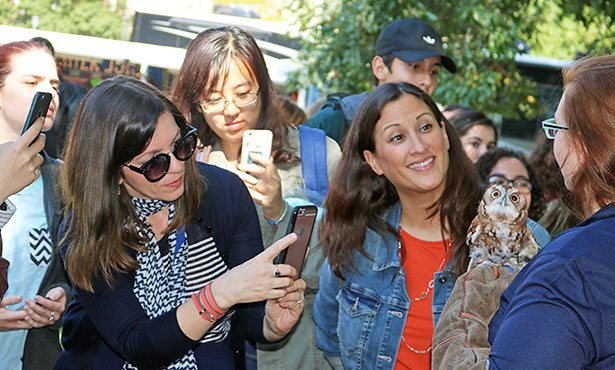 This message will appear in the Winter 2018 issue of the Illinois State Veterinary Medical Association Epitome.
Four Ways You Can Engage in 2018
Happy New Year from all of us at your College of Veterinary Medicine!
I'm very excited about what's ahead for Illinois. As you make plans for 2018, I hope each of you will find impactful ways to connect with the college to benefit your career and the veterinary profession.
Here are four ways you can engage:
1. Hire Illinois Students
The Illinois veterinary degree is gaining a competitive advantage in the marketplace. We see this in our applicant pool, which grew by 35 percent for the class entering in 2018 over the previous year. In fact, nearly one in six of all applicants to U.S. veterinary programs last fall submitted an application to Illinois.
We also increasingly hear from employers that Illinois graduates standout in the job market. There were 172 veterinary positions posted to the college's online job board in the first nine months of 2017. In 2018, the college will implement opportunities for those of you seeking to hire new associates or find a buyer for your practice to meet with current students and others in the field.
2. Enhance Your Knowledge
Our Office of Public Engagement provides lots of opportunities for you to continue your veterinary education without leaving the state, or even your home. The VEO program (Veterinary Education Online) was among the earliest online offerings for veterinary C.E., and in 2018 it is getting an overhaul. Among the new modules will be 24 hours of C.E. credit on the latest in veterinary dentistry from Dr. Sandy Manfra, professor emerita and a founder of the dentistry specialty.
The 2018 Fall Conference takes place October 11 and 12, Homecoming weekend here in Champaign-Urbana. (I advise you to book your hotel early!) If you haven't been to Fall Conference lately, please make a point to learn more. This is a wonderful conference for practical, use-tomorrow veterinary information at an extremely reasonable price, combined with fun social and recreational events.
3. Elevate Cancer Care for Your Patients
Our cancer care team has delivered outstanding services in medical and surgical treatment and in research for many years. We are growing this program. By the end of 2018, we anticipate installation of a linear accelerator that will bring top-of-the-line technology to our oncology program.
Dr. Kim Selting, a radiation oncologist who joined our faculty last year, is facilitating the acquisition of a Varian TrueBeam®, which is able to target a tumor within millimeters. The TrueBeam® will likely be the gold standard for human radiation therapy for many years. Very few veterinary centers in the Midwest have similar capabilities.
"Depending on the goals of the owners, the condition of the animal, and the treatment approach that is taken, we will be able to tailor each course of treatment to each animal to optimize prognosis and minimize the impact on normal tissues and on the quality of life for the pet and their owner," says Dr. Selting.
4. Get "With Illinois"
Last October, the University of Illinois kicked off a $2.25 billion fundraising campaign under the banner "With Illinois." The focus is on the transformative impact our institution has on individuals, communities, the state, and the world.
Our college campaign goal is $40 million that will allow us to continue to advance "Science with Heart"—our philosophy about how we combine caring and cutting-edge knowledge to improve lives for animals, people, and the planet. Assistant Dean for Advancement Heather Clay and her team have assembled an outstanding executive campaign cabinet, chaired by Dr. K.T. Wright.
There are many ways you can help us reach our goal: through class gifts that support student scholarships, by referring patients to our hospital, and by letting your clients know that they can show their gratitude by contributing to our college.
Have a wonderful new year, and please reach out to me to let me know how you'd like to engage with us.
—Dean Peter Constable
The featured photo, by Ginger Passalacqua, was taken at the Quad Fest, part of the "With Illinois" campaign launch on October 13, 2017. Exhibits sponsored by our college, which included Derby the Eastern screech owl from our Wildlife Medical Clinic and hands-on activities from our Clinical Skills Learning Center, proved very popular.