Weedon Leads Shelter Medicine Program, Wins Grant from PetSmart Charities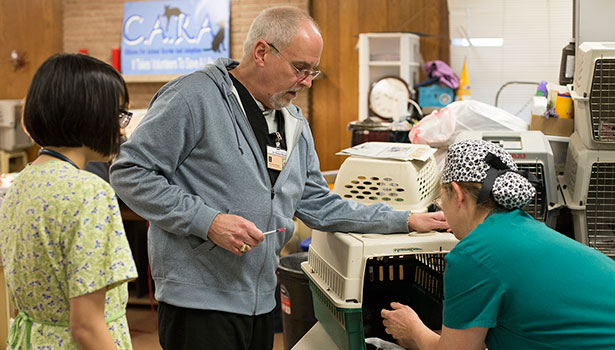 In early 2014 the AVMA Executive Board voted unanimously to give provisional recognition to shelter medicine as a unique veterinary specialty concentrated on improving the health and well-being of animals that live in shelter environments.

That's good news for Dr. Bob Weedon, a faculty member in veterinary clinical medicine who divides his time between leading the college's shelter medicine program and serving as staff veterinarian at the Champaign County Humane Society.

Dr. Weedon has rapidly expanded the veterinary student experience in shelter medicine since joining the humane society in 2011. He oversees clinical rotations for first-, second-, and fourth-year veterinary students at area animal shelters, lectures on shelter medicine in the core curriculum, offers an introductory and an advanced shelter medicine elective course, and serves as the adviser for the Illinois Student Chapter of the Association of Shelter Veterinarians, an indefatigable group that is having a big impact on pet overpopulation in central Illinois.

That might be enough activity for some, but Dr. Weedon has his sights set higher: his long-term goal for the Illinois program is to establish a shelter medicine residency program to provide specialized training for future veterinarians entering this field.


With this grant, we hope to achieve 3,000 animal sterilizations in the first year. This means a minimum of fifty solo surgeries per student and an ability to offer more effective sterilization services to the central Illinois area.

Dr. Bob Weedon
"The fact that a new board specialty is coming demonstrates that shelter medicine is its own entity and is a unique area of practice distinct from general small animal medicine and surgery," he said.

The shelter medicine program got a big boost on October 23, when the College of Veterinary Medicine received a $323,000 grant from PetSmart Charities. The grant will pay for supplies and fund an intern veterinarian, a veterinary technician, and a mobile sterilization trailer. Dr. Weedon and Brenda Betts, associate dean for advancement, spent almost a year developing the grant application, and there is still a bit of red tape to clear away before the trailer can be purchased and equipped.

"Not all shelters have the resources to sterilize animals prior to adoption, so this funding will allow us to provide a no- or low-cost sterilization program without any additional cost to the shelter," Dr. Weedon said.

"The mobile unit will be important for assisting shelters that do not have a facility adequate for surgeries," he said. "It also will increase our efficiency, since we won't have to set up surgical facilities at each different location. Ultimately, the entire grant will mean more students getting more surgical experience and more animals and their owners benefitting from pet sterilizations, which are goals that PetSmart Charities wants to assist.

"Last year, students in the shelter medicine rotation sterilized about 1,500 animals, which translates to approximately thirty animals per student. With this grant, we hope to achieve 3,000 animal sterilizations in the first year. This means a minimum of fifty solo surgeries per student and an ability to offer more effective sterilization services to the central Illinois area."

Financial contributions to the Illinois shelter medicine program are still needed. To find out how you can help, call Brenda Betts, associate dean for advancement, at 217-333-5545.–Based on reporting by Kody Carr, Class of 2015