VIDA Spay and Neuter Study Abroad Trip to Nicaragua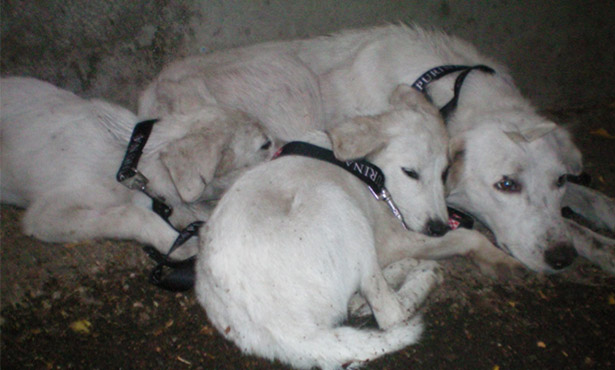 May 19, 2013:

Lauren Kmieciak

Our morning started around 6:30 and we had breakfast at 7:00 at the hotel, and man did they spoil us. This was nothing like the continental breakfasts that I am used to from the States. There were several fresh fruits to choose from, real scrambled eggs, rice and beans (of course). The pineapple was white, which threw all of us off a little, but soon we discovered how much sweeter and more fresh the fruit was. Everyone had their fill.

After breakfast we split into our respective groups (veterinary, dental and medical). We met our head veterinarian, Dr. Jasson Figueroa. We went through the VIDA veterinary handbook, and Dr. Jasson made sure we all understood the protocols for clinic set up and take down, safety, surgery, and recovery. As the day progressed we started to watch videos on spays techniques that we would be using during our clinic days. Dr. Jasson took care to make sure we were all on the same page since each of us had a different background and experiences.

We broke for lunch and again where we had a huge buffet and food that was absolutely delicious topped off with some yummy desert. They sure were not letting us go hungry on this trip! We sat with our fellow veterinary group and started to learn a lot about one another, and quickly realized that we had a fabulous veterinary team!

But before our 2 hour trip to León we had to do inventory and check all of the boxes that contained our clinic supplies. Then we started practicing our suture and ligature patterns. We got a lot of good practice with the different patterns we would be using or observing during surgery. Dr. Jasson made sure we felt comfortable and was very willing to help! Before we knew it, it was time to pack up our boxes, load the bus, and head up to León.

Once on the bus we were told the ride would be a little over 2 hours, and we took in the scenery the whole way there. We drove along Lake Managua for a while and could see the volcanos in the background. When we finally arrived in León we checked into a Best Western and had some time before dinner. Many of us chose to go to dinner with our team leader, Lester, who knew some of the best places to eat! I was shocked at how inexpensive the meals were especially for the amount of food we were given, although they took a while to prepare the wait was well worth it. Joe, one of the fellow veterinary team members, had this plate for about $10!

Once back at the hotel we all quickly went to bed since we had our first clinic day in the morning!
May 20, 2013:

Lauren Kmieciak

Clinic Day 1: Goyena

It was an early morning, and we had no idea how tiring the day would be! We woke up at 6:00 am quickly got ready and hurried down to breakfast, where again, they fed us well! The fresh fruit will never get old! At 7:00 am we hopped on the buses and headed to the village of Goyena. Goyena is located about 15 kilometers outside of León, but it took close to 45 minutes to get there because the roads were not paved. This was the first time VIDA had ever been in Goyena, so we were warned that it may be a slower site since the people are unaccustomed to veterinary medicine, and are weary of having surgery done on their animals not only because of lack of education but because of their strong cultural values too.

We unloaded our bus and set up our clinic in a small community center. The space was pretty small but we were able to use our space efficiently and everything fit perfectly. We set up intake, surgery preparation, surgery, and recovery areas. Then Diana, our veterinary assistant, assigned us each a partner and started giving us cases as they came in. Most animals that came in today were just an exam, meaning they get a complete physical exam and then they will get a dewormer and topical medication to help prevent fleas and ticks. I was partnered with Ellen, a soon-to-be second year at U of I too! We made a great team and we both learned so much today. We did several physicals, and quickly got accustomed to dogs that were underconditioned and infested with fleas and ticks. I quickly got used to removing ticks on our patients, but it felt good to know that we could provide them with a little relief from their internal and external parasites with the medication we administered before they were discharged.

We had the last surgery patient of the day. Ellen was the surgeon, and I was the anesthetist. I was pleasantly surprised with how much we were able to do, and as an assistant in surgery I felt that we were given a wonderful opportunity not only to observe but to assist, and actually perform parts of the surgery. Knowing this made me very excited for my first surgery patient! The day was much busier than I imagined, and part of that may have been due to the heat (the heat index was 110˚F). Our goals were to have a total of 14 exams and 14 additional surgeries for a total of 28 patients. We did reach 28 patients, but we only completed 6 surgeries total with the remaining 22 patients as physical exams.

Until I sat down on the bus I had no idea how exhausting the day was. We didn't get back to our hotel until close to 6:00. I had no idea how refreshing a shower could feel. Once we were all cleaned up we decided to head out with Lester to another delicious restaurant which had beautiful outdoor seating and was such a nice relaxing retreat after our busy day. Once dinner was over we were off to bed because we had another clinic day ahead of us!
May 21, 2013:

Jessica Kielb

We woke up early in the morning and first ate traditional Nicaragua breakfast. Traditional breakfast consisted of rice and beans, eggs and fresh fruit. During breakfast everyone was anxious to start our second clinic day in Goyena, Nicaragua. When we arrived at the clinic site there were already patients lining up at the door. Although, we were only supposed to be seeing small animals today there was even a beautiful horse waiting for us. Setting up for the clinic was even easier now that we had the hang of it. We were able to set up the entire clinic in twenty minutes and then got right to seeing patients! By mid-morning we were not getting as many patients as we had hoped, so a fellow group member took it upon herself to bring in a neuter patient. At our hotel back in Leόn there was an adorable stray dog that lived outside of our hotel. The previous day we had named him Pongo and were spoiling him rotten! To increase our patients for the day and help prevent Pongo from fathering any children, we picked him up and brought him to the clinic! After lunch one of the groups was able to examine, deworm, and neuter Pongo. Although Pongo didn't enjoy the surgery he loved all of the attention and did great recovering. The rest of the day was filled with consultations, surgeries and playing with the children of the town. We all had so much fun to teaching the children how to play Frisbee and I know they had a great time too! At the end of our day our numbers were 6 surgery patients and 28 consultations for the day. We had hoped to see more patients, but this was a great start for the trip and we were able to help a lot of animals! Our ride back to the hotel included Pongo sitting in the front of the charter bus like our mascot! Once we got back to the hotel we cleaned up and headed out to dinner for some traditional Nicaragua dinner. This was the perfect end to a great day!
Illinois Veterinary Students in Goyena, Nicaragua

Pongo post-surgery with some of our fellow group members
May 22, 2013:

Jessica Kielb

This was our last day to make a difference in Goyena, Nicaragua. We woke up early and had breakfast as usual and then headed off to our clinic site. When we arrived we could see a long line of people waiting for the medical team to arrive and a large group of animals and owners waiting for us! We quickly set up our clinic and got to work seeing patients. The patients were non-stop and the surgery patients were coming in quickly! It was truly amazing to see how word of mouth spread throughout the community. It was apparent that those that brought their pets to us the two days before were telling their friends and family about our clinic. This made me feel like we truly were making a difference not only in the lives of the animals, but also in the minds of their owners. All day we were hard at work performing physical exams, prepping for surgery, spaying or neutering and then recovering them from surgery. We saw a lot of dogs that were infested with ticks and fleas. We combatted this by applying flea prevention and deworming every patient. We also saw some complicated cases that required us to make some difficult decisions, but they were great learning experiences.

One difficult case that I was working on was a 5 year old dog that came in for a spay. During the physical exam everything was normal so we proceeded to the surgery. Once we began the surgery it was very apparent something was not right. We started to see fluid in her abdomen and she had a very distended uterus. As Dr. Jasson explored further he found that she had pyometra and her uterus had ruptured. This was a devastating finding for us. Dr. Jasson explained that because of the limited supplies that we had it was unlikely we would be able to save her. He estimated the rupture had occurred a few days prior due to the appearance of compromised organs and the presence of peritonitis. After discussing our options we determined it was unlikely she would be able to recover from the surgery. Dr. Jasson spoke with the owner and they both decided euthanasia was the most humane treatment for her. It was very sad to have to do this, but I know that if she would not have come to our clinic she would have suffered in the days to come.

We were so busy today we ended up having to send three surgeries away because we did not have enough time! It was crazy to see the transformation that occurred in just one day. We ended up seeing a total of 15 surgeries and 35 consultations! We were all very happy with the difference we made in Goyena and all learned a tremendous amount in the past 3 days. As we headed back to Leόn we were all exhausted. We all managed to find some energy for our first free night out! We headed out to dinner at Barbaro and then to a karaoke bar afterward. We had a great time relaxing, dancing and soaking in the Nicaragua night life!
May 23, 2013:

Gregory Zuendt

Today was our first tourist day after having three clinic days!  We had the opportunity to experience a tour of the city of Leon.  The tour started by getting a brief history of the struggles that were involved during the independence and freedom of Nicaragua.  Within one of the parks of the city contained a mural that had detailed pictures of the struggles that the people of Nicaragua had to endure to become who they are today.  Following this we were able to visit the cathedral of Leon.  The cathedral's original plans were of the cathedral that was supposed to be built in Lima, Peru.  So it is very similar to the cathedral in Peru as they had already completed the majority of construction before realizing that it was the wrong blueprint.   From the roof of the cathedral, we were able to see the whole city and get a sense of the surrounding countryside.  The final stop on the tour was that of a former prison which had been turned into a museum.  The museum allowed us an insight into how political prisoners were treated within Nicaragua and how they could have spent their days.   After the tour had ended, we traveled to Masaya on a three hour bus ride.  Upon arriving in Masaya, we were able to meet our house mother, who we would spend the next four nights with.   She welcomed us with open arms and it was an amazing experience getting to live within the neighborhood instead of just in a hotel.
May 24, 2013:

Gregory Zuendt

Today was our first clinic day in Los Flores, a tiny village just outside of Masaya. The village was a bit better off than our previous experiences just outside of Leon. The clinic was based in a small school in the town. 37 patients were brought in for consultations and twelve of them were admitted for surgery. The consultations ranged from just routine deworming of both external and internal parasites to wound cleaning. It was a great experience that allowed me and the rest of the group to be able to practice and hopefully become rather proficient in our physical exam abilities! I got to be involved in three surgeries total today! Two of which I was the assistant on spays and the final one, I was the anesthetist on for a neuter. The day was a great success as we met our goal of patients seen! After the clinic day, we got to participate in the Latin dance class in the evening. The dance class was a great experience but was especially difficult as even though the class took place during the evening, it was still dreadfully warm inside of the building. After the dance class, we were given free time and went and explored Masaya. It was a small city but had a large central park region and was beautiful during the night. The park region contained a smaller market but also had some very interesting attractions, such as a colossal fountain in the middle of the square and two sets of giant ten foot chairs.
May 25, 2013:

Gregory Zuendt

Our second clinic day in Los Flores was similar to our first day. This time, we managed to increase both our surgeries and consultation numbers. The team was able to see forty three consultations and together completed fourteen surgeries. I was able to take part as assistant on one spay and was the anesthesiologist on a neuter, which happened to be a cryptorchid. The weirdest part of the day was having to carry home three patients with another team member. The trip we were told would only be just around the corner but turned into an hour event in which we managed to get ourselves lost in the countryside. The children took us through two different farms and through two separate villages until we got to theirs. Overall, the clinic day was another success as we met our goal again today! We were able to see the difference that we had made within the community in just two short days and it was truly inspiring! That night, we were able to get together as a full group and play soccer. The teams were split up as the vet team versus the medical team and it was a fun time that allowed use to grow together as a giant group but also as a smaller group. Not everything went well this day as our two tour guides had their backpacks stolen from the bus to the night. Overall it was a great day and everyone still had an amazing time making a difference in how the people of los Flores view their pets.
May 26, 2013:

Tricia Mullin

Today was our free day which we spent in Masaya.  The veterinary, medical and dental teams loaded the buses at 8:30 am and headed off to our canopy tour. When we arrived we were immediately fitted by the guides with our gear and headed to our first line. After brief safety instructions we were ready to begin our adventure which included 11 zip lines and lasted 2 hours. We started off timid, but by the end of the tour we were doing the zip lines upside down and in the "superman" position. The canopy tour was exhilarating and the scenery was magnificent while on the lines.  We then went to the Lago lookout point which was awe-inspiring, had lunch and shopped for souvenirs and gifts to remember our trip.  We continued to the market in Masaya where we did more shopping. The market sold a variety of goods such as paintings, clothing, hammocks, jewelry and food which resulted in too many purchases.  Once we were done at the market we headed back to our homestay to get ready for the farewell dinner with all of the host families. Mamma Elizabeth, our host mom while in Masaya, prepared a small meal for us along with a small dish to bring to the party to share. The farewell party brought all of the host families, VIDA staff and all the volunteers together to celebrate our time in Masaya. Before the party was over we were able to exchange gifts with Mamma Elizabeth which we brought from home as a thank you for so generously opening her home to us.
May 27, 2013:

Tricia Mulllin

We loaded the buses in Masaya at 6:30 in the morning and headed to Granada for our last small animal clinic day.  The clinic site in Granada had tight quarters, which brought many challenges.  Instead of having a community building, one of the local families graciously offered their home for our team to use. Their home was converted into our clinic with surgery and recovery stationed in the family room and intake on their front porch.

Even though the conditions were less than ideal, the team had a successful day which consisted of 47 patients being treated and 12 surgeries performed.  Today Emily, a 3rd year veterinary student at Atlantic Veterinary College in Canada, and I were paired and together we treated 6 consultations and assisted with 3 surgeries, 2 canine spays and 1 feline spay. Our last patient was a 4 year old male mixed breed dog that had a very large transmissible venereal tumor. With our best efforts we attempted to relay the importance of neutering to his owner due to his venereal tumor, but unfortunately his beliefs, like many of the people of Nicaragua, were against castrating his pet.

After all the patients were treated we headed to the Best Western hotel in Granada. We were all excited because this was our first hotel with a swimming pool! After a quick swim the entire vet team including the doctors headed to the town center to have dinner together.  There was one last stop for gelato before calling it a night.
May 28, 2013:

Ellen Glenn

oday was our last clinic day, and it was Large Animal Day. As someone who is not interested in working with large animals, I was looking forward to this day the least. We traveled to a local farm about 20 minutes away from our clinic in Granada, and we found many animals waiting for us when we arrived. We were hoping to participate in some horse castrations, but we were disappointed to learn that there were no horses that needed to be castrated that day. Instead, there were approximately 200 dairy cows that needed deworming and vitamin injections. We quickly split the group into two teams—one with each of our VIDA vets, Emilia and Jasson—and got to work on several pastures full of cows. This experience was very different from working with the cows at the VTH, as these cows were not tame and were not used to human handling. Each cow was individually wrangled by the farmers in a process that was unlike anything I've ever seen (there were no chutes or head gates at this farm!). Rumor has it that Greg lassoed a cow himself, although I did not witness this feat myself because I was in the other group… As soon as the cow was restrained (sometimes better than others), we would inject it as quickly as possible and then get out of the way. There was only one patient, a 2,000-pound bull named Tesoro (meaning "treasure"), that escaped our injections because he was too powerful and uncooperative.

Once we finished with the cows, we had several horses to deworm as well. Like the cows, these horses were rather wild, but fortunately Jasson had some impressive horse whispering skills to calm them enough to get our job done. By the end of the day we were filthy and exhausted, and we had treated 218 animals. On the way back to our hotel, we dropped Jasson off at his clinic and Granada, and he let us come inside for a quick tour. It was so interesting to see a Nicaraguan veterinary clinic, and we really appreciated that Jasson invited us to his—he said we were the only group he has taken to his clinic, so I think we were all very honored by that! I can't believe that our clinic days are over, and our time in Nicaragua is coming to an end. We learned so much from the veterinary staff Jasson, Emilia, and Diana, and I am not ready to leave yet!

Once we got back to the hotel, the veterinary team spent the afternoon in the pool before we went to dinner with a larger group of volunteers and our VIDA trip leaders, Lester and Amy. It was another fantastic day in Nicaragua!
May 29, 2013:

Ellen Glenn

Today was our last day in Nicaragua before we leave tomorrow, and we had the entire morning to explore Granada.  After a delicious breakfast at the hotel (pancakes!! And the best pineapple I've ever had in my life), Lester arranged for us to have horse-drawn carriage tours of the city ($3 for an hour-long tour).  My carriage included Jess, Tricia, and Lauren, and Azureen (one of the Canadian vet students).  Granada is absolutely beautiful—it is my favorite place we've been to in Nicaragua.  The colorful buildings and interesting architecture are just stunning.  One of my favorite moments of the carriage ride was seeing three horses run by—on their own, down the street—and then later seeing them grazing in a field they had found.  The areas we visited in Nicaragua were so dry with so very little grass, but these horses found an oasis.  I have no idea where they came from or how they will return to their owner, if they have one, but they looked very content.  This was so different than something you would see in the US, and it was quite charming.

After the carriage ride, we walked around the city of Granada and did some shopping in the marketplace for souvenirs.  We went to lunch with the vet team (el mejor equipo), and Jasson was nice enough to meet us for lunch to say goodbye.  After lunch we had to travel back to Managua to stay at the Hotel Hex near the airport so we would be ready to fly back the next day (at 6 am!).  We had a goodbye dinner featuring Little Caesars Pizza—Lester ordered 28 pizzas for 31 volunteers, so there was plenty to go around—and Emilia even joined us to say goodbye.  It started POURING at night, which was much needed and such a change from what we experienced for our entire trip.  After dinner, the vet team gathered by the pool to spend more time together before it was time to leave.  I feel so lucky to have been with such a fantastic group of people on this trip—we really worked well together and had a great time.  This was such an amazing experience, and I am so glad to have had this wonderful time in Nicaragua!