Veterinary Students Study Abroad in Germany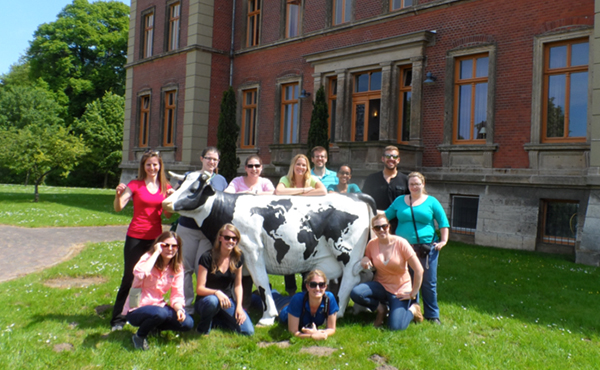 Monday, May 19, 2014: Taylor Winkleman
Let's be honest. Being a vet student is hard. Especially on Mondays. But on the Monday you wake up in your hotel in Hannover and begin your two-week public health tour through Germany, it's a good day to be a vet student. Especially when that tour is one of your clinical rotations. It's one of those moments where you really feel like you're winning at this whole vet thing.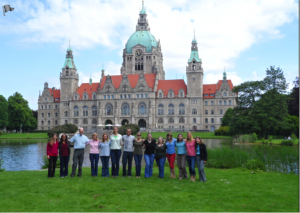 We started with a German Frühstück at our hotel. The dining room was a charming miniature restaurant with very German things in it- a cuckoo clock and traditional German art, tablecloths and food. Lots of food. The typical German meal is rather heavy with rich meats and lots of bread, and Frühstück is no exception. The spread we had to choose from had Brötchen (big bread rolls, so tasty), several different kinds of sliced bread, hard boiled eggs, many different kinds of cold charcuterie, and a couple different Würste (sausages), plus pastries, juice, coffee, tea, fruit, and sliced tomato. Thus (quite heavily) fortified, we set out on our first official day in Germany.
The first thing we did was go to Tierärztliche Hochschule Hannover (the vet school in Hannover), and we got treated to a meeting with the President of the school. He gave us a talk about the history of the school (it's a private school) and how it had come to be a doctoral school. The Hannover vet school is the oldest vet school in Germany, and was founded in 1778. The president told us about how very much changed the face of veterinary medicine is- how it has come to be a female-dominated profession (with two men and ten women on the trip, we were quite representative of it ourselves), and how he sees change being a very positive thing as we continue to grow and change with our profession. We are students, but we were welcomed to the school and treated like VIPs.
Our next order of business included a familiar face: Professor Hackbarth had given us a walking tour of Hannover on Sunday, teaching us the history of one of Germany's less touristy and more interesting cities. After the war, almost all of Hannover was destroyed (there were literally two buildings left untouched), because Hannover was on the Allied bombing route to Berlin. So the Allies would drop any unused munitions on the city, leaving only the newspaper office building and one of the churches intact by the end of the war. So the Hannoverians took the opportunity to redesign their city, leaving some of the bombed out sections to revert of forest, resulting in a park that stretches throughout the city, crisscrossed with walking and running and biking trails, a beautiful man-made lake,and modern, wide streets that are relatively easy to navigate. Several of us on the trip tried out the running trails, and it was a surreal and incredible experience, to jog 50 meters from the hotel and end up in a cool, green forest with some of the best-maintained and softest dirt trails I've ever gotten to run on. But I digress.
On Monday, Professor Hackbarth gave us an overview of animal welfare in Germany. Possibly the most revealing thing the professor told us was, "In Germany, we have a rule for everything." This applies to all areas of animal welfare, from the tracking system for livestock (you can track your meat from the supermarket back to the individual animal) to shelter medicine. Perhaps the most interesting subject (for me, anyway) was the overview of how shelters are run. In Germany, all of the animal shelters are state-run, so there are no private animal rescues. The implications were interesting, to say the least. Without private shelters to take the burden of rescue, and with very strict leash laws, Dr.Hackbarth told us that we would not see any strays while we were in Germany.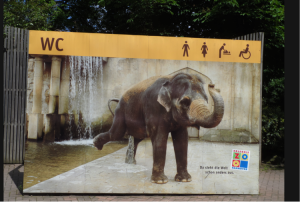 This, despite the fact that spays and neuters are considered largely unnecessary and are not routinely performed. Professor Hackbarth was right- we didn't see any strays. The stray problem is well controlled, and while we didn't ask for specific numbers, he implied that the euthanasia rate is very low in the shelters. The euthanasia rate in some counties in Georgia can be upwards of 70%.
All too soon, it was time to get some lunch at the mensa, the cafeteria at the vet school. Yep, that's right. The vet school has a full-service cafeteria where the students can go and get a hot lunch every day. I had the chicken with mango sauce and the potatoes and green beans with a salad for lunch- and was pleasantly surprised. Lunch was tasty- but it was also rushed, because we had to get to our next stop of our first day. The zoo!
I've been working with exotics for three years now, and the zoo is endlessly fascinating to me. It's always a balancing act between the individual and the species- we ask these animals to be the ambassadors for their kind, to teach people about themselves and inspire conservation efforts. It is impossible to recreate the conditions of the wild, and we are still learning so much about all of these species, so the face of zoo medicine is constantly changing. For example, these days, you will almost never find zebras and giraffes and rhinos housed as individual species. More often, they are housed together, so that they can interact with each other more naturally. The Hannover zoo is also working towards better welfare, and our tour showed a side of veterinary medicine that many don't get to experience.
Oftentimes we can forget that veterinary medicine is as much about people as it is about animals, and I think zoo animal welfare is one of the most poetic illustrations of the intersection of human and animal health. The fences are there to protect both sides from each other.
By the end of the day, we had explored the zoo, which included a wonderful collection of elephants (my favorite animal), a petting zoo, and a river ride that took us past several of the animals. We wound down with dinner at the zoo restaurant, where many of us had the "snail wurst," or one of the coiled sausages with sauerkraut and potatoes, and also got one of the best apple strudels I've ever had in my life. Day one was in the books and it was illuminating and wonderful.
Tuesday, May 20, 2014: Erin Stein
Wow, what an incredible day. I have the honor of blogging the second actual "lecture" day of rotation in Germany. As the first "traveling" day of the trip, we started off running with a very full day of events. Welcome to Tuesday, May 20, 2014, on the Germany Public Health rotation!
We started the morning at the Mobile Eradication Center in Barme, County of Verden. The Mobile Eradication Center (or MEC) is just what it sounds like: an outbreak investigation compound that can pick up and move to the site of action. The compound is actually just a set of seventy large containers that are set up to be used as a base office for the people on the ground. There is a "clean" side and a "dirty" side which are separated by complete shower facilities so that those that were in the field do not contaminate the building. The clean side theoretically does not have any viral or bacterial contamination. At the MEC, we were presented with "Animal Disease Control in Lower Saxony" by Dr. Josef Diekmann. The lecture also included some background information on the European Union (EU). The EU was set up in 1993. Today, 21 years later, the EU encompasses 28 member states, 500 million people, and 282 Border Inspection Points (BIPs; for import of external goods). The EU regulations take priority over national regulations. Animal health law in the EU differentiates between terrestrial and aquatic animals and also focuses on movement of animals. Moving to a more "local" level, Germany includes sixteen federal states which have priority (within Germany) over food safety and surveillance. Lower Saxony is the largest agrarian location within Germany, and it includes forty-one local veterinary control and food inspectors. Agriculture in Lower Saxony is extremely diverse and encompasses cattle, pigs, poultry, farms, and large feed businesses. We also learned about LAVES which was founded in July 2001. LAVES is responsible in Germany for monitoring, surveillance, and analysis on a federal state level. It includes 8 laboratories, 3 departments, and 800 people. The three departments are broken down to Consulting and Service, Execution (direct responsibility for surveillance), and Analysis (the largest department). Several of the major laboratories are Central Tasks, Food Safety, Animal Health, and Feed Safety and Market Control.
After the lecture introducing us to MEC, we received a lecture on Crisis Management. Europe has been hit with multiple crises, just in the last several years including the terrible outbreak in the UK in 2001 involving Foot and Mouth Disease (FMD). In 2003,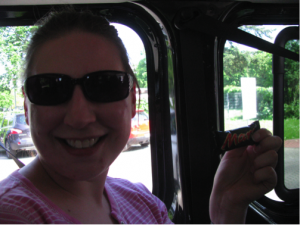 Avian Influenza broke out in the Netherlands causing an estimated loss of 230 million euros in direct costs alone. These sorts of crises resulted in a need for the MEC as part of Germany's answer to crisis and outbreak management. In an outbreak investigation, there are several highly necessary components: high degree of organization, detailed contingency plans, specialized computers, large resources involving both humans and material, high education and training, acceptance of stakeholders, and (ultimately) rapid decisions. Although there is only one MEC for all of Germany, this unit has never had to be fully deployed. However, in the case of deployment, the MEC is expected to be in place and set up within a maximum of five days; but in practice, actual movement and set up have been achieved in three days!
Not all of the day was spent learning about outbreaks and the incredible toll that they can and do take on a nation. The next location of the day was at the Mars center in Verden where we were warmly welcomed with a gift bag full of chocolate. However, Mars is more than just chocolate. Mars is a major name within the pet food industry, particularly in Europe. Royal Canin, Pedigree, and Whiskas are all a part of Mars. Mars operates on the following five principles: quality, responsibility (involving both the planet and resources), mutuality, efficiency, and freedom. There are 6 production sites in Germany and 2200 associates from 34 nations within the Mars company. The site that we visited in Verden holds palatability tests for both dogs and cats, and we had the opportunity to visit some of these wonderful animals.
Our final destination was at a milk inspection plant nearby: Institute fϋr Milchuntersuchung (IfM). Here, we received multiple lectures encompassing animal identification and tracing within Germany. In 1999, Germany began complete cattle stock tracing which involves the following components: two yellow ear tags with unique identification numbers for each animal, master data certificate (cattle passport), cattle records on each farm, and a central electronic database. The Central electronic database records each birth, import and cattle movement for every farmer, dealer, and butcher. Producers and animal handlers are kept in compliance through checks and penalties. Unregistered/untagged animals are not allowed to be bought or sold. If the identification of the animal cannot be proven, then the animal must be culled and condemned which results in a loss of meat price and the cost of disposal for the farmer. Animals are required to be tagged within seven days of birth, and notifications (death, movement) must also be within seven days. There are similar requirements in place for pigs and horses and other equids. We were also given a lecture on antibiotics restrictions in Germany. The goals of the antibiotics records and restrictions are to decrease antibiotic usage and ultimately to decrease the risk of creating antibiotic resistance. However, these restrictions are only applied to farms keeping cattle, pigs, chickens, turkeys, or fattening animals. Farmers must record the exact antibiotic name, amount of medication, animals treated, and duration of treatment and days under effect. Finally, we received a lecture on the actual milk inspection plant (IfM). IfM is state approved but there are no government subsidies. It operates on a non-profit basis. The goals of IfM are reliability, competency, speed, and good value for money.
We finished the day in the best German way possible: excellent food and good beer! Some of the most popular menu items were currywurst and, of course, schnitzel.
Wednesday, May 21, 2014: Shelina Brookshire
At 8:50 am, we arrived at the Hannover Veterinary School to take a tour through the clinical skills lab. Our guide gave us a brief introduction of the clinical education received at the university. Unlike some universities in the States, where education mainly consists of traditional teaching methods (professors giving lectures, etc.), the Hannover University has several different learning levels and only the professional learning level has this traditional approach. They have many teaching models and simulators available in the different rooms of the skills lab which allow students to become more comfortable with a task before performing these skills with a live animal. The first room we entered was the Injection Room, where students had models available to practice blood sampling, IV injection, and catheterization. Several other rooms were also available to practice various clinical skills including: Suturing room, Reanimation room, Palpation room, Animal Handling Room, Bandaging & Casting room, Radiogragh/ Ultrasound Practice room, Surgical Scrub-in room, Surgical Instruments room, and a room with a smart board that allowed viewing of the many available clinical skills videos. Some of the videos are even available in English in cooperation with the University of Bristol.
University of Bristol student, Sara Bainey, assisted in bringing another helpful learning tool into the school called the "Haptic Cow Trainer." This is a bovine rectal palpation simulator developed by Virtalis that draws on haptics technology or "virtual touch" and allows the student to be able to practice palpating what different variations in the bovine reproductive tract may feel like. It also allows you to visualize what you are palpating on a computer screen and allows instructors to give students different senarios and see if they can determine what they are feeling. Many of the students on the trip got to try out the Haptic Cow Trainer and other models as well such as practicing spinal taps and listening to a Ventricular Septal Defect in a dog. Other large animal models were available including a dystocia simulator and jugular vein model in the bovine room. There were also rectal palpation models for the cow and horse. With all of these models and simulators it was necessary to have a repair room and someone who could fix many of the problems that would arise over time. After a tour of the skills lab, we also toured the Small Animal Hospital in Hannover where we were able to view the exam rooms and various departments. We then took a break for lunch at the cafeteria at TiHo where I had a delicious salad before heading off to the teaching farm in the afternoon.
The teaching farm was something I was particularly interested in seeing, as a future poultry veterinarian, to be able to see some differences from what I had experienced in the States. Unlike in the veterinary school I attend, students at the Hannover University are required to do 14 days of farm practice after their second semester. The students stay in housing at the farm and also take part in practical research. Animal welfare is a central topic in research and discussion in Germany and also in the European Union as a whole. The are around 30,000 animals on the teaching farm including 200 head of cattle, 80 mother sows, 80 mini pigs, 500 layers, 18,200 broilers, 2700 turkeys and 2300 ducks. Our guide also discussed the milk quality control system where if the cow is not in the standard of quality, whether due to hygienic problems, decreased life-span, hoof problems, etc., the milk is not accepted. On this farm, we saw their mechanical milking system and cattle facilities, swine facilities, turkey,and chicken enclosures. Many new laws to improve animals welfare will go into effect in the near future. By 2017, dehorning of bulls will cease (genetics will be used to breed bulls without horns). By 2016, chickens will no longer be de-beaked (by 2017 for turkeys). Also, studies are being performed at the farm to look at the possibility of switching back to a type of bird that can be used for both meat and egg production verses the high production varieties that are common now. They have 14 day old chickens of both types in one of the research houses and will be comparing them throughout the study. They also have outdoor accessible pens for the turkeys to improve animal welfare over the enclosed houses; however, then disease transmission becomes more of a concern. The balance between animal welfare, production demands, and environmental concerns will always be important topics and it will be interesting to see how these develop in the future.
Thursday May 22, 2014: Rebecca Powell
We left Hannover this morning and spent about 3 hours driving to Berlin. It was a fairly uneventful trip through the German countryside. We passed many fields and through some lovely forests. Upon arrival in Berlin, we did not yet head to our new hotel, but drove straight to our location for the afternoon, the Bundesinstitut für Risikobewertung, or the Federal Institute for Risk Assessment.
We arrived half an hour early, and our contact person at the institute, Dr. Florian Höfer, was not able to meet with us yet. Our plan was to eat lunch at the cafeteria, and Dr. Hoenig got us started getting our food and eating. At noon, Dr. Höfer came and met us, with some menus translated into English for us, which I thought was very thoughtful of him and the BfR, even if we did not end up using them due to starting lunch early.
When we finished eating, we waited outside in the shade until 1, when our program was scheduled to start. It was very nice to spend some time out of the car in the fresh air, and the pleasant weather was enjoyed by everyone. When it was time, we headed inside and Dr. Höfer met us and led us to our meeting room. After a brief welcome statement, we were presented with a series of lectures that described the history and function of the institutes, as well as some specific examples of work that they do.
The BfR was founded in November of 2002, and works under the Federal Ministry of Food and Agriculture in Germany, and is independent in its assessments, research, and communication, being funded entirely from public sources, rather than industry. The idea behind the institute is the separation of assessment of risks from management of risks; the BfR works entirely on assessment and research, and then communicates its findings to those responsible for actually using the information to make management decisions. A lot of collaborative work is done with both German and international organizations. An international "summer school" program was recently implemented, for professionals working in similar institutions in other countries to come together and have an international exchange of knowledge.
The two lectures presented to us on more specific work being done at the BfR talked about risk assessment of veterinary drug residues, and research on pathogenic vibrios in environmental, seafood, and clinical sources in Germany. I always enjoy learning about what the institutions that we visit are currently working on, and I especially was interested in the topic of veterinary drug residues, as that is a current concern for many people.
After the lectures, we were led on a tour of their facilities by Dr. Niels Bandick. We were shown a large lecture hall that they can use for conferences and meetings, as well as their laboratories. These included the usual labs for subjects such as microbiology, as well as their experimental slaughterhouse and butcher shop. These last two were something I had never seen before, and thought they seemed very useful for the risk assessment related to animal products that the BfR does. We were not able to be shown any live animal facilities for biosafety reasons.
After the tour, our time at the BfR was done, and we left for the hotel. Our hotel had a very good location in the middle of Berlin, practically right next to Checkpoint Charlie, which was a prominent crossing point of the Berlin Wall between East and West Berlin during the Cold War. I was looking forward to learning more about such an important part of German history. After checking into our rooms, we had the rest of the evening to ourselves, including dinner.
After my roommate Kayleigh and I got settled, we went out at about 8 to get some food at a little plaza by Checkpoint Charlie that held numerous street food stands. We both decided to try the döner kebab pitas, since döner had been raved about by our fellow student Taylor from her previous time in Germany. Döner kebab is a Turkish dish made from meat cooked on a vertical rotisserie, and then shaved off and served in a sandwich or wrap, commonly. The meat is normally lamb, but can also be a mixture with veal, beef, or sometimes chicken. It was delicious, and we looked forward to eating more of these during our time in Berlin, since we would be in charge of our own food for our time in the city.
While we ate, we did some walking around the area, and found a section of the Berlin Wall that still stood, by an outdoor museum that appeared to be about the history leading up to the war, the wall, and the eventual fall of the wall. It was closed to the public, but we made a note to come back during our weekend free time. After maybe half an hour, we had circled back to our hotel, and went up to our room to get some rest before our first full day in Berlin the next day.
Friday, May 23, 2014: Kayleigh Bull
We started out the last day of the week by going to the Robert Koch Institute. We were greeted by Christina Frank, who gave us an introduction to what the Robert Koch Institute does. To put it simply, they are comparable to the Center for Disease Control in the United States. They are a "central institution of federal government for disease surveillance and prevention." They are tasked with surveillance, outbreak investigations and epidemiological studies, all of which lead to prevention and control of disease. One interesting piece of information we were given was how the incidence of S. enteritidis has been on a decline in recent years. They showed us a graph and it clearly showed that the decline began the year that a new law for poultry vaccination was put in place. It was great to see how their studies and surveillance work out.
We were fortunate enough to listen to a few more lectures at the Robert Koch Institute. One of the most interesting in my opinion was on the STEC O104 outbreak in Germany in 2014. This was a form of E. coli that had not been seen in humans before and the source of the outbreak was completely unknown. We were able to go through the process of a full outbreak investigation and see how organizations like the Robert Koch Institute work to solve a mystery. One interesting part of the mystery was that one of the cases only drove through Germany and did not actually spend any time in the country that the outbreak originated from. However, that case did stop and get a sandwich as they drove through so that piece of information helped them narrow down a possible culprit. In the end, infected bean sprout seeds from a certain supplier were found to be the cause, even though all actual seeds that were tested did not show any signs of the pathogen. All evidence pointed to sprouts and that conclusion was especially hard to come to since sprouts are not something people usually remember eating. Many times they are just used as a garnish.
The next discussion we had was on Yersiniosis and Campylobacteriosis in Germany. This was not an actual outbreak investigation but a study that the Robert Koch Institute was conducting. This country has an especially high incidence of Y. enterocolitica and their Campylobacter cases have been increasing in recent years. Their study is a case-control, which brought me back to the bad memories of Epidemiology class but made me remember why we learn about these topics. This was a great talk to show us that there are not always large outbreaks to investigate but that does not mean that the people at the Robert Koch Institute aren't hard at work monitoring disease.
Another lecture we attended was on a Trichinellosis outbreak in 2013. This was different from the other outbreak we discussed because the source in this case was known. A mistake was made at a slaughter facility and a boar that had tested positive for Trichinella made it into the food chain before anyone realized that a perfectly healthy boar had been pulled from the line. This turned into a case of educating the public, contacting cases and working with physicians. In the end, prophylactic treatment and early intervention was found to be much better than prolonging the start of treatment. After this incident, slaughter facilities changed their policies to prevent another honest mistake like this from happening.
Each talk that we attended at the Robert Koch Institute was extremely informative. I only mentioned the big points on some of my favorite topics because I could have typed much more than your typical blog entry. We were honored to be in such an important institution. I really enjoyed how interactive the speakers were in walking us through each step in their process.
The next part of our agenda was to get lunch. We went to the area surrounding the Berlin Zoo, where we had more than enough options to satisfy our hunger. Everyone got something delicious from a home-made sandwich to a stir fry meal. We then met at the front gate of the Berlin Zoo where we met with a zoologist that works there. She was very informative and led us around some of the most interesting parts of the zoo. We learned everything from how an elephant's hair looks (some of us are still convinced that she was giving us a piece of plastic string to hold) to behavior in great apes. A few interesting facts we learned was that they have a gorilla there named Fatou that is the oldest gorilla in captivity. She is 57 years old and is one of the last wild caught gorillas in zoos today now that there is a much more established breeding program. My personal favorite part was when we went into the hippo exhibit and were able to go behind the scenes to view the hippos from a platform above their enclosure. We were able to get a bird's eye view of the baby hippo sitting on top of its mother's back so that it could hold its nose up above the water line. We also learned that, during World War II, that hippo exhibit was bombed and badly damaged. Both adult hippos died and nobody could find the baby. Days later, however, they found the young hippo in an underground subway station. They were able to bring him back to the zoo and keep him healthy where he lived for a very long time. In fact, many hippos in zoos around the world can have their genetics traced back to him.
We all had time to explore the rest of the zoo, which was stunning. We all enjoyed seeing such a diverse range of species. Then, we headed back to our hotel that was right at the historic Checkpoint Charlie. Many of us explored the area and ate our new favorite meal: Doner Kebaps. They are basically crispy pita pockets filled with lamb meat, cabbage, lettuce, greens and sauce. It was great to get such a fantastic meal for such a reasonable price from the street vendors all over Berlin. We were never hungry and if we were we were luckily never far from food! The city was amazing to explore, even after such a busy day!
Saturday, May 24, 2014: Nicole Preston
This morning, we took advantage of getting to sleep in for the first time on this trip while also taking advantage of the amazing breakfast spread at the Mercure Checkpoint Charlie. It was much needed to prepare to see all the sights Berlin has to offer! Our group decided that the best way to see the whole city is via a "hop on hop off" bus that would take us around the city while allowing us to get off at sights we wanted to see. We walked to the nearest bus stop, conveniently located near our hotel at Checkpoint Charlie. Checkpoint Charlie was a U.S. guard station where people had to cross to get from the east side of the wall to the west back when the Berlin Wall was up. Now, it is an artificial post, but it's still a popular tourist sight in Berlin.
We read some information about the Checkpoint Charlie before hopping on our bus to start the tour. The first stop was the Gendarmenmarkt, which is a large square that is surrounded by the Berlin Concerthouse, the Deutscher Dom, and the Franzosischer Dom. All of these buildings are extremely grand and gorgeous. However, due to time constraints we were only able to enter the Deutscher Dom to look inside. Once inside, we spent about an hour learning about the history of German government, including lots of information regarding the rise and fall of Hitler and also the Cold War. It's very interesting to see the German's perspective of that period of history and the way they present it in museums.
When we had gotten our fill of history, we hopped back on the bus to the next major stop at Alexanderplatz, one of the major city squares in Berlin. It is home to the famous world clock that shows the times of popular places all around the world in a creative circulating statue. The square is also home to a variety of department stores and shopping centers, and it was super busy. We walked through Alexanderplatz towards the oldest church in Berlin, St. Nikolai Church. We also stopped at a fountain to take pictures of the iconic TV tower, which is what I pictured when I heard we were going to Berlin. In real life, it's not all that exciting, but we still had to get a picture with it.
Our next stop on the whirlwind tour of Berlin was the Lustgarten, a beautiful square surrounded by the Pergamon museum and the Berliner Dome. Both are imposing structures that tower over this lush green square with a fountain in the middle. I have a hard time fathoming the age of many of these structures. The Berliner Dome has even survived since it was built in 1451 despite catching fire and having its windows blown out during the world wars.
We again hopped on the bus to the next main sight, the Brandenburg Gate. This gate was built in 1794 as the original gate to Berlin. During World War Two, it became famous in many photographs of Nazi parades. After the war, its closure became symbolic of the separation between east and west Berlin. It is also the sight where Kennedy gave his famous speech when he said "Icht bin ein Berliner," meaning "I am a Berliner," showing his sentiments to a country divided by war. I was in awe standing in the place where I've seen so many historical pictures taken, most over 80 years ago! Near the gate was also the Holocaust Memorial which consisted of 2,711 concrete slabs honoring the European Jews who perished during the Holocaust.
At this point we were getting a little tired (and thirsty), so we grabbed beers and rode the bus for a while, passing notable sights including the Victory Column, Tiergarten, Charlottenburg Palace, and the zoo (which we saw yesterday). We also passed the largest department store in Europe, the KaDeWe. It was tempting to go in, but we still had so much more to see! We had fun seeing the sights from the double decker bus, but after about an hour on it, we decided it was time for a snack.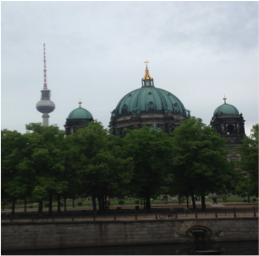 Our snack of choice was a sample of the famous Currywurst. The Currywurst is basically a hot dog drenched in ketchup with some curry powder sprinkled over it. I still prefer Chicago style hot dogs, but it wasn't too bad. After the Currywurst experience, we headed to a section of the wall close to our hotel. There was a museum there called the Topographie of Terrors, which was an outdoor display of all the history of German propaganda and oppression in the time before World War 2. We learned about the wall itself from the bus tour. It was constructed in 1961 at a height of 3.5 meters. An estimated 130 people died at the wall, most trying to escape the eastern German Democratic Republic to get to the west. This portion of the wall was preserved when the rest of the wall was torn down in 1991. I still can't fathom what it must have been like to live in a city separated by a wall. It's also hard to believe that this all occurred so recently- the wall was still up when I was born!
We spent some time at the wall before grabbing our favorite new Berlin food, the Doner Kebab. I could write paragraphs about this amazing treat, but I'll contain myself to a brief description. The doner is an amazing combination of questionable gyro meat, cabbage, cucumbers, lettuce, and sauce all in a soft piece of bread. I could literally eat one every day.
After this quick dinner, we walked to the east side of town to see the East Side Gallery, an artist's gallery created on an old section of the wall. We had some trouble finding it, but we didn't mind because the view along the Spree River was beautiful at sunset.
Once we did find the gallery, our timing was just right to catch a firework display. We settled in to a patch of grass along the Spree with some German teens to watch the show. Pretty amazing stuff. When the show was over, we walked the wall to check out the gallery. Some of the paintings were strange, but the majority had important portraits of unity and togetherness. My favorite part of the wall said "say yes to freedom, peace, dignity and respect for all." Strolling this part of the wall was the perfect end to a perfect (but exhausting!) day in Berlin.
Sunday, May 25, 2014: Chris Robinette
At first we went to Fassbender and Rausch which is the worlds largest chocolaterie, and I can definitely speak to its vastness! They had chocolate sculptures of famous Berlin areas such as the Brandenburg gate, the Reichstag, the tv tower, a massive bear and of the church that got bombed during the Second World War, which actually was kept as it was so that it would remind Germans not to create war and to maintain peace. Beyond this they had a massive selection of chocolates and other delicacies. We decided to go up to their cafe to try out their tortes that they have in their display case. Nikki had their new milk chocolate torte, Ashland decided to have their iced kaffee, and I had a mango torte and a cappuccino. Needless to say everything that we had was amazing!
We then walked over to the lustgardens once again to get some pictures of the Berliner Dome and the Pergamon. It was a rather interesting time as two younger children were running around the middle of the gardens (through the fountain) naked…it was just awkward, seeing as how everyone else (even their children) were clothed. Moving on from that, as we didnt want to stay too long (shockingly enough) we had to find a pretzel (prioritization right?) We were going to go to the DDR museum, which was dedicated to life in East Germany/Berlin after the Second World War, and during the Cold War under the GDR (German Democratic Republic). However due to time constraints we decided not to get tickets.
After walking back to hotel we went to the Checkpoint Charlie Museum. I was honestly surprised how much was in this place! It looked small from the outside, however they expanded up into the building they were on. There was so much material that you needed to read. They had translated all of the information panels into four different languages…it was a bit overwhelming. I will admit that it was really interesting! As they went into a bit of detail as to the political times right before the wall was built – I found this cool (but somewhat lacking in many details) as I love to learn about the little intricacies that caused the wall to be built in the first place.
We learned a lot about the various escape methods people used to flee into West Berlin from East Berlin. The main reason behind this? It sounded like that it was simple economics – life was better. Some of the methods included putting luggage together, swimming across the Baltic Sea (more leading eastern Germany to Sweden), using makeshift planes and automobiles to smuggle people out of the east. The most ingenuous one that I found was the cars. People would re-design the engine to be smaller and put a person in the extra spaces.
Also there was a lot of information about political tensions during the Berlin Wall time period, i.e. the Cold War, the formation of NATO, and how various other countries ended up joining that or signing the Warsaw Pact. At this point I was getting pretty tired and couldnt focus long enough to read through the vast amount of information that was displayed. I know that there were many stories about how people escaped across the wall or how they hid in the worst spots possible (like down a sewer) to avoid the GDR (the government of the time) because times were that bad. I cannot deny that I have a new respect for those who went through the Second World War, and quite honestly the hard times after that as well.
This museum had some expansions recently done that had added Regan's time in office, movements in American for civil rights of African Americans, along with exhibits on Ghandi and world peace. I will admit that at this point I was mentally exhausted and was not able to devote much of my attention to reading this material (as there was just so much!). We breezed through these areas just to get some of the experience and then went towards the end of the museum – where there was just a brief room about the fall of the wall on November 9th, 1989. I would have been more interested in learning about the cause of this (what was going on politically) and the overall feeling of everyone involved.
After all the devastation that has occurred…I am surprised that Germany has made such a quick turn around! Think about it – Germany has only been united for a little under 25 years, and look how quickly has it become one of the more economically sound European governments, and how well everyone is doing in this country. Yet we still have other countries that are still trying to get themselves back on their own two feet.
After the museum we grabbed dinner at the amazing döner kebab place. I just want to take a moment to talk about how amazing these things are! I have never had these kebabs, and they are so delicious! We literally had kebabs pretty much all weekend (Friday, Saturday and Sunday), and no regrets about this. It was cheap and great food, what more could you ask for?
Being so full we decided to walk over to the Reichstag and Brandenburg Gate for the sunset. We were supposed to go up into the Reichstag however there is apparently a 3 step process that we did not realize and ultimately didnt get tickets. My heart was not broken though as we had such an amazing day already! Plus the Reichstag at sunset was beautiful anyways.
We walked over the Berlin Haupbahnhoff to grab a snack (Le Crobag was the place to go). Funny enough its probably not even that great to Germans, but to us "it is the meal of our desire" – afterwards we decided to walk back towards the hotel and start packing up as it was our last night in Berlin.
In the end, Berlin was an experience. Learning so much more about the German side of the was what I was most interested as we do not get that back in the states. Although I have to admit I would have preferred to learn more about the rise of Hitler and what things were like during the war. Regardless I cannot complain as I have learned much and gained a new respect for the world I live in and those who have died for me to be able to live the way I do (and quite honestly we in much of the Western societies)
Monday, May 26, 2014: Ben Wier
With a refreshing, beautiful weekend in Berlin behind us, we headed on to our next destination: Greifswald. We got an early start from our hotel in Berlin and took off on the 2.5 hour drive to North. After encountering some early morning Berlin traffic, it was a welcome change of pace to get outside of the city and see open countryside full of windmills and rapeseed fields ready to bloom. The number of windmills and occasional solar panel arrays in the German countryside is truly astounding! On our way, we made a stop in a village in search of a WC/"water closet"/toilet, only to find a small village with no public facilities. Fortunately though, veterinary school teaches us to problem solve, and we managed to talk a friendly fireman into letting us use the firehouse WC.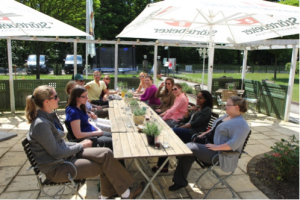 After a quick stop to drop off our luggage at the Mercure Hotel in Greifswald, we made our way to the Restaurant Langes Landhotel for lunch. Dr. Hoenig had made reservations weeks in advance, however the restaurant seemed to have forgotten! They were fortunately able to serve us, even though we were the lone patrons. We sat outside to eat- in what must have been a warm day for the surrounding coastal area (approaching 26-27C!).
Before eating, we were reminded that today was Memorial Day and we remembered those who have served or are serving in the armed forces, and most importantly those who have paid the ultimate price for our country.
The meal that followed was excellent, and perhaps, my favorite meal of the trip: wilde schweinefleisch bratwurst mit sauerkraut. We'll see if I get trichinella. . .
After lunch, we made our way to our primary destination for today and Tuesday, the Friedrich-Loeffler Institute (located on Insel (island) Riems). On the way to the Institute, we passed through Riemser, and stopped at the Pommershe Evangelical Kirche Klaus-Joachim Freese. This old church is located right on the coast of the Baltic, on the way out to Insel Riems. The church has a very tall bell-tower, which we were able to climb, and afforded stunning views of the coastline.
We arrived at the Friedrich-Loeffler Institute (FLI) in the early afternoon. Once there, we were met by Dr. Helmut Surborg (a veterinary school classmate of Dr. Hoenig) and President of the FLI, Prof. Thomas Mettenleiter. We were honored to not only be greeted by Prof. Mettenleiter, but he also gave us an introduction to the history of the Institute and an introduction into the work that is done at the island today.
The FLI was founded in 1910 and is currently controlled by the German Ministry of Food, Agriculture and Consumer Protection. It is widely considered to be the first virology research facility. Friedrich Loeffler began his career working with Robert Koch under whose direction he made many important discoveries, including the causative agents of glanders, diphtheria, and erysipelas. He was then appointed Chair of Hygiene to Greifswald University and he soon thereafter described the causative agent of foot and mouth disease (FMD)- a virus. In the early years of Loeffler's research, animals were housed in barns in the middle of Greifswald and animals infected for research were frequently leased from local farmers, meaning infected animals were being sent back out into the production livestock population. This apparent lack of biosecurity likely led to some outbreaks of FMD in local herds, and he was ordered to stop his studies. His experiments continued at the Island of Reims.
In 1938, the first successful FMD vaccine was created on the island and used successfully. Current research on-island includes relevant, infectious disease research- including classical diseases, zoonoses, emerging infections, endemic infections, vectors, etc.
Following Dr. Mettenleiter's introduction, we were invited to listen in on a weekly institute-wide seminar. This week, the seminar covered mosquito monitoring in Germany. The topic was fascinating, and it was impressive to hear about current efforts that are being made to identify new populations of mosquitos and the associated pathogens that they risk carrying. This monitoring has been stimulated by past outbreaks of blutetongue (in 2006-2009) and the emerging mosquito diseases in Europe (West Nile Virus, malaria, Rift Valley fever, filarioses, etc.).
This was our final presentation for the day, and the remaining time we had the island included a general tour of facilities and overview of animal populations on the island for research. It was interestilng to hear that the FLI will be one of only a few places in the world with a BSL5! The FLI has recently gotten approval and installed an alkalinizing digester to safely dispose of all animal carcasses used on the island for research.
Our day ended with supper at the Fritz Braugasthaus in the Greifswald town square, followed with a helping of ice cream, courtesy of Dr. Surborg. We have generous hosts!
Tuesday, May 27, 2014: Arsema Weldu
Our second day of visiting the Friedrich Loeffler Institute encompassed a series of interesting, relevant, and thought-provoking lectures. Being able to learn from, and discuss with experts involved in the public health field was truly a valuable experience and one we all were lucky to have been a part of. What I appreciated most of all from everyone who spoke to us was the fact that they were so enthusiastic about their field of expertise and how encouraging they were to hear our questions and our thoughts on topics. I walked away feeling humbled at how readily we were welcomed and will always appreciate that.
Lecture 1: Rift Valley Fever presented by Martin Eiden
Dr. Eiden discussed what Rift Valley Fever (RFV) is, clinical signs associated with it, as well as relevant current information on the topic. It is a viral disease transmitted by mosquitoes causing a fever commonly seen in cattle, buffalo, sheep, and goats. This virus is in the family Bunyaviridae and is most commonly found in eastern as well as Sub-Saharan Africa. It was found in Kenya in the 1930's and spread outward. The virus is still circulating with the main reservoir being camels. Most recently, an outbreak in gazelle on the border of Senegal and Mauritania occurred in 2013.
The cycle involves eggs being deposited in the ground, which can not only persist for a long time but can infect people too. RFV causes abortion most commonly in livestock but influenza-like symptoms or possible encephalitis in humans. Lambs, interestingly, are highly susceptible to RFV more so than other species. Outbreaks of RFV have significant economic impacts on those affected and it also affects trade between countries.
Lecture 2: African Swine Fever presented by Sandra Blome
African Swine Fever (ASF), a highly contagious hemorrhagic virus, affects pigs and is difficult to control but thankfully, it is not zoonotic. It is a DNA virus that can be transmitted by a tick vector but a vector is not necessary for infection. This disease, like RFV is also economically important in terms of swine production. Dr. Blome mentioned that ASF is a definite concern in Russia where it is spreading in the domestic and wild pig population and it is extremely difficult, or rather impossible, to maintain control over wild pigs crossing over into Europe. This virus has now spread to the edges of Eastern Europe with some outbreaks popping up.
Unfortunately, the virus is highly resistant to freezing and can remain infectious for many months. Also, there is no treatment for ASF and no advancements in vaccine production have been made yet. Most emphasis is placed on prevention and trying to avoid transportation of infected pig products into areas free of ASF. An interesting fact mentioned was that warthogs show viremia but do not show clinical signs and do not die from the disease.
Lecture 3: Schmallenberg Virus presented by Kerstin Wernike
Schmallenberg virus, a reportable but not zoonotic disease affects ruminants causing a fever, decreased milk production with possible diarrhea in adults. What was most interesting was how this disease was detected. There was a decrease in milk production and other disease processes were ruled out, furthering research for a new pathogen.
It was found that the midge (culicoides) transmitted the virus and the viremia lasted for 4-5 days. Further on it was determined that a pregnant cow infected during a certain time (between approximately day 50-100) would likely deliver an infected calf. Malformed calves and lambs were seen with clinical signs involving torticollis, misshapen limbs, and hydrancephaly. Thankfully, there is now a vaccine available but we are still unsure of where the virus came from but a theory is that it might have come from a relative disease from Australia or Africa.
Lecture 4: IT and Geographical Information Systems in Animal Disease Control presented by Franz Conraths
Information on outbreaks or potential outbreaks needs to be reported immediately in order to gain control and address those outbreaks. In order to do this, there needs to be a system of communication. There are official vets in all districts who report to state vets. A center for disease database allows certain people access to it and this is useful for management and control practices. This database is not only to collect information; it is used to give information back to the vets as well as the public about public health related issues (essentially a network for early warning of diseases like Avian Influenza).
Lecture 5: Rabies and Bats presented by Thomas Müller
Dr. Müller led the presentation by pointing out that there are 50,000 deaths every year from rabies. These occur mostly in areas in Asia and Africa. Predominantly rabies has a stronghold in more rural vs. urban regions. Rabies is in the family Rhabdoviridae and genus Lyssavirus and bats are the true reservoir in the world, however with spillover subsequent infectious can happen without the presence of bats.
Rabies in bats was first reported in Germany in 1954, and Germany has reported one of the highest numbers of positive rabies cases in Europe. Unfortunately, passive surveillance is tightly regulated due to an act passed in 2005, stating that the status of indigenous bats be changed to highly protected and this restricts the amount and type of handling as well as submission of bats that could e rabies infected. This sparked a discussion about whether the high numbers of rabies in Germany was because of a well-developed investigative, and reporting system or whether it was because there is actually a true discrepancy of cases of rabies in Europe.
Lecture 6: Avian Influenza presented by Christian Grund
We talked about the dramatic clinical signs associated with Avian Influenza including edema, cyanosis, and CNS signs. Transmission occurs through the respiratory tract, conjunctiva, and feces and can be direct or indirect in nature. It has an incredibly fast incubation period (1-3 days). We differentiated between low pathogenic (mainly restricted to the respiratory tract) and high pathogenic (more to do with CNS signs). Some strategies to eliminate this disease include stamping it out by depopulating, and vaccinating.
Lecture 7: Pathology "Transboundary Disease" presented by Jens Teifke
During this lecture, Dr. Teifke defined pathology for us and described various pathologies including African Swine Fever. He also described what MALDI is. Matrix- Assisted Laser Desorption Ionization is a type of mass spectrometry imaging modality. Essentially, the point is to try to visualize the spatial distribution of particles in a tissue sample to eventually characterize and aid in drug development among other things.
We followed up the lectures by having dinner at the Utkiek. The choices of fresh seafood dishes were appetizingly delicious and we had an amazing view even with overcast skies and a bit of drizzle! The atmosphere was relaxing and the conversation interesting; all in all, it made a great end to a fascinating day!
Wednesday, May 28, 2014: Terri Lloyd
The morning began with a very warm welcome by the executive personnel and presenters at Riemser Pharma GmbH. Our first speaker, Professor Wolfgang Wittmann, shared a rare historical account on Friedrich Loeffler, Isle of Riems, and the establishment of the Friedrich Loeffler institute (FLI). Although Professor Wittmann was reported to have a dental emergency that very same morning, he still remarkably maintained his appointment with us, a testament to the dedication and generosity of our many presenters.
Friedrich Loeffler was born in 1952, and his career aspiration was to study medicine. However, his ambitions were postponed by joining the Army during the Franco-Prussian War. Following the war, Loeffler commenced his medical studies in Berlin where he also worked with Robert Koch. Later, as a scholar of Robert Koch, Loeffler founded the Institute of Hygiene in Greifswald. Loffler was also appointed by the Prussian Ministry of Agriculture to conduct research on Foot and Mouth Disease, including identifying its etiologic agent and vaccine development. In 1898, Friedrich Loeffler and Paul Frosch described that the causative agent was filterable, corpuscular, and capable of replication. Based on this groundbreaking discovery, Loeffler earned his name as one of the founders of virology. His extensive research continued in Greifswald, however, concurrent FMD outbreaks were also increasingly reported in the vicinity. These outbreaks lead to the authorities' request that Loeffler find a new location for his experiments. Loeffler's solution recommended an island location, thereby suggesting the Isle of Riems. Thus, in 1910, the institute on the Isle of Riems was founded. In 1913, Friedrich Loeffler was assigned as director of the Robert Koch-Institute, shifting more of his research activities to Berlin. Research completely stopped at Riems during World War I, and Loeffler passed away in 1915. After the war's end, veterinarian Otto Waldmann was commissioned in 1919 to continue Loeffler's work on the Isle of Riems. In 1938, Otto Waldmann and Karl Köbe presented a FMD vaccine, which was used in the outbreak years of 1938 – 1940. Over the next 100 years, the institute endured many changes, shifting from research to mainly vaccine production and back to research again. In 1952, the institute was renamed as the Friedrich Loeffler Institute (FLI) in honor of Loeffler's 100th birthday. Today, FLI is a federal research institute dedicated to animal health, consisting of 11 institutes at 5 sites. FLI incorporates the entire spectrum of animal health ranging from epidemiology, novel and emerging infectious diseases to molecular virology and cell biology to welfare, nutrition, and husbandry.
Concluding his talk, Professor Wittmann shared with us a rare, turn of the century painting completed by a talented artist with the surname Zläger. This unique painting depicted the beautiful, scenic countryside on the Isle of Riem prior to 1910.
Our second presentation included a very informative introduction, history, and product overview of Riemser Pharma GmbH. Formerly Riemser Arzneimittel GmbH, the company was founded by the Braun family in 1991. Now owned by Ardian private equity firm, the headquarters is located in Greifswald. The company's focus includes sales, marketing, and life cycle management (including phase IV post-marketing surveillance studies) of specialty therapeutic pharmaceuticals in niche markets. Their product portfolio encompasses areas of oncology, hematology, stem cell transplantation, anti-infective agents, neurology, and dermatology. The company's history has been divided into several phases including mergers and major acquisitions of more than 200 products, consolidation and initiation of strategic growth, divestments of dental and animal health portfolios, and a recent acquisition of Keocyt along with other medical specialty products. Today, they are a midsized, specialty pharmaceutical company targeting European markets, but their products are distributed worldwide.
Immediately following our presentations, Riemser Pharma GmbH graciously provided lunch and refreshments, while allowing ample time for questions and networking. We also paid tribute to the statue of three guinea pigs located just outside of the building. This statue serves as a commemoration to all animals, including guinea pigs, whose lives have contributed to saving other animals and humans worldwide.
Shortly thereafter, we departed for the charming, historic Baltic Sea harbor town of Wismar. This picturesque, 13th century town boasted of elegant architecture, timeless cobblestone roads, the impressive Marienkirche, Wasserkunst fountain, and numerous quaint shops and café's surrounding the market's square. In just over an hour's time, we beheld magnificent buildings, explored the city streets, shopped for Baltic amber, and indulged in several irresistibly fresh baked goods from a corner Bäckerei.
The second leg of our journey included a several hour drive return to Hannover. The afternoon's traffic slowed our progression, which was a direct result of the approaching Ascension and Father's Day holiday. Upon arrival into Hannover, we settled into our new hotel, conveniently located only five minutes walk from the Hannover Hauptbahnhof and downtown shopping. Our evening ended with a delightful dinner at the Pindopp Bier Café, known for their savory pizzas. Dr. Krischek, our speaker for Friday's forthcoming lecture also accompanied us, bringing our remarkable day to a splendid close.
Thursday, May 19, 2014: Ashland Roquemore
Happy Father's Day!…if you're in Germany that is. Also, Happy Ascension Day! Ascension Day marks the 40th Day of Easter and is a public holiday in Germany celebrating the ascension of Jesus to heaven. Today, we rose bright and early to enjoy our free breakfast buffet before a short hour and a half drive to Wahrenholz, where Drs. Helmut and Ingrid Surborg welcomed us into their home. Dr. Helmut Surborg is a large animal practitioner specializing in cattle diseases and was also a vet school classmate of Dr. Hoenig. His wife, Ingrid, practices mixed animal medicine. Their home also contains their own small animal clinic. Ingrid just so happens to be a winemaker's daughter so we were greeted with a delicious glass of port wine upon entering their house.
Soon after, we were back in the vans cruising across town to visit a dairy in Betzhorn. Mr Helmut Evers greeted us and gave us a brief history of the dairy before we began our tour. The farm has been in his family for over 500 years! Since about 1480 it has been passed down through generations of dairy farmers. The farm focuses primarily on dairy cows but they also work with other farmers in the area to grow rice, sugar, grain, and beans on the surrounding crop land.
When calves are born they are kept with their mother for the first feeding and then are moved to their own private hutches, where they receive a hearty diet of colostrum for 5 more days. Within one day of birth, calves are legally required to have official ear tags placed in each ear. We were lucky enough to have the opportunity to see Mr. Evers demonstrate this process to us. When the ID tag is place in the ear, there is a small tube where a tiny punch of ear tissue is contained and later can be sent off for BVD testing. The information for these calves and the results of their tests are recorded on their "passports". After about a week calves are moved to "kuh kindergarten", a pen containing calves between 1 to 5 weeks of age. Each of these calves is then fitted with stylish collars toting a transponder that enables them to feed from a computerized milk feeder. After kindergarten the calves graduate to a larger pen of cows from 5 weeks to 5 months of age. This enclosure has an outdoor fenced in area as well as a large, covered, igloo-style hutch.Near to this enclosure there is a picturesque little pasture for dry cows to graze and laze in the open air.
Mr. Evers explained that his cows are artificially inseminated and he performs this procedure himself. There is currently about 80 cows on the farm. The cows in the milking parlor are milked twice a day. They take daily samples of the milk and test it for SSC, fat, protein, and antibiotic content roughly once per week and then test for CFU's about every other week. Mr. Ever's cows are currently able to boast a SSC of less than 170,000….that's some quality milk. His milk is purchased by a local bakery and is also purchased to make butter at a creamery.
Mr Evers also spoke at length about the feeding protocol for his cows. The cows are kept on tightly regulated diets, as their nutritional needs change throughout their growing and milking cycles. Extensive diets contain more straw and grass whereas intensive diets will contain more grain. Most of the feed is mixed on the farm, and is regularly analyzed for content to ensure the cows are receiving sufficient protein, fat, etc.
When our time at the dairy was done we hurried over to the local biofuel plat. This plant is an incredible operation that was developed by local farmers in a time of financial crisis. Many farmers were starting to realize that their livelihood depended entirely on farming, and it was becoming more common for small farms to go under financially. A group of 22 farmers, with the help of the mayor, decided to diversify and so, six years ago they established this bio-gas power plant that supplies power and heat to the village.By the start of our tour, the temperature was steadily dropping below 55 degrees Fahrenheit and unfortunately our tour guide did not speak English but Dr Hoenig was able to translate. Basically, farmers bring their waste and silage to the plant where it is processed and allowed to ferment in enormous vats that harness the off-put of their metabolism and translate it into usable energy for you and me. The fluidy, bubbly mixture of manure and silage is kept at balmy 40oC to provide optimal bacterial growth conditions. It takes roughly 1 ton of corn silage to make 2.000 kilowatt hours of energy… I'm not quite sure what that means in layman's terms, but the plant has added another gigantic vat in the past year, so it must be working well for them. The farmers' income has increased since the plant was constructed. Originally it cost €2 million to construct and is now worth over €5 million. Ca-ching!
Nearing the end of our day, we stopped by a small windmill farm and once we'd learned how to harness the power of the wind, we puttered back to the home of Dr Surborg to enjoy the most incredible and legendary meal of our trip. Bread, summer corn salad, juice, and wine. The main event was an incredible dish of meat and potatoes baked in cream. It left our stomachs full, our waistbands tight, and our faces grinning with total satisfaction. As if that wasn't enough we were served a grand finale of ice cream in vanilla rum sauce, coffee, and pastries. I think we all contemplated smuggling Ingrid back to the states so she could cook for us ALL the time, it was THAT good.
We ended out day with a brief lecture by Dr Helmut Surborg on the life of a bovine vet in Germany. There are almost14 million cattle in Germany in farms in all ranges of sizes. The main medical problems dairy vets face are lameness and mastitis. A vet must also remain vigilant and prepare for the not uncommon cases of emergency C-sections, prolapsed uteruses, fetotomies, metritis, metabolic disorders, displaced abomasums, and range of reproductive complications.He was thoughtful enough to arrange a slide show of some of the highlights of our trip thus far.
We ended our evening by going for a stroll around town. We saw a nearby house where a stork had constructed a massive nest atop a chimney. We made our way over to an area with a few shops and a restaurant. The restaurant was actually an old farm house/barn that was renovated and converted into a modern restaurant. For the next hour or so we simply wandered around enjoying the beautiful view of the countryside that you simply do not see where I am from. It was a lovely ending to the day and we were sad to bid farewell to the Surborg family when we piled back into our vans to trek back to our hotel. It started to dawn on some of us that we only had one more day to enjoy Germany. With still full bellies, most of us quickly fell asleep and rested up for our final day.
Thursday, May 30, 2014: Vanessa Yeager
Today, after a good breakfast at Suite Novel Hotel in Hannover, we hopped on the train to TiHo and met with one of the professors there who teaches meat inspections to students there at the University. When we got there, we had a lecture on Ante-mortem and post mortem meat inspections. The talk was very interesting to the students (including myself) as back in the states, we don't get very much instruction on meat inspection (if at all). We sat in a lecture hall specifically for teaching student's cattle science and meat inspection science. Here are the key take always from the lecture:
– Meat inspection MUST be done by an official veterinarian within 24 hours before slaughter.
– After unloading of the animals, they let the animals calm down for a minimum of 2 hours
-The truck drivers are responsible for the animals from picking them up from the farm to carrying them to the slaughter house. If they pick up animals that are not suitable for slaughter, it's their fault!
Antemort
– Inspection of the group, then the individual
-Things to consider: is the animal moving normally? Does the animal have a zoonoses (difficult to see), are the animals contaminated? Do they have correct identification? (They are not allowed to be slaughtered without the proper markings). Is the animal weak? Does it have pathological signs of disease?
-An animal is not allowed to be slaughtered if it has evidence of systemic disease, emaciation, zoonoses, or not identity.
– Slaughter can be postponed for longer time if animals are excited by transport and/or the withdrawal period is not expired in which case the animal is slaughtered and meat is tested.
Post Mort
-Animal must have proper identification
-Considerations include: The condition of the animal after slaughter, exsanguination status of the animal, general condition of the animal, If the animals are too light for their age, the presence of residues, or meat quality changes.
-Cattle: The inspection is visually and you do cut into the tissues for additional investigation.
-Pig: Inspection was similar to cattle until recently the rule will change and only a visual inspection will be necessary for all pig carcasses.
After the lecture, we got to see firsthand how a meat inspection is completed on both a cow and a pig. The instructors there were very knowledgeable and walked us through the inspection process, what the look for and why, and how to make the decision to condemn the carcass and not fit for human consumption. The key take always from that part of the presentation:
-Look on the outside of the animal: Any signs of disease? Signs of improper exsanguination? (Pooling of blood towards the head of the animal)
-Age the animal (teeth). Presence of M1 should be 6 months old. Presence of M1 and M2 indicates an older pig (9-13 months).
-Inside of the carcass: any signs of disease? various lymph nodes are cut into (want to rule out systemic disease).
– The organs are inspected: Heart is sliced open and inspected for worms, Hemorrhage, endocarditis, ect, the intestines, and the "pluck". Liver and lungs are inspected for disease (respiratory disease, milk spots to indicate ascarids, ect).
We had a quiz at the end of the presentation-the professor showed us pictures of carcasses and organs and we had to decide whether or not it was suitable for human consumption, some parts were suitable, or no parts were suitable. He only gave us 50 seconds to look at each carcass picture! And that is how fast they normally do it. Talk about quick decision making!
After the quiz, we grabbed a bite to eat in town at a Turkish restaurant, then headed back to TiHo for a lovely tour through the cattle clinic. A very nice assistant gave us the grand tour of their facilities. I was very impressed by how much practice they allow their students to get with these cattle. One cow for every two students to practice palpation on! In terms of keeping their facilities free of any highly communicable disease, animals are quarantined for a day in special stalls to be monitored.
The day ended after the tour and we toured the shopping area for a bit, and then headed to dinner at a terrific Bavarian Restaurant. The menu was extensive and included German specialties like schnitzel, bratwurst and spaetzle but also had traditional dishes that are left "under the radar" like this wonderful turkey and mushroom dish (like a stroganoff) with fried potato hash and fresh salad. After a filling dinner, we walked back to the hotel to get a good night's sleep before everyone left to travel back home the next day.
To summarize the Germany Public Health trip, this has been a terrific learning experience in a variety of ways. It was an eye opening experience to see how another country views their health and safety and food production. Germany really has high public health standards and is very concerned about the quality of the food produced. They have a very fast outbreak response (such as in a food borne outbreak) and also have extremely low drug residues in their meat. They really value animal welfare and have a litany (I think thousands) of laws pertaining to animal welfare alone. Germany seems to have a law for nearly everything!
It was also beneficial in seeing how another country's vet school operates. Much emphasis is placed on gaining a variety of experiences and although challenging, the system does not feel as rushed as it is in the states. Since it is a government paid program, the students who are selected and go to TiHo come out of school with only about 5k in debt. This opens more doors for them career wise and they are more open to gaining more experience out of vet school. Many of them do go on to do a PhD.
Lastly, it was just terrific to be in another country and experience a different culture and explore their history. Having not traveled to Europe before, I came home seeing my world in a new light and I think I am more open to other ways of life than I was before the trip. I really loved that part of the trip and will absolutely be back, perhaps even work there at some point. My German has to improve before that happens…thank goodness for Rosetta stone. J
I'm very happy to have been a part of this wonderful excursion.
Danke und Auf Wiedersehen!