Summer Research Takes Student on Dive Deep into Dentistry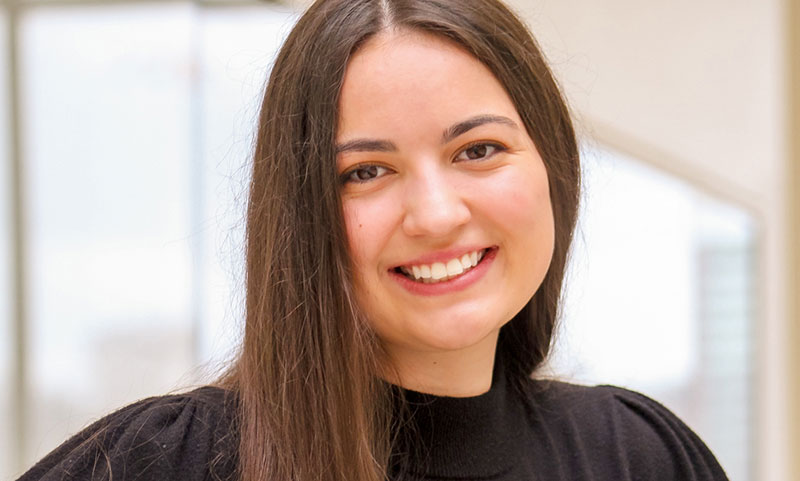 Dentistry Is Exciting, Says Greene
While some students might spend summer break rafting down rivers or kayaking on streams, Erica Greene is exploring a canal—the canine mandibular canal, to be exact.
The rising third-year veterinary student has funding through the Veterinary Student Scholar Program, an initiative of the Morris Animal Foundation, to conduct research aimed at improving veterinary dentistry.
"The mandibular canal is a passageway in the mandible, or jaw, that contains several important nerves and blood vessels," explains Greene, who plans to pursue board certification in small animal veterinary dentistry after finishing her DVM.
"It closely neighbors the roots of the mandibular first molar—the largest tooth of the mandible, which is also commonly extracted in dental procedures."
By studying how the components within the mandible relate to one another, Greene believes she can find ways to make dental procedures involving this structure safer.
Greene decided to apply for the Morris Animal Foundation grant while she was taking the Research Elective, in which students develop a research plan and proposal. Greene used the elective to create her research proposal with guidance from Dr. Lois Hoyer, associate dean for Research and Advanced Studies, who teaches the elective, and Dr. Amy Somrak, head of the small animal dentistry service at the Veterinary Teaching Hospital.
Finding a Mentor
Greene's research mentor for her project is Dr. Stephanie Goldschmidt, an assistant professor at the University of Minnesota College of Veterinary Medicine. Greene reached out to her after attending a talk Dr. Goldschmidt gave about cone beam CT at the Virtual Veterinary Dental Forum in 2020. Dr. Goldschmidt helped refine and improve Greene's proposal before submission to the college's internal competition, since the Veterinary Student Scholar Program accepts only one application per veterinary school per year.
Greene's research project involves evaluating canine CT scans from the University of Minnesota Veterinary Medical Center. She plans to review about 192 scans, which were originally taken for reasons unrelated to this project. In addition to collecting data for her project, she discusses the pathologies and possible treatments represented in the images with Dr. Goldschmidt.
"This is helpful in not only expanding my knowledge about oral pathology, but also to make sure I maintain a complete approach to CT scan evaluation before focusing in on a specific area of interest," says Greene.
Tapping into Illinois Summer Research Program
Greene also attends the seminars offered through the college's Summer Research Training Program.
"That is a great group of students with widely varied interests, and I have really enjoyed learning about all their different projects," says Greene. "Even though our programs are slightly different, it is helpful to hear the feedback they get on their writing, so I can eventually apply it to my own."
In August, Greene will present her findings at the National Veterinary Scholars Symposium, along with hundreds of other veterinary students who have participated in formal summer research programs.
As president of the Illinois chapter of the Student American Veterinary Medical Association (SAVMA), Greene will be representing the University of Illinois at the SAVMA President's meetings during the AVMA Convention this month.
Befitting her career aspirations, Greene also serves as treasurer of the Illinois Student Chapter of the Foundation for Veterinary Dentistry, among other extracurricular activities at the college.
She hopes one day to work with cats, dogs, and maybe even animals at zoos and sanctuaries as a veterinary dentist.
"Dentistry is exciting," she says, "because it combines surgery, imaging, and near-instant gratification. Most dentistry patients show rapid improvement in comfort and function after their treatments."
By Mackenzie Wells, Class of 2024