Veterinary Service Group Warms Hearts of Students, Community
Happiness is a warm puppy, according to the Peanuts comic strip, and the faces of the Clark-Lindsey residents enjoying pet visitation night confirm this truth.
The pets and their owners who make pet visitations possible also seem happy to engage in an evening of furry fellowship. It's just one of the many ways that veterinary fraternity Omega Tau Sigma fosters a supportive community for veterinary students and beyond.
OTS, which focuses on philanthropy, education, and social activities, is an increasingly popular organization at the University of Illinois College of Veterinary Medicine, where membership has tripled over the past three years.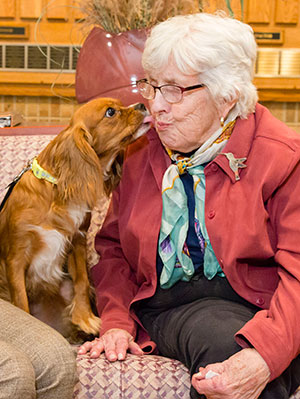 Pet visitations at Clark-Lindsey, a continuing care retirement community in Urbana, take place once a month. Students, faculty, and staff of the college are encouraged to bring their personal pets (with rabies certificates) to a central gathering place in the facility, where residents can interact with the animals and the students.
"The residents love petting the animals and reminiscing about their previous pets, but also get so excited to have conversations with the students," said pet visitation chair Brittany Willeford, a third-year veterinary student.
Dogs and cats are the most popular pets that are brought in, but the group has seen rabbits, a hamster, and a guinea pig as well. Second-year veterinary student Stephanie Suchy brings her black lab puppy named Cole, who was recently dressed up with a red necktie.
"I've brought Cole here a few times now. We notice a lot of the same residents coming back to visit the pets each time, even some from last year. They really enjoy it!" said Suchy.
"It's my favorite time," a resident from Clark-Lindsey said with a huge smile.
OTS also hosts fundraisers for the community. They hold a seasonal pet wash, offering a bath and nail trimming for pets at reasonable prices. Proceeds are donated to the Champaign County Humane Society. The annual OTS 5K Road Race for Animals raises money for other student-run service organizations at the college, including the Wildlife Medical Clinic.
OTS members are also there to support one another. Upperclassmen members are encouraged to help guide the underclassmen through the tougher parts of veterinary school. They host review sessions for first-year students to help ease the anxiety of exams, and third-years offer help with practical exams to second-years.
"As a first-year, I greatly appreciated the anatomy reviews and various wetlabs that the upperclassmen offered to me," said third-year student and current education committee chair Miriah Wilson. "It not only helped me learn new things and study material for exams, but it also gave me a sense of community and belonging within OTS. These people who barely knew me cared enough to help me excel further in vet school."
In January, OTS will hold its second annual Wellness Week. Emotional and mental wellness is nationally becoming an increasingly important topic in veterinary medicine. According to the American Veterinary Medical Association website, the rates of suicide and depression are unusually high among U.S. veterinarians. "We'll get a lecture on wellness, and we'll participate in relaxing experiences like massage night, yoga night, and potentially a Zumba night," said Willeford.
To emphasize wellness and de-stress during veterinary school, OTS provides opportunities for students to go out just for fun. Small parties and paintballing are some of the many social events they host.
Compared to chapters around the country, the 60-year-old Theta chapter of OTS at Illinois currently has one of the largest active bases with 161 members, the largest membership at the college to date.
—Emily Luce
(Photos by L. Brian Stauffer)