Compounding Interest: Spotlighting Veterinary Pharmacy Processes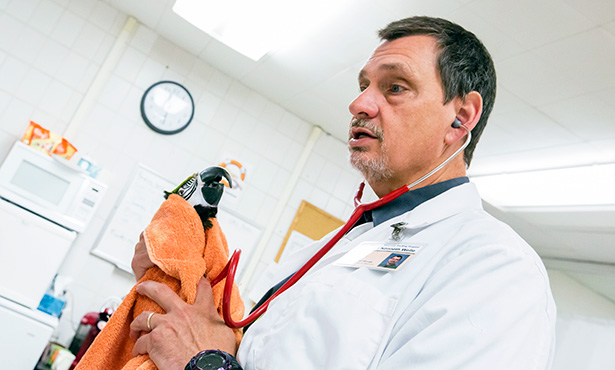 This message will appear in the Winter 2018-19 issue of the Illinois State Veterinary Medical Association Epitome.
Veterinarians need flexible pharmacy rules
"The truth is, for the vast majority of species there are no approved drugs. Everything is off label."
Though Dr. Kenneth Welle (pictured above), with the college's exotic/zoological medicine service, was speaking about the unusual patients he sees every day, we can all appreciate the fact that even dogs and cats present pharmaceutical challenges for practitioners.
Dr. Brian Korus, pharmacist for the Veterinary Teaching Hospital, ticks off a list of obstacles veterinarians encounter when their patients need a medication that has been commercially formulated only for human patients:
Final Rule Reflects Veterinarians' Needs
In early December 2018, the ISVMA alerted its members that the final version of the state's new compounding rules had passed and included changes that enable veterinarians to continue the practices needed for the well-being of their patients.
Congratulations to all who worked to educate legislators regarding the unique needs of veterinary pharmacies!
The medication only comes as a tablet, so must be put into a suspension for a bunny
The dosage is standardized for a 150-pound human patient, not a 15-pound dog, so must be adjusted
The medication contains a flavor that appeals to children, not cats
The formulation includes an ingredient toxic to veterinary patients, such as xylitol
Outside the veterinary profession, there is little appreciation for the difficulties we encounter when trying to extend the benefits of human medicine to animal patients. Because of the smaller market, especially for exotic pets, the pharmaceutical industry has little financial incentive to undergo the rigorous and expensive process to gain "on label" FDA approval for veterinary uses of drugs.
Pharmacy Regulations to Change
Last year, when Illinois announced plans to completely rewrite its pharmacy regulations for sterile and non-sterile compounding, ISVMA acted quickly to educate lawmakers and others about the unique needs of our profession.
"Any time you change the format of a drug, you are compounding," says Dr. Welle. For his exotic patients, most of the time that means taking a tablet and putting it into liquid form. In some cases, it means compounding an injectable drug by using a very small syringe or, at the other end of the spectrum, trying to increase the concentration of a drug to fit it into a dart.
Our hospital's exotics service keeps a small number of medications on hand for emergency situations, when there is not time to send the script to a compounding pharmacy. Included are drugs to induce gut motility in rabbits (a common after-hours complaint), and the antidote for lead poisoning in birds.
Renovated Pharmacy at College
Our hospital's pharmacy has compounded medications for a number of years. As part of a hospital-wide expansion and renovation, we recently opened a new pharmacy space in the Veterinary Teaching Hospital. Dr. Korus helped design the space, which now has a dedicated compounding room. The USP standards for a compounding room, according to Dr. Korus, require that it be away from high-traffic areas and used only for compounding medications.
Dr. Korus also pushed for the inclusion of a "clean room," specially designed for the safe handling of hazardous formulations, such as chemotherapy drugs. Not only must pharmacy procedures ensure that the medication is appropriately dosed and managed for the patient, but they also must protect the people handling the medications.
In October, Dr. Kim Selting, our radiation oncologist, was quoted in a national article about health threats to veterinary personnel who handle oncology drugs. Dr. Selting, who is currently president of the 850-member Veterinary Cancer Society, said many general practitioners "do a fine job with chemotherapy," but some may not be appropriately using the readily available devices and techniques to effectively prevent human exposures.
Safety regulations for pharmaceuticals are important to our profession. That's why Korus is enthusiastic about educating Illinois veterinary students about compounding and other aspects of safe drug handling. He engages second-year students in compounding exercises to ensure that they receive hands-on training and develop an understanding of the complexities involved in choosing the right delivery methods and dosages.
Educating Pharmacy Regulators
Both Dr. Welle and Dr. Korus agree that educating regulators about veterinary-specific needs is equally important. "If regulators say veterinarians can never use drugs off label, we will have to stop practicing," says Dr. Welle.
Fortunately, practitioners are allowed some leeway on compounding and off-label usage if there are no approved drugs on the market to address the problem. And this is frequently the case for exotics. Dr. Welle says, "There is not a single pain reliever approved for use in exotic species, and only one or two antibiotics approved for use in birds."
It's also true for veterinary patients that could benefit from newer drugs for human patients.
"The problem we have is that regulations don't keep up with the research," says Dr. Welle. "Sometimes regulations hold us back 10 years from where the research says we need to be. For example, research may show that we need to give twice the amount that is approved in order for the drug to be effective. So you have to either undermedicate or go off label."
The good news is that your state association is watching out for you on the legislative front, and your College of Veterinary Medicine is providing veterinarians-in-training with a safe setting and a good grounding in medication handling.