Veterinary Oncologist Helps Establish New Interdisciplinary Research Theme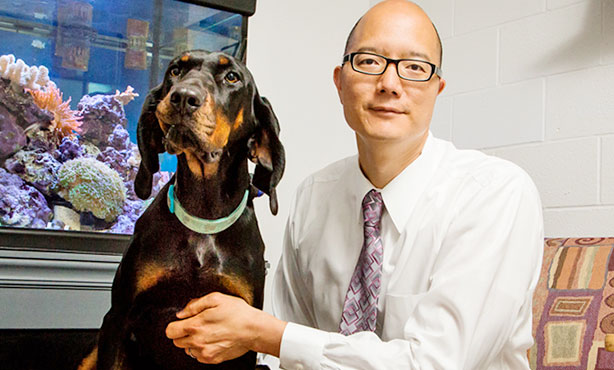 Anticancer Discovery from Pets to People
Dr. Timothy Fan, associate professor of oncology in the College of Veterinary Medicine, is among the founding members of a new cancer-related research theme at the Carl R. Woese Institute for Genomic Biology (IGB) at the University of Illinois.
The "Anticancer Discovery from Pets to People" theme draws upon comparative oncology and genomics in the search for new anticancer targets and anticancer drugs. Making the latest promising cancer therapies available to veterinary cancer patients not only offers the potential to extend the lives of these animals but also identifies and advances efficacious new drugs for treating human cancers.
"Comparative oncology is a growing discipline that melds the expertise of clinicians and basic scientists to discover better ways to study cancer and develop new therapies," says Dr. Fan. "Our thriving veterinary oncology program provides the clinical foundation for the interdisciplinary anticancer research within this theme."
Theme leader Paul Hergenrother, professor of chemistry, has collaborated with Dr. Fan since 2007, when Dr. Fan began testing the safety and efficacy in dogs of PAC-1, an anticancer molecule developed by Dr. Hergenrother. PAC-1 or similar analogues have now been used to treat dozens of pet dogs with naturally occurring lymphomas and osteosarcomas. In 2015 PAC-1 moved to phase I clinical trials in human cancer patients at the University of Illinois Cancer Center in Chicago and Johns Hopkins University School of Medicine.
Two other faculty members, Pablo Perez-Pinera in bioengineering and Jun Song in physics, are also part of the Anticancer Discovery from Pets to People theme. The work will continue the development of PAC-1 as well as introduce genomic methods to rapidly identify additional cancer targets and test potential molecules to find those that may be developed into therapeutics.
Pets such as dogs and cats serve as useful models for studying new cancer drugs, according to Dr. Fan. In 2015 he was one of 16 experts who spoke at a meeting sponsored by the National Cancer Policy Forum of the National Academies' Institute of Medicine about the benefits of including pet dogs with naturally occurring tumors in early cancer drug trials in addition to conventional laboratory-induced mouse models.
Similarities between dogs and humans in cancer biology include the tendency to develop cancer in a geriatric population, the natural variation found in spontaneously occurring tumors, and the size and speed of growth of the tumors. In many cases pets acquire cancers that are genetically very similar to human cancers.
More than 130 faculty members from 30 departments across the university's Urbana campus are engaged in nine research themes at the IGB, which was founded in order to bring together the university's resources and expertise to address pressing problems facing society.