---
ONLINE TEST RESULTS: ACCESS | SIGN UP | LOOK UP DIAGNOSTIC TESTS | SUBMISSION FORMS | TESTS AND FEES
---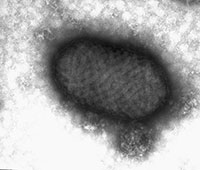 The virology section utilizes multiple methodologies for detection and identification of virus and detection and titration of antibodies in animal specimens.  We grow and maintain cell cultures used for virus isolation, serum neutralizations, and viral propagation. We also perform virus isolation and shipping for swine influenza federal surveillance program.
Quality assurance and quality control measures include participation in federal proficiency tests to ensure quality testing and results.
The service engages in communication with faculty, staff, veterinary students, outside clinicians, laboratories, and agencies.
The virology section serves clients in a multitude of ways, including:  diagnostics, research, animal health, and sale of animals.
VIROLOGY SERVICES

We provide identification of viral pathogens in animal samples during active infections and/or the retrospective identification of a virus infection by the detection of anti-viral antibodies. Our professional staff  are federally accredited to perform bluetongue, bovine leukemia, equine infectious anemia and equine arteritis virus testing. Classic virology methods are employed, such as those listed below.

ASSAYS FOR DETECTION OF ACTIVE VIRUS INFECTIONS:

Enzyme-linked immunosorbent assay for antigens (ELISA-Ag)

This assay can be used for the detection of viral antigen in specimens, such as feces and serum. Overall, the assay is usually is a very sensitive test due to the amplifying effect of a few enzyme molecules being able to catalyze large numbers of substrate molecules. An ELISA system has the advantage of being a rapid test to perform; however, it may require specialized equipment (such as a spectrophotometer) for the determination of results.

Fluorescent antibody (FA)

The FA test detects viral antigen in fresh tissues and smears due to active infections. It is a fairly quick test with a turnaround of less than two days. The assay uses fluorescent-conjugated anti-viral antibodies as the detection reagent. Each reagent is produced for a specific virus, detecting only the virus requested.

Negative-staining electron microscopy (NSEM)

This active infection detection technique is used to visualize viral particles in a specimen or cell culture used for virus isolation. The identity of the virus particles is based on characteristic morphology and size ranges. Although NSEM can detect any type of virus in a specimen, it is not very sensitive. It is usually recommended for viruses that are not easily isolated in cell culture, such as enteric viruses or those causing vesicular or pox-like lesions.

Virus isolation (VI)

Isolating a viral pathogen by inoculating processed specimens onto permissive cell cultures has been a "gold standard" for identifying the etiology of active infections. It is considered a non-specific test in that it can detect a variety of viruses in a specimen. Classification of an isolate(s) requires further evaluation, such as by using NSEM, FA or immunocytochemistry. The entire process usually takes 2 weeks or longer. A variety of specimens can be utilized including fresh tissues, serum, white blood cells and swabs. Specimens should be as fresh as possible and kept cold in order to maintain the infectious integrity of the pathogen.

ASSAYS FOR RETROSPECTIVE IDENTIFICATION OF VIRUS INFECTIONS:

Agar gel immunodiffusion (AGID)

Demonstration of anti-virus antibodies in serum samples can be accomplished by simple diffusion in agar of serum and viral antigen. Where the diffusing virus-specific antibodies and viral antigens overlap and form complexes, a visible precipitin line is formed. This test is not very sensitive and requires rather large amounts of antigen; however, it has the advantage of being a rapid (2 day) and easy test to perform.

Enzyme-linked immunosorbent assay for antibodies (ELISA-Ab)

This assay can be used to measure antibodies (ELISA-Ab) for retrospective identification of a virus infection. It will detect any anti-virus antibody that can bind to the specific viral antigen being used. Overall, the assay is usually is a very sensitive test due to the amplifying effect of a few enzyme molecules being able to catalyze large numbers of substrate molecules. An ELISA system has the advantage of being a rapid test to perform; however, it may require specialized equipment (such as a spectrophotometer) for the determination of results.

Indirect fluorescent antibody (IFA)

This assay is based on the use of virus-infected cell cultures to detect anti-virus antibodies in serum samples to the specific virus being used. The serum sample is either tested at a screening dilution or at several dilutions (antibody titer). The assay is often used to confirm ELISA-Ab results or when the types of antibodies produced to the virus are non-neutralizing (such as for feline infectious peritonitis virus).

Virus (serum) neutralization (VN/SN)

This assay is considered a "gold standard" for all other retrospective methods for the detection of anti-virus antibodies to a specific virus. The technique only measures antibodies that can neutralize viral infectivity, hence virus-neutralizing antibodies. Other antibodies that may react with but are unable to neutralize a virus are not measured by this method. Two-fold dilutions of a serum are tested to determine its relative neutralizing capacity (antibody titer). A 4-fold increase in antibody titer during the course of the disease (acute and convalescent samples) would indicate that the host has mounted an immune response to the virus in question.

TESTS AND FEES