High Quality/High Volume Spay-Neuter Training
November 27-December 1, 2017
Interested in increasing your surgical efficiency?
Learn to decrease surgical times and maximize productivity in your clinic as you master high quality/high volume spay-neuter (HQHVSN) techniques with Dr. Bob Weedon, director of the Shelter Medicine Program at Illinois.
Spend up to five days visiting local shelters with the college's mobile sterilization trailer. You'll learn new pediatric sterilization techniques and enhance the speed and quality of your surgical skills—skills that will improve client satisfaction and your clinic's bottom line.
Register today as space is extremely limited.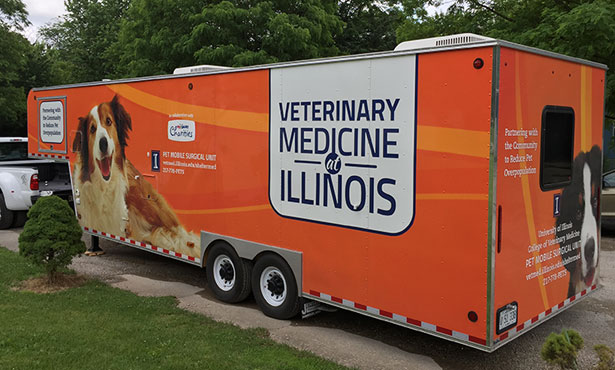 Details

Course schedule

Up to two participants per day are invited to join Dr. Weedon on the Mobile Sterilization Trailer to visit shelters in the area. Attendees should plan on a minimum of five surgeries per day. Please bring or wear scrubs.

Registration
Registration is open to any licensed veterinarian. Maximum registration is 2 individuals per day.

Course participants are required to submit the following documentation in order to participate in the lab:

Proof of rabies vaccination or positive titer test
Proof of personal health insurance coverage
Proof of insurance coverage with limits of $1 million per occurrence and $3 million aggregate for professional liability.

Registration fees are based on the number of days attending:

| | |
| --- | --- |
| 1 day: | $150 |
| 2-3 days: | $125 per day |
| 4-5 days: | $100 per day |

Payment must be enclosed to guarantee registration. Course fees are payable by check or money order to the University of Illinois or by Visa, MasterCard, Discover, or American Express and are due at the time of registration.

Cancellation Policy
Full refunds, less a 10 percent cancellation fee, will be given if written notification is received by the applicable early registration deadline. Written cancellation should be sent to ope@vetmed.illinois.edu or to the same mailing address to which registrations are sent. Registrations are transferable. After the applicable early registration deadline, refunds will not be made. We reserve the right to cancel sessions and to change speakers if necessary. In the event of cancellation, all registrants will receive a full refund. The University is not responsible for travel expenses in the event of a cancellation or date change.

Continuing Education
Veterinarians can obtain 8 CEs per day. Participants will receive continuing education verification at the end of the session.

Location
The trailer will leave from the University of Illinois College of Vet Med located at 2001 S. Lincoln Ave. in Urbana, Ill.

Check-In 
Please arrive at the College of Veterinary Medicine by 7:00 a.m. each day of attendance. The trailer will return to the school around 4 p.m. each day.

Parking
Parking instructions will be provided upon registration.
Speaker

G. Robert Weedon, DVM, MPH
Clinical Assistant Professor

Dr. Weedon has worked in the sheltering community since 1999, starting as a volunteer in Wilmington, N.C. His involvement led to a year-long training program at the School of Public Health, University of North Carolina-Chapel Hill, called The Management Academy for Public Health. This program involved training in various areas of public health, as well as the development of a business plan to design, build, and implement an onsite surgical facility to sterilize animals prior to adoption at New Hanover County (N.C.) Animal Control Services. Dr. Weedon's experience at the Management Academy for Public Health stimulated his intellectual side and prompted him to enroll in the Public Health Leadership Program, which culminated a master of public health degree from the University of North Carolina-Chapel Hill in 2005.

Dr. Weedon really enjoys teaching. He started teaching undergraduate students at the University of North Carolina-Wilmington, and now enjoys training veterinary students in shelter medicine. He received his bachelor of science and doctor of veterinary medicine degrees from Purdue University.

Animal population control is one of Dr. Weedon's passions. He serves on the Board of Directors of the Alliance for Contraception in Cats & Dogs, and is a certified Zeuterin Master Trainer.