Get Connected at the 2018 Job Fair


Employers and job seekers, you won't want to miss the first-ever Fall Conference Job Fair.
It's not just about jobs. It's an opportunity to network, learn about opportunities, showcase your practice, discuss externships and summer employment, and more.
All University of Illinois veterinary students will be encouraged to attend, regardless of their class year. Practicing veterinarians who are interested in making a change will also be invited. The Job Fair is free to attend for those who are exploring the job market.
Wednesday, October 10, 4:30 – 7:30 pm
Recommendations for Prospective Employees
Bring copies of your current resume. You may also upload your resume to an electronic dropbox for potential employers to view in advance of the event.
Circulate among the employers' tables to network with other professionals.
Dress is business casual.
Instructions for Employers
Consider signing up for the Fall Conference pre-conference workshop, led by Dr. Larry Firkins, an international speaker on veterinary employee management. "Becoming an Employer of Choice," held at the i-Hotel conference center from 10 am to 5:15 pm on October 10, right before the Job Fair, covers the following topics:
We're All on the Same Team: Overcoming Generational Differences
You Get One Shot at Effective Onboarding
Finding the Right New Vet: It's Not What It Used to Be
Employing a New Graduate from the Eyes of a Practitioner
Employment through the Eyes of a Graduating Senior
To exhibit at the Job Fair, select the type of table you wish to reserve. Photos and prices are listed below. Please note that availability is limited; tables will be assigned on a first-come, first-served basis.
Contact Ginger Passalacqua at passalac@illinois.edu to reserve a table. Payment must be made by check to U of I and is due by October 1. Please note the business name on the memo line of the check. (All funds collected go to Veterinary Medical Alumni Association.)
Employers may arrive at 4:00 pm on the day of the Job Fair to set up their exhibit, and must remove their materials from the room by 8 pm.
---
Monitor Tables: 10 available
2′ x 6′ table
55″ monitor
Electricity
2 chairs
$100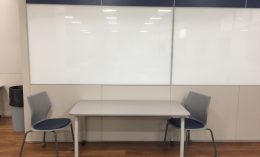 Whiteboard Tables: 2 available
2′ x 6′ table
Whiteboard w/markers
2 chairs
$75
Standard Tables: 19 available
Overflow Tables
If all spots available in the iFlex Classroom in the Learning Commons, Room 1261 in the Basic Sciences Building, fill, we will make space available for employer tables in the second floor Atrium of the Basic Sciences Building.
$25