Vet Resident Assists in Alaskan Sea Otter Rescue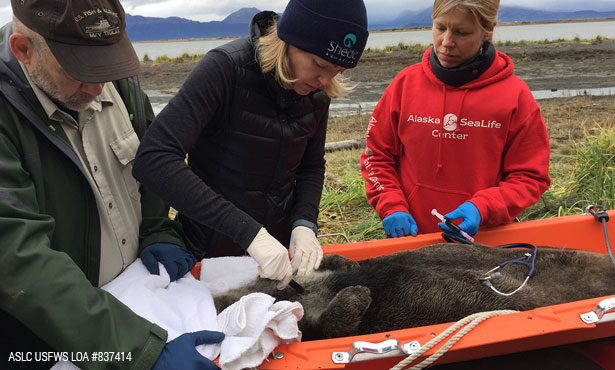 In October, Shedd Aquarium provided an amazing opportunity to travel to Homer, Alaska, through their rescue and rehabilitation efforts. This was in response to a request for veterinary support from the Alaska Sea Life Center (ASLC). The ASLC is part of the Alaska Marine Mammal Stranding Network, which helps respond to calls of stranded (beached) marine mammals. They are also the only Alaskan organization with authorization to rehabilitate marine mammals. However, the ASLC is a 168-mile drive from Homer, which makes it difficult for veterinarians at the center to be able to respond to daily stranding events. In Homer, they have been witnessing an unusually high number of sick sea otters since late summer. Otters play an important role in our ecosystem, so when the population is affected, something is likely affecting the entire ecosystem.
Starting in 2006, Homer dealt with an unusual mortality event. Over a four-year period, the primary cause of death was determined to be a disease called valvular endocarditis, caused most commonly by a bacteria (Streptococcus). These otters were thin and debilitated, suggesting that they had been sick for quite some time. Until this year, most mortalities were attributed to this disease. However, this year not only has there been an increase in number of diseased otters, but they also have different symptoms than before. This year, the otters are stranding suddenly with neurologic signs such as tremors or seizures, indicating a different disease and requiring more investigation to figure out the cause.
As a support veterinarian, my job was to help the local volunteers and staff in any way possible. The stranding response team in Homer is made up of trained volunteers with full-time jobs of their own: U.S. Fish and Wildlife staff, university students, and university faculty, to name a few. We responded to calls received by the Stranding Network hotline on a daily basis (ASLC responses to sea otters are authorized under USFWS LOA/MA-837414). Throughout my stay, I assisted with numerous sea otter responses, necropsies, sampling, and teaching volunteers and local university students. I was able to help alleviate suffering for numerous otters on local beaches and help collect important samples to provide local pathologists with valuable information. These samples will help us understand the cause of these mortalities. Thanks to the rescue, research, and rehabilitation efforts of Shedd Aquarium, I feel lucky to have been a part of helping these incredible animals and also come closer to finding answers that will help the population and ecosystem.
—Megan Watson, DVM
Dr. Watson is a zoological and aquatic animal medicine resident in the Illinois Zoological and Aquatic Animal Residency Program, a partnership among the University of Illinois, Brookfield Zoo, and Shedd Aquarium.