Varela Sees DVMs' Impact in D.C.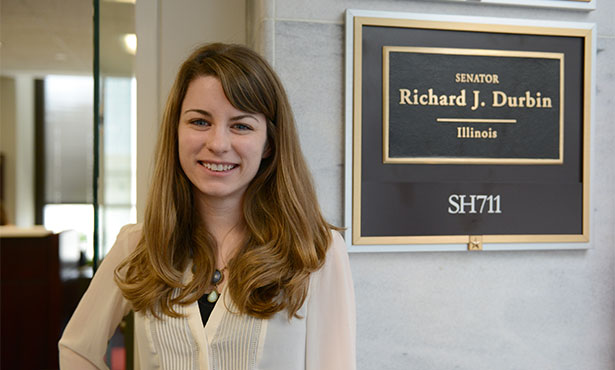 "As a kid I wanted to be a small animal veterinarian. I like diagnosing and treating patients and interacting with pet owners," said Dr. Kate Varela, who completed her Illinois DVM in 2012.
But Dr. Varela came to want her veterinary career to have a broader impact. After earning a bachelor's degree in the Program in the Environment at the University of Michigan, she had a policy fellowship with Greenpeace in Washington, D.C., for a year before pursuing her veterinary degree. During this time she made the connection between animal health, human health, and the environment.
At Illinois, she entered the DVM/MPH joint degree program. While completing her MPH courses in Chicago in 2013, she was selected for the AAAS/AVMA Science and Technology Policy Fellowship. She ended up serving in Sen. Durbin's office, following in Dr. Jack Herrmann's footsteps exactly 10 years after he held the same position there.
Highlights of her year as a policy fellow have included researching authoritative data to support policy decisions, getting first-hand insight into the political process, and interacting with influential people, such as the son of Jonas Salk, who developed the polio vaccine.
"It's been great to meet so many other DVMs pursuing public health careers," she said, mentioning the One Health Academy, a group of animal and human health professionals in the Washington area who meet monthly to network.
When her year as a policy fellow ended, Dr. Varela went to work with Veterinarians without Borders in Uganda. Her D.C. experience has reinforced the notion that veterinarians can apply their knowledge and skills outside the scope of clinical practice and have a significant influence on policy.