Update for Veterinarians on Canine Influenza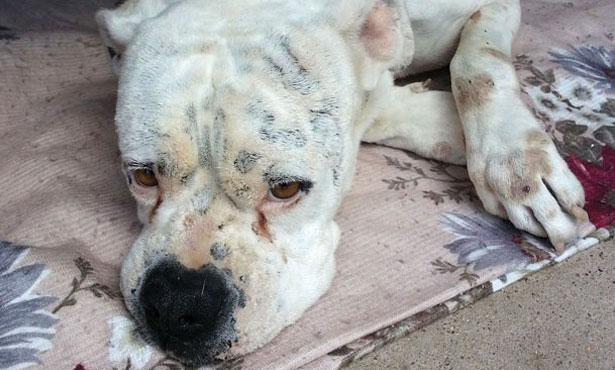 Common questions referring veterinarians have asked University of Illinois Veterinary Teaching Hospital experts
Approximately 10 percent of our nation's population—32 million people—will be infected with a strain of Influenza A or B in the coming months. As human healthcare providers brace for impact, veterinarians are unsure what to expect this winter with respect to the canine influenza viruses (H3N2 and H3N8) that have been causing pockets of outbreaks, particularly in the Midwest.
How many confirmed canine influenza cases have occurred in Illinois and nationally?
According to research specialist Therese Eggett, who both tests canine influenza virus (CIV) specimens sent to the University of Illinois Veterinary Diagnostic Laboratory and maintains a database of these test results over the past three years, there was a large increase in positive cases starting in April 2016. Most of the positive samples submitted at that time were traced back to outbreaks in Bloomington, Ill., and Chicago, Ill.
"During that month, we received almost 250 samples from suspected cases, and confirmed canine influenza in 72 of them," she said.
In the months of June to October, none of the approximately 100 suspected CIV samples sent to the diagnostic laboratory have tested positive, according to Eggett.
The Illinois diagnostic laboratory does not type CIV, so when referrers wish to know the specific strain, the sample is sent to Cornell's Animal Health Diagnostic Center. Eggett said about half of referrers choose not to type the positive cases because doing so does not change the treatment options or course of the disease. However, tracking the strain is helpful for researchers.
Dr. Drew Sullivan, director of the Medical District Veterinary Clinic at Illinois, a primary care clinic operated by the College of Veterinary Medicine in Chicago, confirms the trend reported by Eggett.
"We saw over 100 positive cases during the outbreak [in spring 2016] and were hit pretty hard, but we haven't seen a case in many months now," he said.
On a national level, from March 2015 through September 2016, the Cornell Animal Health Diagnostic Center, which receives many of the nation's canine influenza samples to test or further type, reported close to 2,000 positive H3N2 samples. Beginning September 2016 through November 30, they had identified three positive cases in the United States.
It is difficult to track positive cases from all of the individual laboratories currently testing for the virus. However, it is likely that Idexx receives many of the samples within the United States. The most up-to-date tracking information can be found on Merck's website (data from Idexx) at: www.doginfluenza.com/States/states_with_civ.asp.
H3N2 and H3N8 are still actively circulating within the United States, and by far, Illinois has seen more positive cases than any other state in the nation this past year.
Will we see canine influenza outbreaks this winter?
Maybe. According to the CDC and the AVMA, there does not appear to be seasonality to the canine virus as there is in humans. However, we do know that Influenza A viruses are more stable when the humidity levels are low and at lower temperatures, both hallmarks of winter. Suspected canine influenza cases should continue to be treated with strict biosecurity measures and samples sent for testing to best identify and prevent another outbreak.
For how long can infected dogs shed the virus?
Research from the University of Wisconsin suggests that dogs can shed H3N2 for up to 24 days, a significantly longer period of time compared to what is reported for H3N8. Therefore, asymptomatic dogs can easily shed the virus to other canine and feline patients.
What is the best disinfectant to use when cleaning an exam room or kennel to kill the virus?
This virus is hardy: It can live on the palm of an unwashed hand or lab coat for over 24 hours, and on an inanimate object (such as a counter) for over 48 hours. Thankfully, it is not hard to kill. Diluted bleach or quaternary ammonium disinfectants will kill the virus as long as you adhere to the manufacturer's recommended contact time.
How do I prevent an outbreak at my practice?
Strict biosecurity measures should be implemented in all cases presenting with clinical signs consistent with canine influenza. The virus is highly contagious.
In patients with mild symptoms, the veterinarian can assess the patient in the client's vehicle (as is protocol at the University of Illinois Veterinary Teaching Hospital). If the patient requires hospitalization, the dog should be placed on a gurney and transported to an isolation unit (or separate room) within a hospital.
All staff should wear separate protective clothing when handling a suspected case. That clothing should then be removed before seeing other patients. As always, stethoscopes, pens, thermometers, and any other equipment/inanimate objects should be thoroughly disinfected before leaving the isolation area.
Should we vaccinate dogs for the virus?
Expert opinions vary on this topic, and the answer often depends on the patient's lifestyle. Dr. Gary Brummet, head of the primary care service at the University of Illinois Veterinary Teaching Hospital, said: "I do not require or necessarily recommend the vaccine for all dogs in my practice. If they are being boarded, go to doggy day care, or participate in any activity that frequently exposes them to other dogs, it's an option I discuss with the owner."
Dr. Marcella Ridgway, an internal medicine specialist at the Veterinary Teaching Hospital and an expert in respiratory disease, shares Dr. Brummet's cautious approach to vaccination.
"The canine influenza outbreak is a relatively new disease in veterinary medicine and with time and research, I suspect our vaccine technology and our understanding of the virus will improve," she added.
The Champaign County Humane Society (CCHS) has tested multiple suspect dogs and cats with respiratory infections but no cases have tested positive. Dr. Melissa Dodd, a 2011 Illinois DVM graduate and CCHS veterinarian, implemented CIV vaccination for all dogs at intake after the Bloomington outbreak. This decision was made as "The shelter population is at high risk with dogs having constant exposure to other dogs as well as a constant influx of new animals from unknown backgrounds, including transfers from other facilities. Our ability to effectively isolate and treat this awful disease is also limited, so prevention is key." She has rarely noted a mild localized vaccine reaction in her patients, which resolves with time.
Are there any new vaccines for canine influenza?
Yes. On October 7, 2016, Merck Animal Health announced that the USDA approved a license for their bivalent (H3N8 & H3N2) canine influenza vaccine. This is the only vaccine currently available that is labeled to protect against both strains. According to the Merck press release, patients must be 7 weeks of age or older, and a second dose must be administered 2 to 4 weeks after the initial vaccination. This product became available to veterinarians in the U.S. as of November 2016.
The individual H3N8 and H3N2 vaccines continue to be available from other manufacturers, including Zoetis.
Could the virus mutate and cause higher mortality rates?
Yes. Research indicates that 80 percent of dogs exposed to the virus will become ill from it. While the other 20 percent will not show signs, they will shed the virus to other animals, potentially infecting others, including cats. Similar to human influenza statistics, mortality rates in dogs have been quite low, with the very young, very old, and immune-compromised most likely to die or have a severe case.
Dr. Mauria O'Brien, an emergency medicine and critical care specialist at Illinois, reported that the last two positive canine influenza cases treated in the hospital's ER service died within 12 hours of presentation despite heroic efforts from her team.
"Those cases were starting to make us wonder if the last cases from the outbreak in Bloomington had a mutated strain that was more virulent," she said. "They were not the typical influenza case. Both cases had gastrointestinal signs, including diarrhea, vomiting, and regurgitation, in addition to respiratory signs."
These animals ultimately died from severe hemorrhagic pneumonia and acute respiratory distress syndrome (ARDS), a rare and severe sequela to influenza also seen in humans.
Can the canine influenza strain infect people?
Dr. Yvette Johnson is an influenza and public health expert at the College of Veterinary Medicine. She notes that, "It is possible that future mutations could make it pathogenic for people, and the CDC is monitoring the situation." However, there have been no reported cases of human illness associated with canine influenza and at this time, the CDC considers this risk to be low.
Interestingly, if you look at the influenza strains that are in the current 2016 human seasonal influenza vaccine, the H3N2 strain is listed. Dr. Johnson explains that, "influenza nomenclature is complex. Even if two viruses have the same H and N designation, they still may not be closely related." She goes on to note that the canine H3N2 outbreak strain is from avian origin, while the human H3N2 strain that is currently circulating is of swine origin—this human strain has also interestingly acquired part of the genome from the H1N1 pandemic influenza strain.
How do I submit a sample to the Veterinary Diagnostic Laboratory?
Specimens (2 nasal or nasopharyngeal swabs or fresh frozen lung) must be received by 4:00 p.m. on Monday or Wednesday for next business day testing
Swabs should be moist but not in transport media or PBS (if necessary, use 1 drop of sterile water in a sterile tube
If possible, use nylon swabs with plastic sticks (cotton and wood inhibit the PCR)
Use aseptic techniques to avoid cross-contamination
Please label specimens clearly and indicate what type of specimen is being submitted
Serum is not an appropriate specimen
The VDL's online submission form can be downloaded here: go.illinois.edu/VDL-MPIV.
For additional testing questions, please call the VDL at (217) 333-1620 or email them at vdldirectoroffice@vetmed.illinois.edu.
Who should I contact if I have additional questions?
Our companion animal extension veterinarian, Ashley Mitek, is available to help you via phone at (217) 333-2907 or by email at amitek2@illinois.edu.
Do you have any updated educational resources I can give to my clients?
The college's Office of Public Engagement is currently drafting a Q&A style document specific to concerned pet owners within the state of Illinois. This document will contain the most up-to-date information regarding available vaccines and confirmed cases within the state.
—Dr. Ashley Mitek, Companion Animal Extension Veterinarian