Trainer Demonstrates Low-Stress Ways to Introduce New Stimuli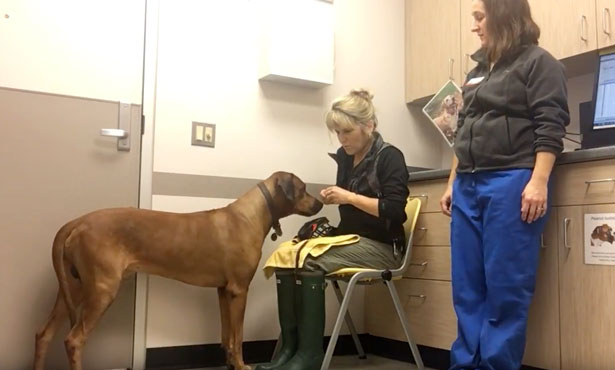 First impressions do matter
Don't underestimate that anytime an animal meets a new person, that person becomes part of the animal's training.
When there is a lack of communication and appropriate foundation training, sudden exposure to stimuli—whether a stranger's quick reach to the pet's head or unfamiliar, unleashed dogs rushing into the pet's space—can create a bad first impression that is all the pet needs to learn to become stressed and overwhelmed the next time that situation arises.
Instead, when we choose thoughtful approaches that incorporate the science of learning with professionalism, consistency, and patience, our pets can learn or relearn to have positive associations with new experiences, such as having blood drawn or a stethoscope placed on her chest.
Small Steps Toward a Low-Stress Blood Draw
Last month, our Rhodesian ridgeback had his wellness exam. We had been practicing the basket muzzle behavior for something fun to add to our training time, and now was the time to approximate it into his chin rest behavior.
I videotaped our sessions at the veterinary office, without editing what occurred. My goals are to review the video for my own assessment, and to show others how we make split-second decisions that are hopefully relatable to others.
I am always keenly aware that there are enumerable ways to teach various behaviors. My hope is to always show a few ways that have helped us move forward with our goals. The talented veterinary technician at Medical District Veterinary Clinic at Illinois is Kelsie Dolezal.
Watch a video of Santino's voluntary blood draw with basket muzzle.

The blood draw props were placed on the floor for Santino to explore before the procedure. Here are the observable takeaways:
I want Santino to see Kelsie first, and not have her touch/startle him from behind from the get-go.
This is the first time we integrated the muzzle into a vet visit procedure for Santino. We have been practicing with the muzzle at this location after training classes.
The muzzle is placed on the towel as a target for the chin rest.
The straps were left hanging to the side for these approximations.
Keslie's cues from me to start/stop the procedure are "go" and "pause."
We did pretend pokes with a capped needle in a video just before this one to assess his comfort level (which was excellent).
I am talking to him and gently petting him on the head during the insertion and blood draw from the butterfly needle (because it makes me feel good, and hopefully provides reinforcement for him!).
He did release at the very end of the blood draw. I reinforced him. Very proud of our duration under new conditions with the muzzle as an added criterion.
He then looked back at Kelsie but did not walk away, so I reinforced him. I think it is important to let Santino use his senses to explore his environment.
We ping-ponged with a few basic cues, stretched a bit, let him move around the exam room (us, too).
We did a follow up tactile position after the blood draw, so the actual procedure was not the last approximation.
Then we practiced a few voluntary weights. He kept hopping up on the scale!
Introduce the Second Person in a Relaxed Environment
An ongoing collaboration currently includes a family with a beautiful dog named Deenie, veterinary behaviorist Dr. Kelly Ballantyne, and myself. Deenie has a history of stressful associations with general body handling, and has been the focus of many of our husbandry videos.
In this video, I cue her layout behavior for stethoscope training. We then added a second person that Deenie has positive associations with into our shaping plan.

Help Make a Better Second Impression
Everyone will benefit when we take the time to set the stage for the safest environment possible. This includes getting to know the animal's history, the caregiver's advocacy for a positive environment, and providing a considerate approach where there are no surprises. Take the time to include basic husbandry and grooming behaviors in your day-to-day training goals in your home location. Then advocate for your animal in the presence of other people to help build positive associations to their presence.
Are you inspired? Good! How will you make a second chance to improve the first impression?
—Laura Monaco Torelli, KPA CTP/Faculty, CPDT-KA
Learn More
Want to learn more about how to train your dog to be cooperative and enjoy interactions including getting her collar on and off and standing still for an exam or shot? Laura Monaco Torelli recommends this blog post by Jen Digate that includes two instructional videos.