The Beat Goes on at the Veterinary Teaching Hospital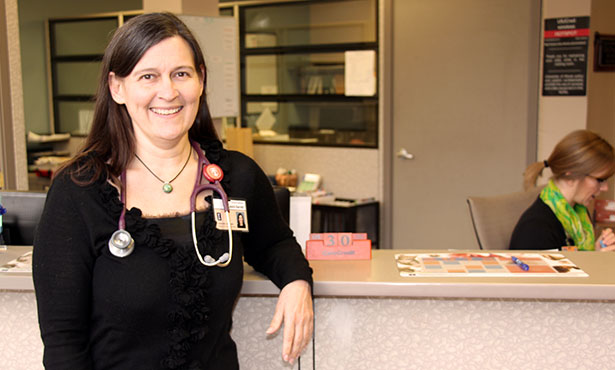 This message appeared in the summer 2015 issue of the Illinois State Veterinary Medical Association Epitome.
Brendan McKiernan Retires, Laura Garrett Named Chief of Staff
Like the very heart of our college, the Veterinary Teaching Hospital plays a central role in teaching, service, and discovery. Students circulate through it during all four years of their education, learning the art and science of clinical practice at the sides of outstanding faculty members. Through the flow of referral patients, consultations, student externs, and more, the hospital keeps the college in close touch with Illinois veterinarians like you. And it fosters scholarship through basic and applied research, clinical trials, and the training of clinical residents.
Recently the hospital transitioned to a new administrative structure. I'd like to take this opportunity to share those details with you and to recognize the contributions of key faculty leaders.
New Administrative Model
At the end of April, hospital director Dr. Brendan McKiernan retired after 28 years of service to the college and more than 40 years as a leading respiratory expert. With his departure, veterinary oncologist Dr. Laura Garrett was selected by vote of the clinical faculty to become chief of staff. In this newly created position, Dr. Garrett will chair a hospital board comprised of section heads and two elected faculty members. The board will assist in hospital governance, especially in matters related to patient care.
Anna Lee Fenger, assistant dean for administration in the college, will oversee the operational and financial management of the hospital, assisted by a core team of staff members and technicians.
Under this new structure, the chief of staff and the hospital administrator will work together under the direction of the department head, Dr. Karen Campbell, who will have authority over both the department and the teaching hospital.
Hospital Director McKiernan
Many of you who attended our college between 1974 and 1998 recall Dr. Brendan McKiernan as an exacting, gifted, and ponytailed specialist in small animal internal medicine. More recently you have known him as hospital director, a role he ably took on in 2011, returning to Illinois after 13 years in private specialty practices in Colorado and Oregon.
Dr. McKiernan is an internationally renowned specialist in respiratory diseases of dogs and cats. While an Illinois faculty member, he founded and served as first president of the Veterinary Comparative Respiratory Society.
Among the accomplishments that occurred during his tenure as hospital director are:
A boarded neurologist, Dr. Devon Hague, and boarded cardiologist, Dr. Ryan Fries, joined the clinical faculty after an absence of those specialties for several years.
Communications with referring veterinarians increased with the appointment of referral coordinator Ginger Passalacqua. She serves as the initial contact for referrers, visits referrers' practices, and spearheads a monthly print and email newsletter, rvet ILLINOIS, for referrers.
Recurring satisfaction surveys of referrers and of clients were implemented to provide data about our service, and process improvement teams were charged with acting on this feedback.
Chief of Staff Garrett
Dr. Laura Garrett, who joined the faculty in 2006, brings her considerable skills as a leader and facilitator to two new roles: not only has she become hospital chief of staff, but she was also named director of communications training after the college's new communications wing opened last fall in the Clinical Skill Learning Center.
Dr. Garrett has been instrumental in incorporating communication skills into our innovative veterinary curriculum. She is a Bayer Animal Health Communication faculty member, having completed the course in 2007 along with Cheryl Weber, student services coordinator and grief educator at the college. Two additional Illinois faculty members will be trained at the weeklong Bayer program in 2015.
In addition to her clinical service and teaching in oncology and her involvement in clinical trials of new anti-cancer agents, Dr. Garrett currently serves as past president of the Veterinary Cancer Society and is active in the American College of Veterinary Internal Medicine.
"As chief of staff I will serve as a facilitator for the day-to-day work of the many people involved in the teaching hospital," said Dr. Garrett. "My goal is to improve empathy between coworkers and lead groups toward more autonomous problem solving."
Please join me in welcoming Dr. Garrett to this new role and in commending Dr. McKiernan for his many contributions as an educator, clinician, and administrator at your College of Veterinary Medicine.
—Dean Peter Constable