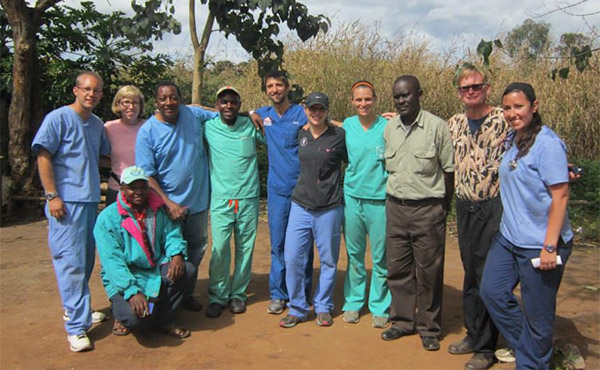 This program would not have been possible without the collaboration with Professor Amandus Muhairwa at the Sokoine Agricultural University Department of Veterinary Medicine in Morogoro, who was instrumental in the day-to-day organization. We thank Anthony Mhando and Dr. Nickson Ng'umbi and the local veterinary officers for their daily assistance. We gratefully acknowledge the sponsorship of Boehringer-Ingelheim and Merial, and their generous donation of vaccines. Our thanks also go to Covidien, who donated suture material, Medline Industries, Inc., who donated Sterillium, and Lauderdale Veterinary Specialists for their donation of PlasmaLyte. We are also very thankful for the support of the College of Veterinary Medicine at the University of Illinois (Deans Whiteley and Constable).
The program not only entailed "hands-on" population and infectious disease control by our students and local veterinarians but dog owners were also asked to complete a questionnaire with the help of the local veterinarian which will provide us with much needed information about animal husbandry, and their awareness of methods of disease and population control for animals.
University of Illinois faculty organizer, Dr. Margarethe Hoenig, and Dr. R. Avery Bennett, board certified small animal surgeon, Lauderdale Veterinary Specialists.
June 15, 2014:

Mary Roberg

Day 1 of our Tanzanian Adventure: Our Tanzanian adventure began in Dar Es Salaam whichis the commercial capital and largest city of Tanzania and it was formerly known as Mzizima meaning healthy town. In 1961, Dar became the capital of newly independent Tanzania, and while it is still the largest city in the country, in 1973 the government changed the capital to the more centrally located Dodoma better serve the Tanzanian people. While it is the most metropolitan of all cities in Tanzania, it was vastly different from what we would think of urban city in America.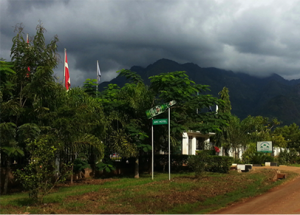 After 22+ hours of traveling for all of us, we enjoyed a meal at the Tiffany Diamond Hotel's restaurant and then promptly went to bed to get some rest. Today we traveled from urban Dar Es Salaam to rural Morogoro, approximately a 5 hour drive east from Dar Es Salaam. The scenery dramatically changed once we got outside of Dar's extremely crowded, loud streets. In the city, there were people and traffic everywhere with almost no plants or animals at all. Once outside the city limits, the scenery changed to tall grasses, thick trees and intermittent herds of cattle and goats with some chickens here and there.  We would travel through smaller villages along the way and in each village at least on person (and multiple children) would wave at us as we drove through.
As we were getting closer to Morogoro, we could see mountain ranges in the distance and the landscape became even more beautiful.  Morogoro lies at the base of the Uluguru mountains and it wasn't until we drove onto the Arc Hotel grounds that we knew we'd be surrounded by this mountain range for the next week! The view from our room is simply amazing. We were greeted at the Arc Hotel with friendly faces and everyone has been incredibly welcoming. We meet Shedrick who runs the gift shop in the front the hotel with lots of beautiful wood carving, paintings and jewelry. The wood carving are made from ebony wood with its two toned light and dark wood pigments which make for some incredible pieces of art. He also was selling various paintings including Tinga Tinga paintings. Shedrick and Dr. Hoenig informed us that TInga Tinga is very popular in East Africa and in major cities like Dar Es Salaam, there are entire art markets entirely just for Tinga Tinga. It is painting style that developed in the second half of the 20th century that originated with artists in Dar Es Salaam and continued to spread to several East African countries. The style incorporates brilliant colors and cartoonish representation of African wildlife.
After we settled in, we had a few hours to explore the area and get settled in before dinner. After spending so much time sitting on planes and then traveling 5 hours today, we all decided we needed a little exercise too. There was a small field on the hotel grounds so we decided to work out there and within 15 minutes, acquired quite a crown of on lookers probably wondering what these crazy Americans were doing! Afterwards we cleaned up and enjoyed a delicious meal at the Arc Hotel, trying a variety of traditional and foreign dishes and already planning what we'd like to try the rest of the week.   I'm very much looking forward to starting surgeries tomorrow and meeting the people in the villages we're visiting. These first 24 hours have offered such unique experiences already that I can't wait to see what the rest of the trip will hold for us!
June 16, 2014:

Nicki Rosenhagen

First day on the job! Because of a miscommunication, our first work site was more than an hour away at the Mikumbi village in Mikumi National Park. But despite an early start and a long drive, we were soon set up and ready to go under a tree on the soccer field, eager to get started.
The differences between our Illinois and our Tanzanian surgery suites were pretty astounding. Not only were we missing caps, masks and gowns, we didn't have a roof, lights, an adjustable table or the convenience of inhalant anesthesia. It certainly took some getting used to.
All of us were a little rusty on our surgical skills, but under the guidance of Dr. Bennett , we completed eight surgeries and vaccinated more than thirty dogs for rabies and distemper virus by the end of the day.
The awareness of the importance of vaccinations with the people in the village was inspiring, and they made a great effort to catch both dogs and cats to be immunized. These animals have very little experience with any form of restraint and do not tolerate it well, so there were some creative methods of restraint used during the injections. Two of the owners walked away with bite injuries, so we're working on devising handling methods that will be safer for both owner and dog.
In addition to the animal care, we also provided some great entertainment to the younger children in the village. The kids were so interested in the work we were doing, and their attention spans were incredible. They also loved to be photographed and giggled at us stumbling through Swahili in an attempt to communicate. That prompted us to learn some words for next time!
It was a big day physically, mentally and emotionally. The stress associated with practicing medicine in an uncontrolled environment with a language barrier is significant, but it was a great learning opportunity. I often take for granted the luxuries that animal hospitals in the United States provide, and I'm so grateful to have an experience like this to remind me to appreciate what I have. This trip has also already helped me cope with stress and challenged my problem solving skills. It's just the beginning, but I'm certain by the end, I will be more confident and more competent.  I'm looking forward to a full two weeks of work and learning!
June 17, 2014:

David Beutel
Today was our second day of surgeries.  We stayed near Morogoro today in a small village called Forest Village.  Professor Muhairwa was not with us today but Anton and Nickson both were.  We set up our "surgery suite" right outside the house of Peter, a very nice older gentleman who spoke decent English.  This was the first of just a couple times that we actually set up right in someone's yard rather than in an open common area. Right outside the gate to this man's house was one of many fruit and vegetable stands (usually also containing dried fish) that we saw during our time in Tanzania.  Everywhere we went there were people selling fruit on the side of the road, the bananas (the only fruit that I believe we bought from these stands) were very delicious.  Also, right across the road was a few small buildings, one of which had a very large pool table sitting next to it.  It seemed to be a popular attraction as there were a number of young men and boys hanging out by it and playing pool.
Although there was no one there with their dogs when we got there, people did start trickling in after we got set up.   However, the crowd was considerably smaller than it was yesterday.  There weren't near as many kids hanging around and watching us as there was yesterday.   We performed four castrations and three spays total for the day, all of which went well.  As was the case yesterday, there were more dogs that came for just vaccinations rather than actual surgeries. Since there were just the seven surgeries, we ended in good time in the afternoon. After the surgeries, Mary and little Peter, the grandson of the man whose house we were working outside of, spent some time drawing pictures and writing in the sand while we waited for the last dog to wake up from anesthesia.
Once the dog was awake enough and Mary and Peter had their fill of playing in the sand, we headed back towards our hotel.  I am going to just add here that some of the roads to these little villages are extremely bumpy.  I think that it is safe to say that we drove on some of the bumpiest/most holey roads I have ever been on in my life while here. There were a number of chickens, along with the one duck, running free around the area.  This was common not only in Forest Village but almost everywhere we went.  The chickens would run around and eat whatever they could find.
June 18, 2014:

Michael Rosser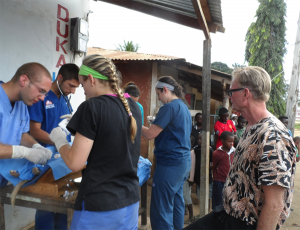 Today, we drove about 15 minutes from Morogoro to Mzumbe village, which is home to Mzumbe University. We set up for clinics outside of a pharmacy in the village under the shade of a small awning, and got to work right away as there were dozens of dogs already waiting for us when we arrived. Dave and I began vaccinating dogs while the other three students started surgeries. There were so many dogs that we could hardly keep up with drawing up vaccinations and having supplies ready, but with the help of Anton, the technician, and Nickson Ng'umbi, the veterinarian, we were able to vaccinate 60 dogs throughout the course of the morning. All of the dogs received rabies, distemper + leptospirosis combo, ivermectin for parasite control, and imidacloprid topically for flea control. Many of the dogs in this area were very difficult to handle, so we showed Anton and Nickson how to use gauze muzzles for safe and effective restraint. Handling the animals was still a challenge though, and we had to be very careful and quick in giving the injections to remain safe. In addition to the 60 vaccinations, we completed 12 surgeries (9 castrations and 3 spays) as a team throughout the course of the day. Each of us had completed at least one spay and one castration prior to this day, so we were much more confident and efficient with our surgical technique. This allowed us to have two surgical tables operating at the same time with Dr. Bennett assisting at both tables. By the time the last dog was finally recovered from surgery, we were exhausted but very proud of how much we were able to accomplish in this village in just one day.
After finishing clinics, we decided to go into downtown Morogoro to do some shopping. The city was much smaller than Dar Es Salaam where we had stayed on our first night, but it was still very crowded and busy. We were aware that Morogoro was not a city that is frequented by tourists, but we discovered as soon as we stepped out of the car that we stuck out like sore thumbs. Not only were we the only Caucasian people in the area, but we were still in our surgical scrubs from clinics. Feeling so out of place like this was something I can't remember ever experiencing in the United States. We got a lot of stares while we walked through the shopping district, but everyone we met was very helpful and friendly. The stores in this area all had an open wall so that everything was visible from the street, and it was very interesting to just walk around and window-shop. Because tourism is not common in this area, most of the stores sold common household items and clothing geared towards local people, but it was still very interesting to see. We ended up buying a soccer ball to play with during evenings at the hotel. Though we felt out of place  in the city at first, it was a very interesting experience to see how people live in Morogoro and how different it is from home.
June 19, 2014:

Anneliese ("Ani") Michl

Today we drove to a village called Wami Dakwai in Morogoro.  The drive was not as long and the dirt roads were less bumpy, which was greatly appreciated. We spent many hours traveling to and from the villages and hotels earlier in the week. Driving in Tanzania can be dangerous, especially on the main highway. The forms of traffic include pedestrians, bicyclists, cars, motorcycles, large trucks, buses, and three wheelers all trying to weave around one another on a narrow road. The smell of fumes and exhaust was so nauseating that we had to cover our faces with scarves at times.

Most of the drivers and motorists are fearless when driving. They will honk their horn and continue driving, forcing oncoming vehicles and pedestrians to stop. We passed several overturned buses and trucks off of the highway during our two weeks. One night at the hotel, we met a man who was visiting from Dar al Salaam for a friend's funeral. His friend had an evening soccer game and was driving home in the dark on his motorcycle when he was hit and killed by a truck. The story was very sad and we offered our condolence.  The man told us to never drive at night in Tanzania because it is too dangerous.

When we arrived in Wami Dakwai, the people and their pets were already lined up waiting for us. There was a local church and a small home with a family. Dr. Nickson Ng'umbi noted that the religion of the village people in Tanzania is approximately fifty percent Muslim and fifty percent Christian. Dr. Hoenig remembered speaking to the mother of another family last year. She recalled that the mother aspired to be a professional nurse. However, her husband prevented her from becoming a nurse because he thought she would cheat on him with other men. So instead she had children and her dream of becoming a nurse was now only a memory. Most of the women are prevented from having careers and are expected to raise the children and take care of the house. It was very uncommon to see the fathers interacting with their kids. The women were seen surrounded by their kids and doing chores such as laundry and cooking.

We performed a total of 4 spays and nine castrations today. We vaccinated approximately fifty dogs and cats. The surgeries went well and there were no complications. We fed the testicles and ovaries to the nearby chickens and roosters. The chickens were so excited that they would flutter their wings and run away when a testicle was thrown at them.  We were happy to not let the reproductive organs go to waste. There is very little wasted in Tanzania and it made me realize how wasteful we are as Americans and how much stuff we have. Many of the children wore clothing that was sometimes torn and oversized and had no shoes. They didn't have any toys to play with. One boy had a ball of garbage he was using as a soccer ball. Another boy was seen playing with a metal rod and another boy with a bike tire. Yet they all appeared very happy.  In retrospect, we wished we brought clothing, books, crayons, and toys for the children. We discussed that next year we would recommend bringing a suitcase full of things to give to the children.
June 20, 2014:

Mary Roberg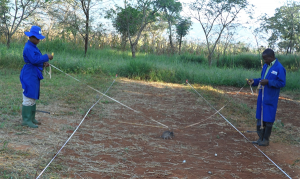 This morning we visited APOPA, the University of Sokoine mine detection rat training center where they train African Pouch Rats how to detect landmines. APOPA is a social enterprise that researches, develops and implements detection rats technology for humanitarian purposes such as Mine Action and Tuberculosis detection.  These rats are used in countries like Cambodia, Vietnam and Laos that are no longer at war but still having active landmines in their country. When used in the countries or 'the operation' the rats will work with the trainers to clear large boxes of land (approximately 5 x 20 meters) and if they detect a mine, they will scratch at the ground to indicate its presence. Then a detonator is set on that location and the mine is set off at a safe distance. Most landmines need at least 5 kilograms of weight to detonate and since most of these rats are 1 kilogram or less, they are perfect for detection but not detonation. APOPA was founded in 2000 by Bart Weetjens who wanted to address the landmine issues in Sub-Saharan Africa. Three years later, while the first landmine detection rats were tested under real conditions in Mozambique, APOPO won the World Bank Development Marketplace Global Competition, which provided seed funding for its Tuberculosis (TB) detection research program. APOPO' s very successful TB division is a step towards addressing the millions of TB cases that go undetected and can lead to death, in Africa and throughout the world.
We were able to witness how they train the rats in different stages to be able to detect TNT powder which is what landmines. The trainers start to work with the rats when they are only 5 weeks old to start socializing them and bonding with the trainer. At 3 months old, they start to work detecting the TNT powder. The trainers use a simple clicker training system to they find the ball with the TNT powder in it, they click and the rat will go to the trainer for a bit of banana as the reward. The rats will graduate to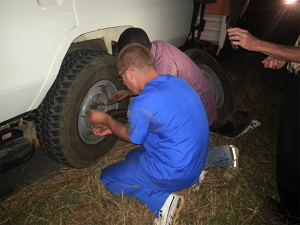 boxes and then start having some balls that don't have TNT, other objects, smells, etc to try and trick them and ensure that when they are scratching it is actually for the landmines and not just to get a bit of banana.  It was impressive of well these rats where trained and interesting to see the process. The director of the program said at the moment, they send these rats to these countries free of charge, all to gather research and in order to help the people in these countries. It was amazing that so much effort, time and resources go into these extremely valuable creatures that make such a difference in these countries and yet, this university is not charging the countries for the rats.
After the Apopo Center, we traveled to Mikese Village around Morogoro , which was on top of hill by a chicken farm. To say the smell wasn't pleasant is an understatement but the view of the surrounding mountains and fields made up for it. We performed three spays at this location and a male dog was prepped to be performed when we realized he already had been castrated! We had a few complications today with our three spays. One spay had bleeding coming from one of the uterine horns prior to removal which Ani successfully stopped and the completed the surgery with no other issues. In another we had a ligature slip on a uterine stump which meant extending the incision caudally to find it and retie the ligature. Our last spay had a transmissible venereal tumor that was removed by Dr. Bennett. This was the third TVT we've removed in Tanzania and they are much more common in developing countries than in first world countries. It's been really good to see how these are removed surgically, especially in less than ideal scenarios. All our surgeries recovered. When we returned to the hotel, Shedrick gave us all little tokens or gifts to take with us since we were such good customers all week. On our way to Mikumi, we passed through Mikumi National Park and saw several giraffes, zebras and a small family of baboons on the side of the road! Unfortunately we did get a flat tire on the way there but luckily our driver Habi was well prepared and with everyone's help (whether Dave and Mike assisting with changing the tire or the multiple phone flashlights) the tire was changed and we arrived at the Tan Swiss Lodge shortly afterwards. Tomorrow we have the safari!! We're all really looking forward to it!
June 21, 2014:

Nicki Rosenhagen

Safari day! The past week has been a whirlwind of surgeries, vaccinations, learning Swahili and experiencing a new culture, and even though we are all more than a little tired, everyone was ready and excited for another very early day.
The truck left at seven with all of us in the elevated, outdoor seats headed to Mikumi National Park. We were freezing! Every other day this week was hot and clear, but today, we were exposed to chilly, drizzly weather with very minimal protection. On top of the poor weather, we had our second flat tire in twelve hours! Luckily, our guides were efficient and a spare tire was handy, so the hiccup was brief. The weather stayed unpleasant for two hours or so, and then the sun finally showed up. At that point, some of us were so desperate for a little warmth that we asked the driver if we could sit on top of the truck. Amazingly, he said yes, so up we climbed for some direct access to the warm sun.
Sitting on top of the truck offered not only a warm seat but also a pretty amazing vantage point for spotting the animals and appreciating the natural beauty of the country. The first animals we found were impalas. Just a few, but we sat for several minutes snapping pictures, taking videos and watching awestruck. By the sixth impala herd in an hour, we were ready for more exotic species and didn't even stop to watch. How quickly we became accustomed to these amazing animals! Next, we found herds of zebras and several species of birds, including shrikes, hamerkops and lilac-breasted rollers. Off in the distance we could see giraffes, wildebeest and buffalo. Our next up close encounter was with a family of elephants. They were less than forty feet from the truck, eating and ambling along with absolutely no concern for the stunned humans gaping at them.
The adventure continued like this for eleven hours. There were often with large gaps of time and no animal sightings, but the up close sightings made all of the waiting worthwhile. Right before leaving the park, the guide received a call from a nearby tour about some elephants. We turned the truck around and headed back in the direction from which we had just come and nearly ran into two large elephant families. The crossed the road in front of and behind us while we sat in the vehicle, completely mesmerized by this very close encounter. The other tour group had paid extra to drive off-road and follow the animals for filming purposes, and we watched as the pursued the animals casually. Eventually, an adult turned and faced the truck as a warning. Her truck raised and her ears flapping, she was clearly sending the message to the people to back off. It was very impressive to watch from a safe distance!
All in all, we spotted impalas, cape buffalo, zebras, giraffes, elephants, baboons, a jackal, warthogs, hippopotamus, a crocodile, cape buffalo, eland antelope and dozens of birds. I was a little disappointed to not see lions, leopards or rhinos, but we learned that lions hadn't been spotted for days in the park and rhinos were not actually present in Mikumi. People travel from all over the world to see these animals, especially the "big 5" – elephants, cape buffalo, rhinos, lions and leopards – named as such for the difficulty and level of danger involved in hunting them. The term was adopted by the safari guides and now seems to be ubiquitous in that part of the world.  For me, the fact that we didn't get a chance to see all five means that I'll have to come back and try and again someday!
It was a spectacular day in a gorgeous park, and one that I will not soon forget. We had a wonderful, knowledgeable guide who was full of interesting facts on the animals that even seven animal care professionals didn't know!  I can't wait to share the experience with my friends and family back home!
June 22, 2014:

David Beutel
Today we went hiking at Sanje Falls which are located in the Udzungwa Mountains in Tanzania. There are numerous falls, the tallest of them being approximately 70 meters high.
While registering at the office, baboons and red colobus monkeys provided entertainment for all with their playful antics and agile movements.   On the way to the top of the falls, the guide would stop at some trees and talk a little bit about them.  One of them was called the "Communication Tree" as someone would bang on it with a rock when a meeting was taking place thereby causing a loud noise to emanate from the tree.  We also saw the type of tree that corks for champagne bottles come from. At the top of the falls, those who got close to the falls were soaked by the heavy mist that the falls produced.  Lunch was eaten part of the way down the falls on large rocks that gave a breath-taking view of the land, mostly sugar cane fields, below.  The land stretched for miles and miles below us and the view was absolutely beautiful.
On the way back down we also stopped at the base of the falls where Nicki, Mike, and Dave jumped into the water to swim for a little bit.  The water was quite cold but like Nicki said "When else are you going to get the chance to swim in an African waterfall?"  A few monkeys were seen along the way but they vegetation prohibited us from getting good looks at them most of the time. The hike was a real good workout as it was a mixture of regular hiking trails and stairs and measured around 6.2 kilometers total. One interesting thing about this hike was the difference in humidity and temperature between the beginning of the hike and the top of the falls.  While we were lower down near the base of the mountain, we were all sweating a lot as it was quite warm and extremely humid.  However, as we got closer to the top of the falls, it cooled down considerably and the humidity mostly disappeared.  It helped make the top of the falls very refreshing as well as beautiful. Unfortunately, by the time we finished the hike, we were all sweating again as we were back in the heat and humidity. I think it's safe to say that at the end of the hike, we were all worn out and ready to relax. On the way home, about a half hour into the trip, we had to turn around as a credit card was left behind but that just meant more time enjoying the baboons and red colobus monkeys that were still hanging around the office as well as more bouncing around in the back of the truck.
June 23, 2014:

Mike Rosser
After a fun and relaxing weekend, we started our second week of clinics at Kikiwaraza, a village near the Mikumi safari park. We set up for surgeries outside of a primary school which was not in session since the students are on their winter break, but there were students preparing for national exams in one classroom. It was very interesting to look around the school and see how Tanzanian students learn. In addition to attending school, the students are also responsible for cleaning and maintaining the school grounds, which is very different from the United States. Tanzanian students are required to attend primary school from ages 7-13, and school tuition is free. The national exams that the students we saw were preparing for are required at the end of primary school to receive a primary education certificate and continue on to secondary school. Unfortunately, only about 50% of students pass the national exam as of 2009, and there is not enough room in public secondary schools to accommodate every student that passes the exam. The sad reality of this system is that many children in Tanzania receive no formal schooling after the age of 13, especially in rural areas. Learning about the education system in Tanzania reminded me of how fortunate we are in the United States to have the school system that we do, and it also made me realize how much work needs to be done to improve education in Tanzania and throughout the world.
After gaining so much experience with surgery last week, we were very confident starting our second week of clinics. My goal for this week was to be as self-sufficient with surgery as possible, since I had become much more confident about my decision making and surgical skills after the past week. Like most of our other sites, many local people came with their dogs for surgeries and vaccinations and we were able to complete all of them. We had two surgical tables operating at the same time, and we were able to work much more quickly than the previous week. Our surgical skills improved so much thanks to Dr. Bennett, and all of us have become so much more confident in surgery. Having this experience in Tanzania definitely makes me feel more prepared to go into practice, as I have now performed 3 spays and 5 castrations on this trip. I feel like our surgical decision making has also improved on this trip, as we are often in situations where conditions are very different from the surgical suite in the United States. We have learned how to adapt to different situations and deal with complications while still maintaining the highest quality of care for the patient. I'm looking forward to gaining even more experience in the coming week, and I'm excited to return to clinics at the Illinois Veterinary Teaching Hospital with the new skills and perspective that I have gained here.
June 25, 2014:

Mary Roberg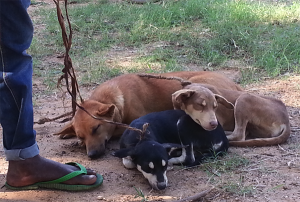 Today was a beautiful day in Mikumi! Essentially a perfect summer day in the states but this is their typical winter day here, can't imagine what it would be like in the summer! This morning, we went to another local area of Mikumi, about 15 minutes away from our hotel. When we arrived there were already dogs waiting for surgery and vaccines so once we unloaded we started right away.
By about 9 am surgery was underway, continuing at a constant rate throughout the afternoon, performing 17 surgeries total, 14 castrations and 3 spays! We also treated 63 patients today (surgeries included) with vaccinations, deworming and flea spay treatment.  We also had the most cats we've seen so far today, 3 for surgeries and several for vaccination only.  Five of the surgeries were puppy castrations that could be performed similar to a cat neuter which allowed us to performed several of them in a row on one table while spays and large dog castrations were performed on the other table.  We had quite the audience watching the whole time as well as several dogs around whether they were being treated or not! At one point I looked up from the spay I was performing to see a beautiful Basenji mix dog standing the right of Mike (who was assisting) wagging her tail and watching the surgery!  Dr. Hoenig tried to give away her pencils to the local school children and they all ran away from her! Eventually they came back and each took a few pencils once she realized she wasn't giving out homework with those pencils J
The surgeries themselves went smoothly.  By the end of the day, we were all quite exhausted but pleased with the overall surgeries and vaccinations performed. Dr. Bennett continues to joke with us that he's no longer needed since we've built confidence in our surgical skills. He had taught us so much this trip and I know we all feel much better about our surgical techniques, even though we've been in less than ideal situations!
June 26, 2014:

Nicki Rosenhagen

Today our surgical site was at Mikumbi Center Village, again in Mikumi National Park. We set up our surgical tables outside of one family's home, next to the large, flat stone used for slaughtering cattle. The crowd today was much smaller, but the dogs were plentiful. We completed fourteen surgeries and vaccinated another twenty dogs.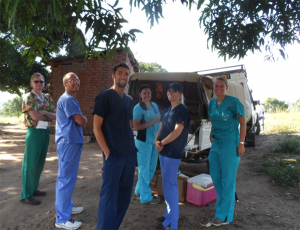 The majority of the surgeries were uneventful, but two in particular had some interesting developments. The first was a small female dog. Her owner suspected she was pregnant and wanted to have her spayed before the puppies became too big. When we opened her up, we realized that she was indeed pregnant, and taking care, we gently located and identified the two fetuses. The trouble began when the pedicle for the right ovarian horn was clamped with the hemostatic forceps. Despite gentle manipulation and careful placement of the clamps, the pedicle and tissue surrounding it began to tear. The surgeon was able to fully ligate one area of the pedicle before the entire tissue tore away from the clamps and retracted into the abdomen. At this point, Dr. Bennett stepped in to locate the dropped pedicle and effectively ligate it to prevent further blood loss. After two or three tense moments, the rogue tissue was located and the bleeding stopped. Luckily, the anesthetist was able to place an intravenous catheter to bolus some fluids to the dog, and with the exception of a larger surgical incision, the dog was no worse for the wear. She recovered without issue and went home with her owner, disoriented but stable.
The second exciting event happened during a puppy neuter. Typically, for young male dogs, the neuter is much less invasive and can often be completed within a few minutes. This particular dog had no abnormalities with his surgery, but while he was be monitored during recovering, the anesthetist noticed some large nodules. After speaking with Dr. Muhairwa, we learned that these were actually caused by the larval stage of a parasite called the tumbu fly. The tubmu fly, also called mango fly and skin maggot fly, is a species of blow fly common in east and central Africa that utilizes large mammals (including humans!) as hosts. In fact, the species name of the fly is anthropophaga  and literally means "human eater" in Greek. The larvae crawl over the soil for several days until they encounter a host; then, they attach to and penetrate intact skin where they live in their newly made "burrow" until they reach maturity. Damp areas contaminated with feces or urine make for ideal environments for contracting the parasite.  This particular dog was living in a very damp environment beside a body of water and had nearly a dozen of the maggots under his skin. Fortunately, the parasites are often easy to remove, and we were able to apply some gentle pressure and remove them with forceps with minimal tissue trauma. After all of the parasites were removed and the dog recovered, Dr. Muhairwa explained to the owner what was happening with his dog and why it was imperative that the living conditions be changed to save the dog's life. The owner appeared to understand and thanked us for our assistance.
Another very busy and productive day – we've completed over 80 surgeries and vaccinated nearly 500 dogs so far! Looking forward to one final day before we turn in our instruments and hit the beach for some much needed R & R!
June 27, 2014:

David Beutel

Today was the last day of surgeries for us. It's hard to believe that our two week rotation is essentially finished. The time has just flown right by. Today we ended up working in two different locations both located near Msimba Village which is located near Mikume. The first spot we went had a decent sized crowd already present with their dogs. However, at first they were all for vaccinations and no surgeries which surprised me. However, I was told that this was because the people in this area use their dogs for hunting baboons. Therefore, they wanted their dogs to be able to have puppies. But, it didn't take too long for some surgeries to come up and we spent the whole morning spaying and neutering dogs and cats as well as giving many vaccinations. This was also the location that a random dog went up to Mary and sniffed her arm before casually deciding to place its mouth around Mary's arm. Fortunately, no injuries were reported as Nicki saw what the dog was doing and quickly shoo'd the dog away. Also, today Dr. Muhairwa showed some of us a new way to deal with transmissible venereal tumors, or TVT. Before, Dr. Bennett had been performing total resections of the tumors and then suturing the dogs vulva back together, taking care to leave the urethra patent. However, Dr. Muhairwa instead places suture material around the base of the tumors in order to tie off any vasculature that is present to the tumor and then just cuts the tumor off. While this may not remove the whole tumor, Dr. Muhairwa told us that by removing at least part of the tumor, it stimulates the immune system to attack the tumor and remove it.   The cool thing was that he asked me if I wanted to take some of them off so, under his guidance, I was able to remove a TVT from a dog. A little after noon, we headed off to someone's house nearby and set up shop again. However, at this place we only castrated one cat but did vaccinate a number of dogs. We closed up shop in pretty good time and had a little photo-taking session with our whole group before heading off to the hotel for the last time. It was kind of sad leaving our new-found friends. You don't realize how much you have enjoyed working with people for 10 straight days until the last day ends and you ask yourself, "Now what, this is all I have done for the last 10 days!" I also felt the same as I waved good-bye to the children for the last time. It kind of struck me that I would most likely never see them again and that it was my last time being able to wave to the kids on our trip. The children were a huge highlight of the trip for sure. They were so curious about everything that we did and absolutely glowed when given the chance to interact with us.   But, as the cliché goes, all good things must come to an end. Words do not begin to describe the experiences we had nor the impression this trip left on us.