Student Participates in Internal Medicine Rotation in New Zealand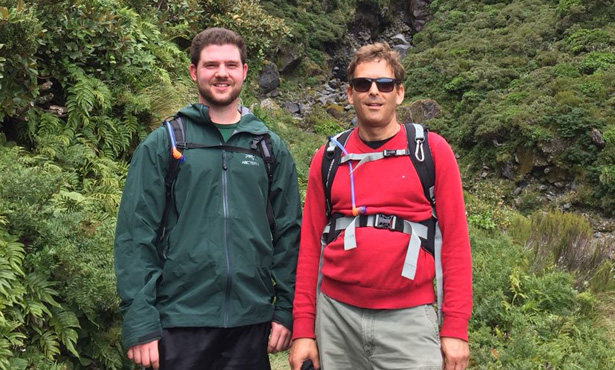 This January, I had the pleasure of traveling to the Veterinary School at Massey University in New Zealand for an externship rotation in Internal Medicine. It was an incredible experience and also my first visit to a veterinary institution outside of North America. After three surprisingly comfortable plane rides (Air New Zealand is a great way to travel), I landed in Palmerston North and was met at the airport by Drs. Arnon Gal and Richard Burchell, both from the Internal Medicine Department. Arnon and I had worked in Dr. Jay Ko's Reproduction Laboratory together during our PhD's at the University of Illinois before he accepted a position as a senior lecturer at Massey, and I was grateful to see a familiar face in a new country. Upon stepping out of the plane on to the tarmac, I was struck by how incredibly warm, humid, and green the area was, as January is midsummer for New Zealand and was a welcome change from Champaign's winter weather.
Arnon is nothing if not an intensely devoted clinician, and we stopped briefly at his house where I would be staying so that I could change into business casual clothes before heading straight to the college. Despite the 20 hour plane ride and the 19 hour time change, I was too absorbed in seeing the school to realize that I should be tired. Massey's vet school is located nearly in the center of campus near a man-made lake full of ducks, cormorants, fish, and freshwater eels; campus itself is just across the Manawatu River from the rest of Palmerston and was simply beautiful to walk into every day. The clinical portion of the veterinary school is laid out in roughly a large rectangle that is bisected by several hallways in a grid pattern. Since the weather in New Zealand is generally cooler in the summer and warmer in the winter than Champaign, the school had no air conditioning and was instead full of bright windows and courtyards for air exchange. The small animal clinic is comparable in size to the University of Illinois, with the equine and large animal services being in separate buildings elsewhere on campus. Interestingly, the majority of the dog runs are outside under a sheltered roof, although cages were also available in the combined ICU/ER and in the Community Practice (Primary Care) room. The wildlife and exotics portion of the clinic was also massive and newly constructed, with completely separate security clearance from the small animal hospital. Beyond these differences, and the presence of a food preparation in the center of the runs, the vet school was divided into various rooms by specialty similar to Illinois; the offices of the majority of clinicians were also on the same floor as the clinic rooms and were just slightly further down the main hallway.
After being introduced to the students, rotating intern, and residents, I jumped right into the rotation and signed up for a transfer case – a beautiful Irish Setter with vague GI signs who had come in on ER and was being monitored for the effects of supportive care; she was ultimately discharged the following morning for suspected gastroenteritis or pancreatitis. I continued to see cases throughout the week and the following week, including chronic kidney disease, anticoagulant rodenticide exposure, a septic abdomen, and hemorrhagic diarrhea. By far though, the most rewarding case was a somewhat aggressive boxer mix that presented with intermittent lameness, lethargy, decreased appetite, and necrosis of the tips of the ears. After intense diagnostics including 26 radiographs, an abdominal ultrasound, full bloodwork ("bloods" in NZ), six joint taps, and a few others, she was tentatively diagnosed with lupus or a similar autoimmune disease with antibody complex deposition and vasculitis, was treated for several days, and was ultimately released on a tapering dose of corticosteroids. It was the first time I was involved in the diagnosis of any autoimmune disease and the diagnostic process was a great learning experience. In addition to my case responsibilities, I found the daily topics rounds very useful, clinically relevant, and that they incorporated a large amount of pathophysiology rather than focusing on memorization of signs, symptoms, and treatments. The rounds were very focused on the students learning as much as possible, and often continued for nearly two hours instead of just the one that was set aside. This is reflective of the entire atmosphere at Massey, which is focused on education, very positive and supportive, acknowledging of physical and mental health and a work-life balance, and is designed to minimize the hierarchical structure seen in most veterinary colleges. I was shocked that all clinicians go by just their first name, as do all students, and all administrators too. Until I asked Arnon specifically about it, I knew the Dean only by her first name for several days.
The case load at Massey is managed over the weekend by a separate set of students, including treatments for inpatients, meaning that I was free to leave town and explore New Zealand over the weekend. Arnon, Richard, and I visited Egmont National Park in New Plymouth and hiked Mount Taranaki, a dormant volcano. It was like hiking through the set of Jurassic Park, a jungle of palms and ferns and mosses and air plants, with swing bridges over rapids and rocky peaks too. We also toured the Forgotten Highway, which goes partially through farmland used for sheep production. The New Zealand working dogs, a breed called Huntaways, run tirelessly up and down the slopes after the sheep, apparently doing up to 100km a day! On the return trip to Massey, we cut East and drove past both mountains that were used for filming Mount Doom in The Lord of the Rings too. Not only were the all the sights stupendous, but the conversations on the car rides were also phenomenal. Arnon attended veterinary school in Israel and Richard did so in South Africa, and the contrast between my American training with their own all against the New Zealand vet med background was a common topic. Richard and Arnon also collaborate on several fascinating internal medicine research projects, which will likely be exciting publications in the future; it was a treat to see and hear about all their work that they've accomplished on top of clinics and their high teaching load.
Overall, my trip to Massey was one of the best experiences in my life. It was a great learning opportunity, a new cultural experience, a reunion with good friends, and, even though I worked full time, a relaxing vacation too! It was difficult to get on the plane and come back to Illinois in February, but hopefully I'll get to go back and visit again sometime in the not-too-distant future! I highly recommend Internal Medicine with Arnon and Richard at Massey to any veterinary student seeking an incredible and unforgettable experience.
Cheers, Aye!
Joe