Still Crazy About Being Mundelein Vet After All These Years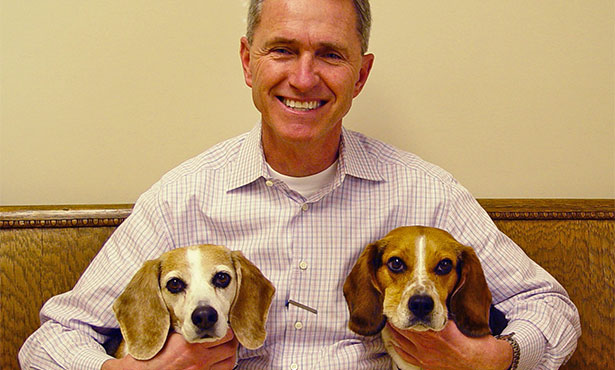 Dr. Tim Sullivan has been practicing veterinary medicine since the age of ten.
As a kid, he would often get up in the middle of the night to help his older brother, Edwin, with surgeries at the Libertyville Animal Hospital and later at the Mundelein Animal Hospital opened by Edwin, an Illinois graduate in the Class of 1967.
From seventh grade on, Dr. Sullivan knew his career path was headed toward a veterinary degree.
After graduating from the University of Illinois College of Veterinary Medicine, he asked himself, do I really want to go back to Mundelein? Go back to the place I have been working for years and years?
He went right back, and is glad he did.
"I think my brother let me have a day and a half off, and then said, 'All right, get back here and help me,' " Dr. Sullivan said.
Tim Sullivan took over his brother's clinic in 1986, taking his brother's advice by getting a business partner, Gary Herman, a former classmate.
"The Class of '83 was really a tight knit group," he said. "The professors enjoyed us; I consider all of my 91 classmates to be good friends."
Dr. Sullivan enjoys working with clients that he has known his entire life—his teachers from high school, people who brought their pets to his brother before him. Most of his clients were referred to him by their friends and family.
The Mundelein Animal Hospital is not a 24-hour clinic, but when animals need overnight care, Dr. Sullivan won't hesitate to bring pets home, as he did with his second beagle, Charlie.
"Charlie was a sick little boy with pneumonia. Come to find out he had a bad lung lobe and never recovered. He was not going to be a saleable puppy."
Charlie and Dr. Sullivan's other beagle, Emma, occasionally visit clients and patients in the exam rooms and may help out with Sit Stay Read, a literacy program for kids the Dr. Sullivan supports.
"They've found that the dogs can help kids relax and focus," Dr. Sullivan said. "I'm really proud of that organization."
He is also extremely proud of his profession and believes that veterinarians on the whole are doing a wonderful job.
"I don't know how many times a year I hear 'Wow, I wish my doctor was like this,' " he said.
By Hannah Pitstick