Atopic Dermatitis: Steroids vs. Atopica vs. Apoquel vs. Cytopoint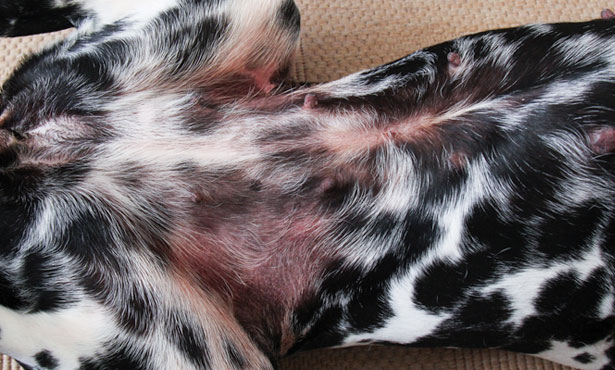 The arsenal of treatment options for dogs with atopic dermatitis is expanding. It includes corticosteroids, which have been around the longest, as well as Cytopoint, which gained FDA approval at the end of 2016.
It is extremely important to note that not all drugs are created equal, and you should not use the same treatment option for each patient. This article reviews the major systemic drugs for atopic dermatitis used in everyday practice.
Corticosteroids have been used for decades and have withstood the test of time. Corticosteroids are non-specific in their mechanism of action, since corticosteroid receptors are in every cell. Side effects of corticosteroids are well known. They can be great at decreasing the inflammation associated with atopic dermatitis, but long-term treatment is not recommended. I use them regularly for short courses to battle flare ups in patients that were well-controlled otherwise. My steroid of choice is commonly Temaril-P due to the anti-inflammatory effects, while using less than half the amount of steroids in an anti-inflammatory dose. The side effects can be less significant with Temaril-P.
Atopica is the veterinary microemulsified formulation of cyclosporine, which has been available for about 16 years. Atopica mainly affects T cells. The most significant side effect observed is gastrointestinal, with up to 40 percent of patients experiencing this side effect in some studies. I advise owners to give it with a meal instead of on an empty stomach, which brings the prevalence of gastrointestinal upset among my patients to about 5 percent.
Apoquel is a newer drug that mainly inhibits JAK1 and decreases production of IL-2, IL-4, IL-6, IL-13, and IL-31. IL-31 is important for the pruritus pathway. The manufacturer reports a variety of side effects in long-term studies, including decreased white blood cells, elevated liver values, and new cutaneous masses in up to 19 percent of cases. Apoquel is contraindicated with a history of previous neoplasia.
Cytopoint is a 90 percent caninized monoclonal antibody to IL-31, which on average is injected once monthly. It binds to IL-31 circulating in the body. No long-term studies have been published to date to identify side effects. We have found very few side effects in clinical cases; the most common has been lethargy within the first 24 to 48 hours after an injection. We've had a few cases showing diminished response with each additional injection, suggesting antibodies to Cytopoint.
Each of these drugs works slightly differently, and this needs to be taken into account when dispensing medication. If the dog has recurrent ear infections or becomes erythematous prior to the pruritus occurring, then Atopica would be the best medication, as Apoquel has not been shown to help with otitis. If the dog has intense pruritus prior to becoming erythematous, then Apoquel or Cytopoint may be the best medication. If the symptoms are extremely seasonal, with short peaks in pruritus, corticosteroids, Apoquel, or Cytopoint may be the best option. No drugs are 100 percent successful, so several drug trials may be needed.
—Dr. Jason Pieper, MS, DACVD
Photo credit: A dalmation exhibits atopic dermatitis. (Photo by Maja Dumat/Flickr.)