Spay, Neuter, and Infectious Disease Control, Tanzania, 2016
This program would not have been possible without the collaboration with Professor Muhairwa at the Sokoine Agricultural University Department of Veterinary Medicine in Morogoro, who was instrumental in the day-to-day organization. We thank Anthony Mhando and Dr. Nickson Ng'umbi and the local veterinary officer, James Nathan, for their daily assistance. We could not have done this without our wonderful drivers, Habby and Musa. We gratefully acknowledge the sponsorship of Boehringer-Ingelheim Vetmedica and Zoetis, who generously donated vaccines and antibiotics, and are thankful for the financial support of Nestle Purina and the College of Veterinary Medicine at the University of Illinois (Dean Constable).
The program not only entailed "hands-on" population and infectious disease control by our students and local veterinarians but dog owners were also asked to complete a questionnaire with the help of the local veterinarian which will provide us with much needed information about animal husbandry, and their awareness of methods of disease and population control for animals.
UIUC team: Drs. Avery Bennett and Margarethe Hoenig. Our 4th year students: Sara Beard, Briana Grymonprez,  Julie Nelson, Gosia Pajak, and Ariella Samson
Sunday, July 10, 2016:

Briana Grymonprez
morning we woke early to begin our travels from our starting point hotel in Dar es Salaam to Morogoro. We met our awesome driver Habby, who would be our driver for the two-week duration of our trip. He effortlessly packed all of our heavy bags on the top of our Toyota safari vehicle, which had three rows behind the driver's row, and we were on our way! This was our first real chance to observe the Tanzanian countryside and get glimpses of the type of villages we would soon be working in. After about five hours in the car, we finally arrived in Morogoro at the Arc hotel. The view from the Arc was breathtaking, as the hotel sits at the foot of the Uluguru Mountains.  After a short review lesson on suturing with Dr. Avery Bennett, the surgeon working with us, we ate dinner and prepared for our first clinic day!
Monday, July 11, 2016:

Briana Grymonprez

Monday morning we were all very excited to begin! Our breakfast was pretty similar every day and consisted of toast, mini bananas, crepe pancakes, eggs and baked beans! To start our day, we traveled to Sokoine University School of Agriculture, which has the only veterinary school in Tanzania! Here we met Professor Muhairwa, who is our contact and host during our stay in Tanzania. He gave us a warm welcome. We got a short glimpse of their vet school classrooms. This happened to be during their final exams and the same stress could be seen on their faces as we experience in our own vet school curriculum! We signed the guest book, gathered supplies and met our assistants for our trip, Nickson and Antony. Antony is a veterinary technician at the school and Nickson is a veterinarian who is working on his PhD degree. Additionally, we had two fifth year veterinary students from Tanzania join us as well! It was so fascinating getting to speak with them: one girl our age from Uganda and an older nun named Sister Rosa. It was interesting to learn that although in the US the overwhelming majority of veterinary students are now female, the majority of veterinary students in Tanzania are still male.
The setup for our first day of surgeries was in the front red dirt courtyard of a house underneath a mango tree.  For our first day, we each worked with Dr. Bennett individually so that he could assist us with our surgical technique and give us tips to improve our proficiency. We were familiar with the procedures because we used a three-clamp technique that was the same as we had used in our junior surgery labs. We also were equipped to vaccinate animals with Rabies and Distemper, gifts from Boehringer Ingelheim Vetmedica), deworm them using Ivermectin, and treat fleas with an Imidacloprid flea juice (the same ingredient as in Advantage). It was a challenge at first learning to perform surgery in a field environment, outside of a sterile surgical suite! In total, we completed 6 spays and 5 neuters the first day. We had such a variety of patients as well ranging from 8 week old puppies to adult dogs who had previously had multiple litters, each with their own surgical challenges.
After a busy first day, we were ready to relax back at the Arc Hotel. They had a wide variety of food options for us: burgers, curry dishes, Tanzanian dishes, soup, etc. We had some time to get to know one another better over dinner and talk about our upcoming days!
Tuesday, July 12, 2016:

Ariella Samson

This morning started with a much needed cup of coffee and some breakfast at the ever-wonderful Arc Hotel. We all seem to be doing pretty well with the jet-lag thus far and are excited for a second day of surgery! We headed to St. Gaspar's College, which is actually a seminary and a place familiar to Sister Rosa, one of the 5th year veterinary students at Sokoine who is traveling with us! Once on site, we were directed to a narrow strip of land under some beautiful mango trees, boxed in by two large buildings on one side, a fence on the other and the dog kennels as the base. When we exited the cars, we realized the row buildings we were going to be working behind were actually filled with hundreds and hundreds of chickens…and that the large kettles of water boiling near our area's entrance weren't quite as benign as they originally seemed.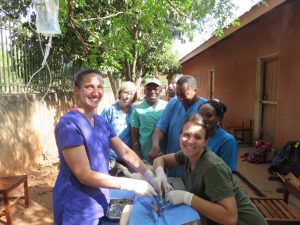 The college's kennels consist of a medium sized shanty, with walled divisions, that amazingly houses over 35 adult animals and multiple litters of puppies. The dogs are used as guard animals, securing the seminary grounds overnight, and are not used to much human handling. Luckily, one of the kennel attendants dedicated his day to helping us! He was able to bring each dog out of the kennel area and muzzle them (he even brought his own muzzle!), so that Nickson was able to anesthetize most of them without many issues.
Throughout the day we were surprised to see this working seminary in action…a very nice woman spent her day at the entrance to our surgery suite beheading and then boiling chickens, before de-feathering them. Anton and Sister Rosa explained that the college sells the cleaned/prepared chickens in the local villages to help make money. Our gracious hosts even fried a few up for us, and invited us to join them in a lovely dinner. The meat-eaters among us said the chicken was delicious, and the freshest they had ever had! We definitely got a good start today, doing a total of 10 surgeries (5 spays, 5 neuters), and using up all of the of sterilized packs! We were also able to remove two deciduous canines from one of the males while he was being neutered. As there are so many animals on the property, and they want as many altered as possible, St. Gaspars is going to be a multi-day project, and we will return tomorrow to continue our work!
Wednesday, July 13, 2016:

Gosia Pajak
Wednesday was my birthday. In the past years, I haven't even dreamt that one day I will get to spend this special day in Tanzania, Africa. We traveled to the same location as yesterday to continue spaying, neutering, deworming, and vaccinating the 31 scheduled dogs and cats. It was only day 3 of our program, but we have already become more efficient at setting up our equipment and getting ready for surgery. I got to perform a cat spay, adult dog neuter and a puppy neuter. Dr. Bennett kept spreading a word about my birthday and sister Rosa, Anthony, and Nickson kept wishing me and singing Happy Birthday. We successfully completed about 12 surgeries that day.
After our long day of work, Nickson took us to a local grocery store, where we stocked up on Tanzanian tea and coffee. We also walked around the town and observed street vendors selling fruit, African tapestry, paintings, and jewelry. A couple of hours later we got back to the Arc Hotel for dinner. We all were very happy to hear that ice cream was finally available! When time came for dessert, everybody starting singing Happy Birthday and waiters brought out a cake that Sara, Ari, Julie, and Bri sneakily scooped out from the store we went to before. It took me by surprise and I could barely hold back tears of happiness.
It was a precious day, working outdoors, underneath mango trees, and then celebrating with a delicious dinner and ice cream with an amazing group of veterinary team.
Thursday July 14, 2016:

Sara Beard

Today began similarly to our other mornings with a delicious breakfast provided by The Arc Hotel.  In addition to watermelon and bananas, they offered mango and papaya this morning.  The fruit here is so delicious and after being spoiled by the taste of small bananas, it's going to be hard to go back to eating other bananas. Before leaving for the day, we surveyed the newest additions to the items sold by a local man outside our hotel.  He had added some new stunning beaded necklaces, earrings and carvings, some of which we ended up purchasing later that day.
Our drive today was a little longer than previous days and upon arrival to Chamwino village we were greeted with over 20 patients including 6 puppies.  We set up in a courtyard and quickly got to work with the help of two new veterinary students in addition to everyone else who had been assisting us throughout the week. Our first spay and neuter of the day were somewhat nerve wracking due to locals surrounding the tables, including one man who videotaped the entire surgery.  Fortunately, all of our surgeries today were otherwise uneventful.
Around mid-morning, a group of children began gathering, many of whom were wearing school uniforms (royal blue sweaters with white shirts and dark shorts).  Ariella began giving out pencils and erasers to these children and the group grew exponentially once other local children saw what was happening.  There were several bare-foot children running across the road and up a hill to check out what goods we were giving away.  Gosia brought balloons and the kids had a great time with them although one balloon got stuck high up in a tree.  A couple of kids began shaking the branches and one tried to climb it to retrieve the balloon but it was too high.  Thankfully we had a few more to give out.  We even drew some faces on them, including one that ended up looking like a dachshund.
Right before lunch, it began to get very warm and for the rest of the day we had traveling surgery tables in an attempt to keep them out of direct sunlight. During the lunchbreak, Bri and I were quite the spectacle as we slathered sunscreen on to protect against the sun's strong rays. The kids couldn't figure out what white substance we were using and just stared and giggled.  None of them wanted to try out sunscreen for themselves.
Today we performed a total of 11 surgeries including 3 puppy neuters and vaccinated many more.  We had multiple boxes of puppies who received distemper + leptospirosis vaccines, dewormer (ivermectin) and "flea juice" which was composed of imidacloprid. We loved interacting with all of the kids and at the end of the day, got out the selfie stick and attempted to get shots with all of them.  We can't wait to see what new adventures tomorrow will bring with our last day in this area.
Friday, July 15, 2016:

Julie Nelson

Today was our final day of surgery in Morogoro. After driving down a back road through fields of sunflowers we arrived at our surgery site- a wide open red dirt soccer field with a misty mountainous backdrop. The view here was incredible. Already local villagers and dogs were lining up as we pulled in. Dogs and children ran around throughout the day and we were able to meet many elementary school children walking home. We had a fantastic last day here – all of us feeling more confident in our skills, laughing, playing music, and having fun with our Tanzanian colleagues. We ended the day of surgeries by playing with some local children and balloons – it continues to amaze me how grateful and happy these children are just to receive a gift as simple as a balloon.

We packed up and hit the road for our next week-long destination – Mikumi! We were all excited to see a new part of the country and explore the National Park. To get to our next hotel, the highway travels through the park and already we were able to see tons of animals! Giraffes, baboons, zebras, elephants, impala, and warthogs all seen from simply driving down the highway! Even though we were going on a safari tomorrow, Habby was kind enough to pull over and let the over-excited vet students gawk at the African wildlife. I imagine I was not alone in being incredibly excited to see what the safari would bring….
Saturday, July 16, 2016:

Gosia Pajak

On Saturday, we went on an all-day safari experience to Mikumi National Park. We sat in an open safari jeep and led by an amazing guide from our lodge, Tan Swiss, began our adventure in the early morning.
It was a little chilly at first, but quickly started to warm-up after the sun-rise. As we slowly drove through the park, the first animals we spotted were two lionesses relaxing in the savanna grass. Such a stunning view. It is incredible that these wild animals are used to visitors and do not get easily startled. We all pulled out cameras and tried capturing the beauty of these creatures.
Our tour guide stopped the car every time we saw new species of animals. He would then give us interesting facts about the animal we are looking at. We learned about the "Big Five", which consist of the most dangerous mammals in Africa: lion, elephant, buffalo, rhino, and leopard. We were lucky to see and admire the first three, from afar. We also observed beautiful birds (lilac breasted roller, saddle-billed stork, long-tailed fiscal shrike, marabou stork, and more), herds of impalas, wildebeest, zebras, cape buffalos, elephants, warthogs and giraffes. All these mammals are herbivores and preys to lions and crocodiles.
We also got to try a fruit from the tree of life, the baobab tree! The edible fruits are also called "monkey bread" as baboons love it. It tastes very sour, as it is full of vitamin C. It also has antioxidants, potassium, fiber, magnesium and calcium. Baboons know what's good!
Another big attraction was stopping by a hippo pool and watching them lay on top of each other and take mid-day naps. Who would have thought that these cute, friendly-looking animals are amongst most aggressive, dangerous animals? They are easily frightened and very territorial and would not hesitate to attack a human, especially if one of its young babies are near.
Overall, our day at Safari was dreamlike. Being surrounded by mountains, savanna grass, acacia and baobab trees, and all these wonderful animals that you usually only get to see on TV seemed surreal to me. We were very lucky to have seen so many wild species in person and learn a little bit about each one of them.
Sunday, June 17, 2016:

Briana Grymonprez

Sunday we spent the day hiking in one of Tanzania's most beautiful parks, Udzungwa Mountains National Park. In order to get there, it was a two-hour drive from our hotel on one of the bumpiest roads we had all ever been on. However, the scenery was breathtaking and a much different environment than what we had previously been working in. The climate was more of a forest jungle type with fields of sugarcane at the base of the mountains.  Along the way, we caught short glimpses of the cascading Sanje waterfalls from the road.

We hiked through the canopy to get to multiple view-points and picture opportunities of the waterfalls.  Along the route, we were lucky enough to see a large variety of primates and plant species that are unique to Udzungwa Mountains. We saw plants and trees that are used for their building and herbal properties to treat mental illness, menopause, and muscle pain. Our guide demonstrated the unique sound producing properties of one tree that was used years ago to communicate across long distances by banging a rock on the side of it three times to signal war. Blue monkeys, baboons, Iringa red colobus, and black and white colobus monkeys were jumping from tree to tree while we hiked. We were even lucky enough to witness a baby black and white colobus at the top of a tree with its mother.

We hiked a distance of 3.2 kilometers to reach the top of the waterfalls, which also served as our scenic lunch spot. The waterfalls, which plunge 170 meters to the bottom, offered a refreshing cool mist after our humid hike to the top. Overall, it was a wonderful day bonding with the group and enjoying the nature that Udzungwa Mountains has to offer.
Monday, July 18, 2016:

Ariella Samson

Today, Sara and I woke up to a visitor on our porch at the TanSwiss! A lovely rooster, I suspect the one singing the song of his people since 4am, sat perched outside our door clucking at our laundry. After bidding him good morning, we proceeded to a delightful breakfast before going to meet Nickson, Anton and the gang at their hotel. James Nathan, the lead veterinarian for the Mikumi area, met us there as well in his signature teal puffy coat. He then led the way to a nearby village (Kikwaranza) on his flashy motor bike.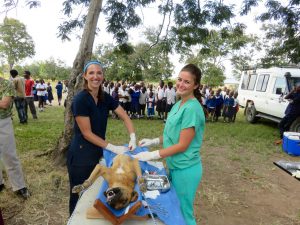 Vaccinations seemingly began as soon we got out of the cars, with a number of people already waiting in the big open field next to the school for us to arrive. Things remained busy all day, with an endless number of vaccinations given and 6 surgeries performed. Things got exciting during every recess/lunch break, with hundreds of blue and white clad children flooding from the school buildings into the fields. They soon noticed our setup, and began gathering around to watch us perform surgery and inject the dogs. Dr. Bennett's favorite word, samehani, which means "excuse me" in Swahili, quickly became necessary as the children crowded in among the tables. Luckily, Dr. Hoenig came prepared, and began handing out toys to the children. She had stuffed animals for the girls and balls and Frisbees for the boys. Once those disappeared, Gosia and I broke into our sticker and balloon stash, to keep the kids occupied while remaining surgeries were finished.
At the end of the day a few sleepy dogs kept our attention, and again the children gathered to watch what we were doing. Luckily, in a brilliant move to avoid the crushing of the sleeping animals by hundreds of small feet, Bri and Sara began a dance party! The kids were soon enthralled by the lyrics and movements of the ever popular "If you're happy and you know it", followed by a lively rendition of "The Chicken Dance". Never one to miss a party, Julie finished out the day by teaching the kids the Macarena, while our recovering patients were carted (quite literally) home by their owners.
Tuesday, July 19, 2016:

Ariella Samson

Today was another kid-filled adventure! We were led to a large, open field by Dr. Nathan in the village of Manungu, and able to set up under the cover of some large trees. We soon discovered we were not the only visitors to the field, as a large herd of cattle, goats and sheep joined us to enjoy their breakfast. After we were done gawking at the livestock, we got to work vaccinating the many waiting animals. The day started out slow in terms of surgeries, with most owners declining the offer. But once Nickson assured the first interested owner that the surgery was in fact free, word got out and our afternoon became a lot busier! We finished the day with a total of 8 surgeries, and vaccinated so many animals that we ran out of rabies vaccines! Luckily, Dr. Nathan was able to ride-off on his motorbike for a bit, returning with a bag full of ice and vaccine vials, thus saving the day!

While waiting for the vaccines to arrive, we were able to enjoy some down-time with the many children that gathered to watch us. Dr. Hoenig brought out some Frisbees and tennis balls, which delighted the kids! A large game of Frisbee was started in the field, with a few loose dogs participating in the chase. We also gave out a ton of stickers! It was great watching the kids show each other the different stickers they had received and then display them proudly on their clothing. I also was able to give out a number of pencils to the older children who were watching. Unfortunately, I hadn't thought to sharpen the pencils before-hand, but Julie, ever prepared, whipped out her trusty pocket knife and was able to hand-sharpen a number of the pencils. Overall, it was a really busy day and we were all thankful to head back to the TanSwiss Lodge for some delicious dinner and a good night's sleep.
Wednesday, July 20, 2016:

Sara Beard

Today our hotel served vegetable samosas in addition to the usual fare (omelets, baked beans, fruit, etc) and they were very tasty! I'm hoping this becomes a normal part of the breakfast buffet. Following breakfast, we hopped in the cruiser and headed over to "The White House" restaurant, our usual meeting spot with Dr. Nathan.  We followed him to a defunct train station in the village of Tambukareli.  There were already several people waiting for us, including groups of puppies which were transported via a bike basket. Throughout the day we noticed a large number of Maasai people and learned that in Tanzania, they live in the same villages as non-Maasai, unlike in Kenya where they reside in villages of their own.  The Maasai people make up a small tribe who traditionally dress in shukas (red sheets wrapped around their bodies) with lots of jewelry around their necks and arms.  They value cattle very highly and believe that cattle all over the world belong to them. Boys in the tribe often spend hours a day walking cattle to different fields for grazing.

We set up on the covered platform where we were protected from the heat of the sun.  Unfortunately, this could not protect us from the strong winds that day.  The assistant surgeon for each patient spent most of the surgery ensuring that nothing blew away.   We used lots of tape to secure the surgical drapes and covered the incision site during particularly gusty periods of wind.  Almost every adult dog undergoing surgery today had transmissible venereal tumor (TVT), a type of round cell tumor. We debulked and crushed the tumors, which stimulates the immune system to fight the diseased cells.   Fortunately, this tumor type has a very low metastatic rate so most dogs do well with this type of treatment alone. By the end of the day, we had performed 4 spays, 3 adult neuters, 3 puppy neuters and over 50 vaccinations.  We are all feeling more comfortable with surgery now and as a result, were finished by the early afternoon.

Before heading back to the hotel we were treated to pieces of sugar cane.  While delicious, it took all of us a few minutes to determine the best approach.  Sugar cane is very fibrous and wide in diameter but well worth the work to get the sugar juice out.  Dr. Nathan brought a bag full of peeled sugar cane sections so we were all able to enjoy a few pieces.
Thursday, July 21 2016:

Julie Nelson

Today was our second to last day of the program. It seems to have flown by but I feel like I have gained so much knowledge and confidence with the help of Dr. Bennett. It has truly been a privilege to work with him and get to know him. Today was another full day of surgery, but we finished early enough to still catch some good sun by the Tan-Swiss pool!

This evening was really special. Our Tanzanian colleagues and drivers all came to the hotel for dinner and drinks. Nickson brought his guitar and gave us a special show! He wrote a song that included all of us, and provided lyrics to other songs so we could all sing together. It was really a fun way to bring everyone together and wrap up an amazing two weeks.
Friday, July 22, 2016:

Sara Beard

It's hard to believe that today marks the final work day of our trip.  This experience has been so rewarding and no doubt will remain the most memorable of my clinical year.  I have gained confidence as a surgeon by honing old skills and learning new skills.  Having been trained in America, we were accustomed to certain amenities in veterinary medicine not readily available in Tanzania.  Creative problem solving is an important aspect of veterinary medicine and we were afforded many opportunities for out of the box thinking during our time in Tanzania.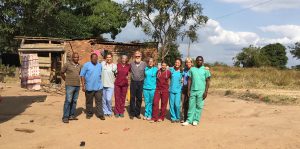 Today began much like the others, with a deliciously filling breakfast and the excitement of treating dozens of animals.  We spent our last day in Mowlem, one of the poorer villages in the area with no shortage of animals needing care.  Our audience today included chickens, cows and several small goats.Within 15 minutes of arriving, we were performing our first surgery of the day.  We have become very efficient over the past two weeks in setting everything up and preparing for surgery.  Not only have we grown more efficient but we've also grown more confident and comfortable as surgeons, ready to take on new challenges.  Today presented such a challenge as we had our first and only cryptorchid surgery of the trip. Julie performed the surgery under the guidance of Dr. Bennet who discussed different techniques for approaching abdominal cryptorchid surgeries. All five of us were able to be the primary surgeon on at least two patients today!  This number would have been even higher if we hadn't run out of sterile surgery packs.  Unfortunately, instruments are very expensive which limited the number of packs we had available for use each day.  Thankfully, those animals will still receive treatment as they were scheduled to undergo surgery the following week by other veterinary students (from Tanzania's veterinary school).
After completing all our surgeries and vaccinations for the day, we spent some time with the kids in the town.  The rest of the balloons and stickers were given out today.  It's still so amazing to spend time with these happy children and to see their excitement upon receiving such a small gift.  This trip has been memorable in countless ways and the new perspective it has given me will result in me returning to America a changed person.  During our time in Tanzania, we performed over 94 surgeries and vaccinated around 450 dogs and cats.  I am so proud of everything we accomplished in Tanzania but know the impact this trip had on me can never be repaid.