South African Series: Q/A with Dr. Muzi Dube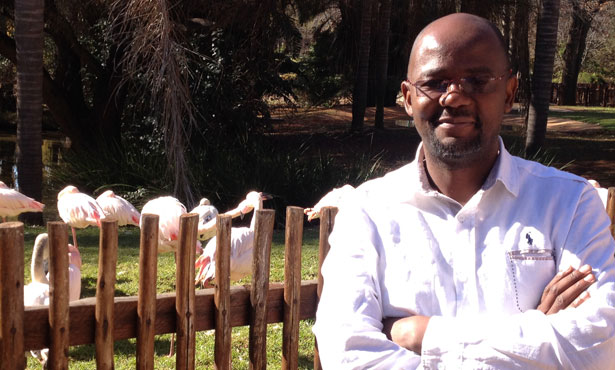 During her summer rotation in South Africa, fourth-year student Lynsee Melchi is interviewing a series of veterinarians about their practice experiences.
While shadowing recently at the Johannesburg Zoo I had the pleasure of getting to ask their new director, Dr. Muzi Dube, a few questions about his life as a veterinarian and his vision for the zoo. He is a South African native from Mpumalanga province, but was raised in Swaziland. Because of the political situation in South Africa when he was younger, this was not an abnormal occurrence. Dr. Dube still has a farm in Swaziland that he visits weekly.
Dr. Dube has a BSc from the University of Swaziland, a BVSc from the University of Zimbabwe, a MSc in tropical animal diseases from the University of Pretoria in South Africa, and an MBA from the Regent Business School in South Africa. His resume is expansive and varied, including supplementary courses in international epidemiology, risk management, and food additives and residues. He has a long history of public health and federal veterinary work primarily in diagnostic laboratory services and standards, but including many other things such as quarantine and general animal health. As of the time of this interview, he had been at the head of the Johannesburg Zoo for one month. I interviewed him in his office overlooking a beautiful pond of flamingos and we also had a nice chat as we strolled through the zoo grounds. It was an honor to get a few minutes of his busy day to ask a few questions.
Dr. Dube, can you please tell me a little bit about the organization that presides over the Johannesburg Zoo?
The Johannesburg Zoo belongs to the city of Johannesburg and is run by a company called the Johannesburg City Parks and Zoo. The zoo is under the directorship of the mayor of Johannesburg. This is unlike the National Zoo in Pretoria that falls under national authority. The Johannesburg Zoo is a local zoo.
What are your goals while heading up the Johannesburg Zoo?
We have one goal: to be locally and internationally recognized as an animal sanctuary and conservation institute. We want the zoo to gain accreditation. We want a world-class zoo for a world-class African city, as Johannesburg is known.
What do you think is the biggest strength of the Johannesburg Zoo?
The branding we receive because we are associated with Johannesburg. The branding of the city and Johannesburg is an international brand. People know Johannesburg and this is good for marketing the zoo. Zoos need exposure to get support and we will ride this brand.
What do you see as a weakness to be worked on?
A general weakness we have, and we are not alone, is funds. Everyone complains about funds. In order to have a great zoo you need funds. You need the availability of funds to build the dream of what the zoo should be.
How do you make the public excited about a zoo when South Africa is already so rich in native wildlife and habitat?
For local people, some are not aware of these natural resources. Some are not able to travel to see these things. People still need to be educated and sensitized, so we have not been saturated yet. There is still plenty of work to be done locally.
How does being a veterinarian help you in your current job as director?
At the core, the zoo is about animals and I am an animal technician. A vet is a complete package with respect to animal husbandry, health, reproduction…everything. I have and clue and if not, it will be easy for me to find the information.
Are many zoos in South Africa headed by veterinarians?
It is actually rare. I'm a vet with management experience, so that is why I am here. I was just lucky to also be a vet.
What message would you like to share with your colleagues in the United States?
First, there are colleagues here keen on veterinary subjects, who are skilled and eager to collaborate on projects. We are looking for EQUAL partnerships. For sharing.
What advice do you have for veterinary students?
What helped me was to diversify. After you qualify, don't just sit. Diversify and get experience. All vets are leaders…you can't run away from that! The veterinary degree is not enough. You also need management.
What is your favorite animal to work with and why?
Dogs. They are so emotional and they show their emotions easily.
What is your favorite veterinary word or phrase?
The Valsalva maneuver.
Dr. Dube, thank you so much for taking the time to chat with me.
It's a pleasure.