South African Series: Q/A with Bheki Ngwenya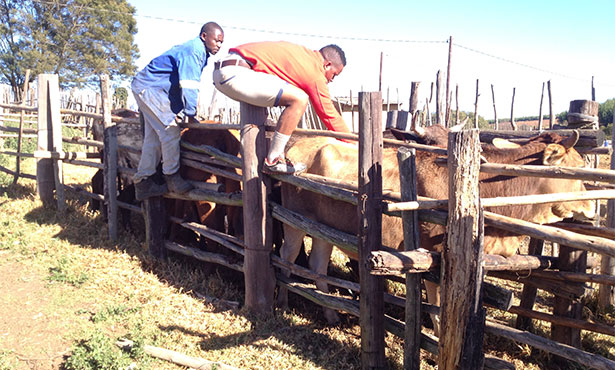 During her summer rotation in South Africa, fourth-year student Lynsee Melchi is interviewing a series of veterinarians and others in the field about their practice experiences.
Bheki Ngwenya is a veterinary nurse working as a clinical officer for the Mpumalanga government of South Africa. He services the area of Dundonald. In his job he renders primary animal health care clinical services, like vaccinations and deworming, to disadvantaged communities. As Bheki puts it he does "everything but the surgeries." Veterinary nurses are equivalent to Certified Veterinary Technicians in the United States. Nurses complete a two-year program at the Onderstepoort Veterinary Faculty at the University of Pretoria and can sometimes provide vital services in areas where there are no veterinarians. Bheki currently works independently of a veterinarian due to short-staffing, but this is an unusual situation. Animal Health Technicians are also a part of the animal health care scene in South Africa. This is also a two-year program, but it can be done at many schools around the country. Technicians work under the supervision of nurses and veterinarians and do a lot of the hands-on groundwork with farmers and other clients. Bheki is married and has three children. He finished his veterinary nursing program at Onderstepoort in 2009.
What is the best thing about your job?
Helping sick animals and being able to travel to see new people every day because we have such a diverse culture here. And seeing bizarre cases.
What is the most challenging thing about your job?
The large area I have to cover. Shortage of staff and medical resources.
What is the best thing about being a veterinary nurse in South Africa?
The independence and the challenges.
What is the most challenging thing about being a veterinary nurse in South Africa?
Being underpaid.
What would you like American veterinary nurses to know about South African veterinary nurses?
The gap between vets and nurses is huge. In the rural areas we have a lot of independence, but if you are in a city there are less jobs for you to do. Here I am basically working as a vet.
Do you see any future trends in veterinary medicine in South Africa?
I see vet nurses doing a lot more vet work. The Council is encouraging animal technicians to have their own practices so some nurses and technicians will be doing surgeries like castrations.
Note: The "Council" (South African Veterinary Council) is the accreditation body for veterinarians and veterinary nurses in South Africa. They handle licensure and complaints against veterinarians/veterinary nurses. There is another group (South African Veterinary Association) that is more like the AVMA in the USA.
What is your advice to students?
Nursing students: Listen to your assistants because they are well experienced. The animal handlers. We tend to undermine these guys in the field, but they know a lot. And acquire a lot of knowledge about new stuff that is happening. Use the new stuff and mix it with the old stuff.
Vet students: You must know your community.
What is your dream job?
Stock farmer. Livestock or small stock, it depends.
What is your favorite veterinary word or phrase?
Superimpose.
What is your favorite animal to work with and why?
Cattle. They are stronger than us, but you can touch them.