Student Reports on Two-Week Program in South Africa
Program geared toward pre-veterinary students
As my first international experience, this program really offers its members an inexpensive way to see South Africa. The house was a 10-minute walk from the beach, and the program offers transportation to all weekend activities hosted by the local businesses and game reserves (Inkwenkwezi and Areena), as well as some discounts for those activities. On my weekends I participated in giraffe and elephant interactions, a 2.5 hour safari drive where I saw the "big five" game, kayaked down a river to the Indian Ocean, rode horseback on the beach, and took an hour-long quad bike tour on a game reserve.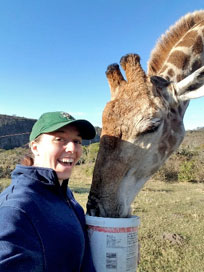 When it comes to suggesting who should try the Safari4U program, which is based out of Chintsa East, South Africa, I would not suggest it to those who are looking to gain additional veterinary knowledge. This program is geared more toward pre-veterinary students, or those just considering international travel based on the local animals. Many of the trips involved going to the poor townships with tubs to "dip dogs," which involved washing them in a bath of flea/tick preventative mixed in water. It was a unique experience to see how South African underprivileged areas take care of their animals while adding in a language barrier; most of the local people spoke Xhosa, and few spoke English or Afrikaans. In addition to helping with the dogs, we also visited townships, and larger farms, with cattle, sheep, and pigs. We got a lot of practice dosing an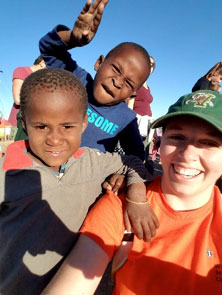 d injecting this variety of livestock with de-wormers and vitamins, as well as some practice docking tails and castrating sheep. There is also a small animal clinic where we spent time shadowing veterinarians, who liked to quiz students, which was not offered by the one veterinarian who works for the Safari4U program.
The program does advertise that it includes wildlife in addition to large and small animals, which was what I was most interested in. Two days out of my two weeks in the program were spent performing game captures. The first day involved darting and transporting two male impalas to another game reserve to increase their genetic pool. The second day was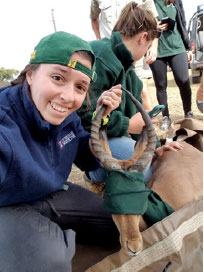 spent tranquilizing a male impala that had an abscess the size of a softball on its neck that I was able to lance and the group flushed with disinfectant before reversing it. There are also program trips to the local zoo and reptile house; however, those were not veterinary-based and were used more as a time fill for the week.
The structure of the program has students from all over the world arriving on Mondays and staying as many weeks as they pay for. Each week the students are divided into smaller groups and sent out to the clinic, for a capture, to the zoo or reptile house, to dip dogs, or on an overnight (or two) to one of three places: Kei Mouth, Cathcart, and Hogsback. At Hogsback (a two-night trip) we spent our time working in townships with their dogs and cattle when not hiking, going abseiling (propelling) down a waterfall, and learning how to make local (Xhosa) bread from scratch within the township. In Cathcart, we spent most of our time going to
large scale farms and working with their sheep and cattle (injecting and dosing), as well as the unique opportunity of dissecting a recently deceased horse out in a field.
Two weeks, in my opinion, was an appropriate amount of time for the program. I spent most of my time in the program teaching pre-vet students from the U.S. what I learned in undergraduate, clinical experience, and during my first year at Illinois and did not gain that much new knowledge. I tried to have students perform a quick head-to-tail exam on the tamer dogs that we dipped, and understand the basic anatomy and physiology of cows. The staff appeared overwhelmed to host such a program, and would only contribute to your knowledge if you asked questions or stepped up and asked to become more involved.
The other problem was the lack of activities after dinner (all meals provided). Overall, the two weeks were quite relaxed and had more of a vacation feel than that of a veterinary program. I met some great people from all over the world, and became inquisitive about the differences in their veterinary backgrounds, education, and knowledge. I did fall for South Africa's culture and charm, but I would like to find a program more geared to veterinary medicine and the local wildlife if I choose to come back.
—Megan Stuart, Class of 2020