Six Garner 2014 Veterinary Alumni and Special Service Awards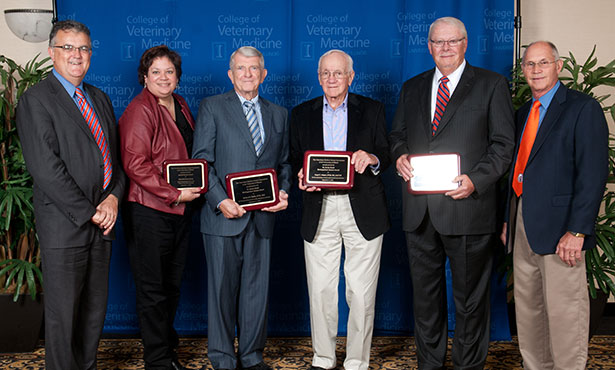 The University of Illinois College of Veterinary Medicine and its alumni association recently announced the recipients to be honored at their annual awards program. Four Dr. Erwin Small Distinguished Alumni Awards and a Special Service Award will be presented in Champaign, Ill., on September 11 during the college's annual Fall Conference for Veterinarians.
The 2014 recipients of the Dr. Erwin Small Distinguished Alumni Awards are Dr. Lloyd Helper, Dr. Linda K. Tollefson, Dr. Richard F. Wallin, and Dr. William H. Wright. The winners of the Special Service Award are Elizabeth B. Erwin and Dr. Herbert E. Whiteley.
The Dr. Erwin Small Distinguished Alumni Award was created in honor of Dr. Erwin Small, who dedicated his entire career to the veterinary profession as professor and associate dean of the Illinois veterinary college. The award recognizes distinguished graduates who have made significant contributions to the veterinary profession or the college.
Dr. Lloyd Helper (IL DVM '55, MS '61), now an emeritus professor at the college, was part of the faculty for 38 years, including 11 years as the associate dean for academic and student affairs. He was a charter diplomate of American College of Veterinary Ophthalmologists (ACVO) and has trained and mentored countless veterinary students, veterinary ophthalmology residents, and graduate students. His dedication to the profession includes serving as president of the ACVO, American Society for Veterinary Ophthalmology, and Illinois State Veterinary Medical Association as well as holding other offices regionally and nationally.
Dr. Linda K. Tollefson (IL DVM '80; Johns Hopkins MPH '84) began her public health career as an epidemiologist at the U.S. Food and Drug Administration (FDA). In 1993 she joined the FDA's Center for Veterinary Medicine, where she played a crucial role in promoting food safety and controlling antimicrobial resistance. Her career at the FDA culminated with serving as Associate Commissioner for Foods and Veterinary Medicine from 2012 to 2014. Dr. Tollefson was the first female veterinarian in the Public Health Service Commissioned Corps to reach the rank of Rear Admiral (Assistant Surgeon General).
Dr. Richard F. Wallin (IL DVM '63, PhD '66) joined Baxter Laboratories in 1967, where he rose to director of research administration and associate director of pharmacology and microbiology. In 1977, he became the scientific director for North American Science Associates (NAMSA) and rose to CEO of that organization and was chairman of the board for 13 years. Dr. Wallin's contributions to the field include working to develop anticonvulsants and inhalational anesthetics and research leading to the discovery of sevoflurane, a widely used general anesthetic agent.
Dr. William H. Wright (IL DVM '66) was a long-time practitioner and partner at Capitol Illini Veterinary Services, in Springfield, Ill. His advanced training in orthopedic medicine and surgery benefited many patients, their owners and other veterinarians throughout the Midwest. His service to the Illinois State and American veterinary medical associations included chairing the state veterinary licensing board and playing a role in relocating the ISVMA offices to Springfield.
The Special Service Award honors an individual or organization that has made significant contributions to the advancement of the veterinary profession or to the college.
Dr. Herbert E. Whiteley (Purdue DVM '77; CSU PhD '84), professor at the University of Illinois, fostered tremendous innovations as the sixth dean of the College of Veterinary Medicine, from 2001 to 2013. Among these are the innovative Illinois model of veterinary education, with its greatly expanded clinical exposure; establishment of the Chicago Center for Veterinary Medicine to provide clinical service and student recruiting in the state's metropolitan center; and a campus-wide initiative to foster multidisciplinary collaborations in translational biomedical research.
Elizabeth B. Erwin, who retired at the end of June as coordinator for special events and alumni relations after almost 30 years of service to the College of Veterinary Medicine, served as the college's liaison to its alumni association board, which nominated her for the award. Erwin was selected for the honor because her dedication has benefited thousands of college alumni and students and because she exemplified the best qualities of the University of Illinois: hard work, loyalty, integrity, and friendliness.