High-Impact Shelter Medicine Program Adds Community Medicine Component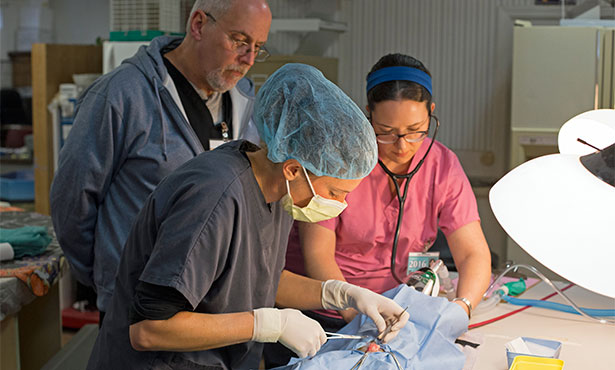 This message will appear in the Spring 2018 issue of the Illinois State Veterinary Medical Association Epitome.
Three-year, $525,000 Grant Enables Expansion
There are lots of ways to measure impact.
The Illinois shelter medicine program, under the leadership of Dr. G. Robert Weedon, is hitting it out of the park on just about every metric:
Scope: The program delivers on each component of the land-grant mission—research, teaching, and service.
Volume: The number of animals sterilized has grown from 1,003 during 2011-12, Dr. Weedon's first year with the college, to 4,402 in the most recent academic year. The number of students engaged on the shelter medicine rotation each year has grown from 28 to 116.
Quality: Students' surgical proficiency improves dramatically through the instruction and experience on the rotation.
Rankings: Illinois has the fifth most active shelter medicine program among the 30 U.S. veterinary colleges.
Much as I am a data-driven scientist at heart, though, I also recognize that stories can be more powerful than metrics at communicating impact. Here are two student success stories Dr. Weedon shares about his program.
A couple of years ago an Illinois student was asked during a job interview about her surgical experience. "I've done 55 solo surgeries," she said. The interviewer was a little skeptical, so the applicant shared her log sheet from the shelter medicine rotation. Then this somewhat-shy student asked, with no hubris, "Would you like to see what I can do? I brought my scrubs."
The clinic happened to have a cat in for a spay, and the student successfully completed the procedure in 25 minutes. (She was clocking spays at 20 minutes during the rotation, but she'd been out of practice for a few weeks at the time of the interview.) The clinic's other associate needed 45 minutes for a spay. The Illinois student was offered the job on the spot.
More recently, a student assisted at one of Dr. Weedon's pediatric sterilization workshops for practitioners. As she instructed one of the participants in how to perform a pedicle tie, the two hit it off and she was eventually hired into his multiple-clinic practice in Pennsylvania. On her first day on the job, the clinic saw a pregnant cat that needed to be spayed. The two established doctors who worked there were at a loss, having never done that procedure. The recent graduate showed them how it is done.
When you have this kind of success, where do you take the program?
The answer, in the case of the Illinois program, is to expand services. With a grant from the Springfield, Ill.-based Sally Lorraine Sedlak Vaughan Irrevocable Charitable Trust, we will launch the Sally Vaughan Community Medicine Program later this year. In conjunction with the low-cost sterilization services currently provided at nine locations within about 80 miles of the college, the community medicine program will offer vaccines, wellness exams, parasite prevention, and owner education.
"Our goal is to educate these owners on what their pets need in terms of veterinary care. If they don't have access to mainstream care, they have no way of knowing. We aim to give them resources within their community where further preventive health care can be accessed when needed," said Dr. Weedon.
Like the surgical side of the program, the community medicine efforts will include data collection to better understand the needs of underserved pet owners and their pets.
Dr. Weedon says 90 percent of the owned animals sterilized through the shelter medicine program over the past five years had never been to a veterinarian. During this first visit with a veterinarian, the program educates owners about responsible pet health care and directs them to local practitioners for follow-up care, booster vaccinations, and parasite prevention.
The Sally Vaughan grant of more than $500,000 over a three-year period will allow the shelter medicine program to hire a second intern veterinarian and a second certified veterinary technician for the shelter medicine program as well as to increase the number of veterinary students participating in each rotation. Students will gain experience in aspects of community practice beyond sterilization.
Currently the program is seeking funding for a second mobile unit from which to deliver the new community medicine services. An additional $160,000 is needed to purchase a 24-foot mobile clinic equipped with power, water, ventilation, cabinetry, and appropriate safety features.
I'd like to share one last story from Dr. Weedon about impact, and this is a story he tells about himself.
Years ago, when Dr. Weedon was in private practice, a young couple arrived at his clinic with their puppy, which had eaten a sock. They had no money, but because Dr. Weedon had a student on site who would benefit from the experience, he removed the sock for free. Dr. Weedon's attitude at the time, though, was this: "If you can't afford to have a pet, you shouldn't have one."
Today, his attitude is different. "The benefits of pet ownership are well-documented," he says. "I serve people who have a very limited network of support, and many times their pets provide the only bright spot in their lives. Who am I to say that these people should not be allowed to enjoy that relationship?"
If you'd like to help the college impact the lives of your future associates in practice and the lives of the pets and people who cannot otherwise afford veterinary care, please contact me to learn how you can support the Shelter Medicine Program at Illinois.
—Dean Peter Constable