Sessions at Fall Conference Go into Depth on Shelter Medicine
Philip Bushby
Dr. Philip Bushby, DVM '72, is a board-certified veterinary surgeon who served on the faculty at Mississippi State University College of Veterinary Medicine for 36 years.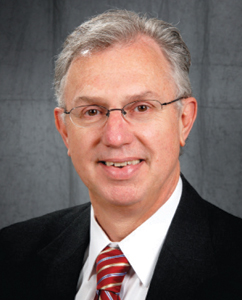 His primary focus has been spaying and neutering for 20 years. Dr. Bushby's interest in shelter medicine and spaying and neutering dates back to his internship and surgical residency at the Henry Bergh Memorial Hospital of the American Society for the Prevention of Cruelty to Animals in New York City. 
Dr. Bushby's goal is to make sure that the next generation of veterinarians understands the problem of overpopulation of unwanted dogs and cats, and recognizes their role in addressing the problem. He would take junior and senior veterinary students to animal shelters in northern Mississippi to provide basic wellness care and spay and neuter services for animals eligible for adoption.
The service significantly increases the adoption rates at the participating shelters, provides the students with an exceptional surgery experience, and sensitizes the students to the plight of animals in shelters. His program was honored in 2012 to be a featured display in the Smithsonian Institute's Folklife Festival in Washington, D.C. 
"Over the last 10 years or so, a debate has begun in the veterinary profession related to the age at which dogs and cats should be spayed or neutered," says Dr. Bushby. "Some argue for reducing age, some are for increasing the age, and some suggest not doing the surgeries at all. 
"Also, over the past 20 years or so, we have seen the rapid expansion of high-volume, low-cost spay neuter clinics across the country. These have been very controversial as many in the profession question the quality of care they provide while others view them as unfair competition." 
Dr. Bushby will be giving two presentations for 2018 Fall Conference. One of them will be focused on pediatric spay and neuter and it will expand on the reasons to reduce the age to sterilize pets, the associated risks that follow, and the specific techniques for pediatric spay and neuter. And the other will be a presentation on high-volume spay neuter clinics, why they exist, and the efforts to ensure quality care. 
"Since both of the issues are somewhat controversial, the goal is to make people more aware and stimulate more educated discussion about both pediatric spay neuter and high-volume spay neuter clinics," says Dr. Bushby.