Sessions at Fall Conference Go into Depth on Employment Best Practices
Dr. Lawrence Firkins
Dr. Larry Firkins (DVM '86) is a professor and the associate dean for public engagement at the University of Illinois College of Veterinary Medicine. Prior to joining the University in 1995 and serving as the director of research stations for six years, he spent nine years as a partner in a veterinary practice in central Illinois.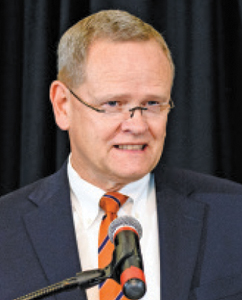 Dr. Firkins earned a Master of Science degree in epidemiology in 1996. He then completed his Master of Business Administration degree from the University of Illinois in 2001.
During his time at the University of Illinois, Dr. Firkins has focused his teaching efforts on the integration of practical business skills into the veterinary curriculum. Earlier this year, he was named to the List of Teachers Ranked Excellent by Their Students for the 62nd time. He has given over 140 international presentations in 15 countries, and over 550 presentations throughout the country. 
A series of workshops titled "Becoming an Employer of Choice" will be led by Dr. Firkins, Dr. James Lowe, Dr. Jen Ostrum, and senior veterinary students. Dr. Firkins will lead two workshops in the series: "We Are All on the Same Team" and "You Get One Shot at Effective Onboarding." 
"For 2018 Fall Conference, I am going to dive deep on what comes normal for Boomers, Generation X, and Millennials with an emphasis on how each generation needs to adapt to what comes normal for others, while not compromising on expected results," says Dr. Firkins. 
"During my second talk, I am going to explore the reasons new employees stay and why they leave; and the role onboarding plays in capitalizing on those reasons they stay and minimizing the reasons they leave. The decision-making happens more quickly than it did when Boomers were new to the workplace." 
Dr. Firkins hopes that veterinarians who attend the workshop will gain an understanding of:
The generational differences that are present in the workplace
How to effectively onboard new employees so that they will stay at your practice
How to attract the right new veterinarians to your practice
What the knowledge base and skill set is of new graduates
How a practice owner has gone about attracting and onboarding new graduates
The decision-making process of new graduates as they seek employment

 
Through the workshops, Dr. Firkins hopes that other veterinarians will enhance the ability to attract and retain new graduates. A group of senior students will follow by sharing what they are seeking as they determine the best fit for them upon graduation.