Sessions at Fall Conference Go into Depth on Bandaging
Dr. Tisha Harper
Dr. Tisha Harper is a board-certified small animal surgeon with special interest in orthopedics and rehabilitation. She graduated from the University of the West Indies, Trinidad West Indies, in 1995 and completed her surgical residency training at the VA-MD Regional College of Veterinary Medicine in 2003.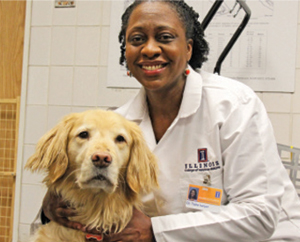 She is also a Certified Canine Rehabilitation Practitioner, and the head of the small animal orthopedic and rehabilitation services at the University of Illinois College of Veterinary Medicine. Her focus is on the treatments and modalities to improve the quality of life for pets with chronic osteoarthritis, as well as fracture repair. 
In her workshop about bandaging for 2018 Fall Conference, Dr. Harper plans to cover: 
Materials needed for bandaging, including information on commercial splints/splinting materials and slings
Indications for different types of bandages, cast, splints, and slings
Basic science behind bandage application
Descriptions and hands-on practice for application of common bandages, cast, splints, and slings
Emphasis will be placed on casting, modified Robert-Jones bandage, Ehmer Sling, Velpeau sling, Spica splint. We will also include a "how to make your own splints" session if commercial splints are unavailable or do not fit a specific pet.

 
"Many practitioners apply bandages, but may not fully understand the science behind what they are doing and how to avoid and address complications," says Dr. Harper. "My hope is that they not only understand the 'how', but also the 'why' when it comes to applying bandages, splints, casts, and slings." 
She also hopes that the participants will be able to recognize bandage complications early and address them before they become major issues that can lead to significant and sometimes permanent debilitation in pets. The constant monitoring of bandaged patients furthers the development of the doctor-client-patient relationship. 
"I would also like to increase awareness of commercial products that are available for use in our patients, which may help overcome some of the issues with traditional bandaging methods," says Dr. Harper. "Ultimately, my hope is that they will take this knowledge back to their practices to further train and educate colleagues and technicians."
The laboratory sessions of the workshop will allow the opportunity to not only apply these bandages, but also address any questions, challenges, or concerns practitioners may have when bandaging in their practices. 
"My daily practice involves constant application of different types of bandages in orthopedic patients," says Dr. Harper. "Unfortunately, it also involves management of a wide spectrum of bandaging complications. Bandaging is an art that takes time and skill to master. We hope that the combination of lecture and lab sessions will provide the basic knowledge needed to master the art of bandaging."