What Our Vision Means for Illinois Veterinarians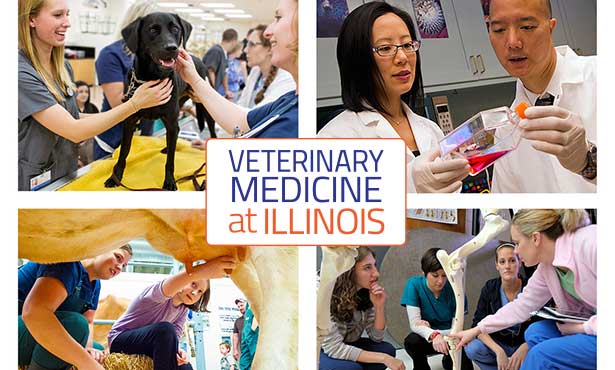 This message appeared in the February 2016 issue of the Chicago Veterinary Medical Association Bulletin.
Illinois veterinarians are important stakeholders in our strategic plan
In December your College of Veterinary Medicine formally adopted a five-year strategic plan. Far from being a sterile document that will languish on a forgotten shared drive while we go on with our daily routines, ours is a dynamic action plan that shows where we are headed and how we will get there.
We are aiming very high, as you can see from our vision statement:
We will be a pre-eminent public college of veterinary medicine, provide a transformative educational experience for our students, create and communicate knowledge that changes the world, deliver outstanding clinical service to our patients and clients, and pursue excellence in all our endeavors.

2016-2020 Strategic Plan
Our plan takes as its framework the mission of the world-class University of Illinois: to engage in research, teaching, outreach, and economic development. Collectively our college identified goals and initiatives that flesh out what that mission means for our 21st-century veterinary college. The resulting plan will guide how we invest our time and budget in a competitive and resource-scarce environment.
Illinois veterinary practitioners are important stakeholders and partners in the plan.
"… a pre-eminent public college of veterinary medicine …"
When your College of Veterinary Medicine is widely recognized for leadership in all aspects of our mission, our reputation and prestige bring credit to alumni and referrers and our initiatives create opportunity for the Illinois veterinary community.
"… a transformative educational experience …"
Already known as innovators in veterinary education, we are committed to delivering a learner-centered, state-of-the-art curriculum and making an Illinois degree a highly coveted credential. Our veterinary graduates will add value to your practice, and our post-graduate certificate programs will advance your career.
"… knowledge that changes the world…"
Our foundation as a research institution informs and enhances every aspect of our work. From clinical trials that improve veterinary practice to basic research on infectious disease, reproductive biology, cancer, production medicine, and more, research is our most powerful tool for delivering global impact.
"… outstanding clinical service …"
We will support and expand state-of-the-art veterinary and diagnostic services. These activities are fundamental to our identity, our success as educators, and our engagement with hundreds of veterinary professionals and thousands of animal owners.
"… excellence in all our endeavors."
Many additional initiatives are outlined in the plan, including:
Providing students with opportunities to interact with practicing veterinarians
Promoting collaborations among our experts in wildlife medicine, ecosystem health, public health, livestock-based food production, and food safety
Leading "one health" partnerships with human medical and public health entities across the state
Programmatically serving the Illinois and national livestock industry
In these and all our activities, we are committed to integrity, inclusiveness, and high standards. We will continue to be good stewards of our assets, especially our people, who represent our most valuable resource.
I invite you to read the full plan on our website and to contact me with your thoughts or questions at dean@vetmed.illinois.edu.
—Dean Peter Constable