Turning Lions into Feral Cats: Scholarships Tame Veterinary Student Debt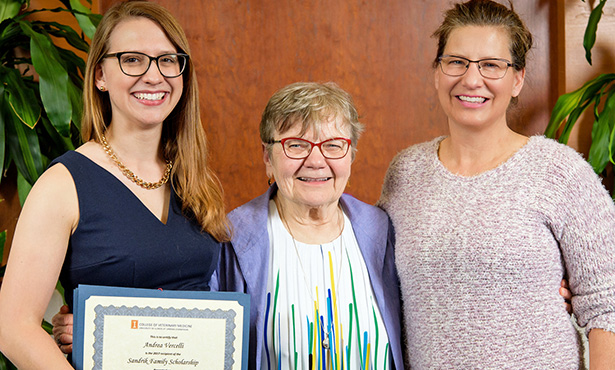 This message will appear in the February 2018 issue of the Chicago Veterinary Medical Association Bulletin.
Scholarships provide relief to veterinary students
A beast that threatens far too many colleagues entering our profession today is educational debt. At Illinois, the median debt reported by 2017 graduates was nearly $160,000.
That number falls right in line with national statistics. The problem of educational debt in veterinary medicine is pervasive and multifaceted, so solutions must tackle issues on multiple fronts, from tuition costs to loan legislation to practice profitability that allows for higher starting salaries.
It's heartening that recent data indicate an uptick in starting salaries and a robust demand for new veterinary graduates. In addition, according to an article in the August 1, 2017, JAVMA, about 14 percent of 2016 graduates surveyed reported no debt, up from approximately 11 percent among 2015 graduates.
Unfortunately, nearly 70 percent of 2016 graduates nationally had debt-to-income ratios that exceeded the upper boundary for an acceptable level of financial stress (1.4:1).
Current students and recent graduates are suffering. Scholarships can deliver some immediate relief.
I'd like to share how third-year student Andrea Vercelli put it when she spoke at our Awards and Scholarships Celebration last spring. She started by telling us that she, like so many others, pursued her dream of a veterinary career from a young age. She entered veterinary school forewarned about the academic challenges and hard work required.
BUT nobody really talked about the student loans. Nobody told me that veterinarians have the highest debt-to-income ratio of any profession. It just wasn't something I knew about until after I was already in vet school…
One of my favorite quotes about vet school goes something like this: "Vet school is like running a marathon…except you're also being chased by a lion."
For me, that lion has been student loans. Receiving these scholarships has taken the lion out of my vet school marathon, or at least turned it into more of a feral cat.
Thanks to generous donors, our college awards more than 250 scholarships each year. We have 17 endowed scholarships created through class gifts, which range in amount from $500 to $5,000. We have more than 30 scholarships given by individual alumni. Many scholarships were established by state or national veterinary organizations or businesses, including two from CVMA:
The Chicago Veterinary Medical Association Scholarship, an award of $4,000, goes to a second-year veterinary student on the basis of an essay detailing how the student hopes to benefit the profession in the Chicagoland area after graduation.
The $1,000 CVMA President's Scholastic Award recognizes a fourth-year student for achievement in small animal medicine and surgery.
In total, Illinois awarded more than $690,000 in scholarship support last year. That amount compares favorably with other colleges of veterinary medicine, but when viewed against the median debt incurred by our students, we can see that we need to do more to tame the beast.
Student scholarships constitute a high priority for the "With Illinois" fundraising campaign that kicked off last fall. CVMA members can make a difference in the lives of future Illinois veterinarians by contributing to class gifts, establishing their own scholarships, and connecting grateful clients who wish to assist the veterinary field with college advancement officers. The Illinois scholarships that most significantly impact student debt have come from animal lovers outside the veterinary profession.
The photo above was taken at the 2017 Awards and Scholarships Celebration. Donor Pamela Pipkin (in the center) established the Sandrik Family Scholarship with her husband, Raymond, more than 20 years ago to honor her family's love of animals and to perpetuate the Sandrik ethics and values. Andrea Vercelli (at left) received Sandrik Family Scholarship last year. Two current Illinois faculty members, Drs. Julia Whittington (at right in the photo) and Anne Barger were past recipients of this scholarship.
The Illinois program draws top prospective veterinarians. Almost one out of every six applicants to U.S. veterinary colleges seeking to enroll this fall applied to our college. With your help, we intend to provide our graduates not only with outstanding preparation for a successful career, but also with financial support that tames the lion's share of their educational debt.
—Dean Peter Constable