SAVMA President-Elect to Blog from Front Lines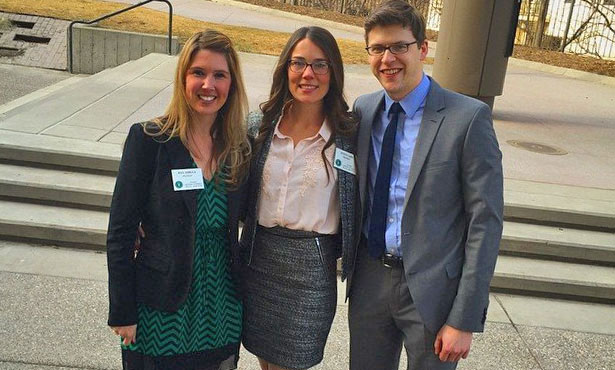 Editor's Note: This is the first installment of a series of student blogs.

Hello!
I am very excited to share the view from my window into the world of veterinary medicine.
I recently completed my second year of veterinary school at the University of Illinois at Urbana-Champaign. I expect to complete the Doctorate of Veterinary Medicine (DVM) in 2017 and Master of Public Health (MPH) in 2018. Prior to studying veterinary medicine, I graduated from Drake University with a BA in radio and television journalism, and worked for the MLB Network and the Chicago Bears. Working in sports television production involved mostly seasonal employment, and I spent the off-seasons pursuing other passions. One of those was promoting animal welfare, and I eventually decided to make it not just a hobby, but a career.
The dual-degree DVM/MPH program was one of the primary reasons why I applied to U of I. My passion for animal welfare includes not only animals as human companions, but also as food and wildlife. Animals play a crucial, integral role in our communities and ecosystem(s), yet their freedom and autonomy are widely determined, and restricted, by human activity. The more I learned, the more I found myself drawn to being a human voice for the species that don't speak human language.
Once I began veterinary school, I took a strong interest in student leadership, and served as the U of I Student American Veterinary Medical Association (SAVMA) Junior Delegate. A few months ago, I was voted president-elect of SAVMA, and am thrilled to say that I will be serving over 14,000 student members for the next two years.
I'm only halfway through the DVM curriculum, yet constantly reinforced that the choice to change careers was a good one. While sometimes our schedule feels like an academic version of the Hunger Games, I do not wish to be doing anything else. The training I'm receiving in this program is preparing me for seemingly unlimited career options—not only practicing medicine with companion or food animals, but also "non-traditional" veterinary occupations like infectious disease investigator, food safety regulator, and policy advocate.
For now, my goal is to continue to experience as many different aspects of veterinary medicine as possible. While the life of a veterinary student isn't always puppies and lollipops, it affords me the opportunity to explore so many of the different parts which make up the sum of the profession. In my next blog post, I'll share more what this community has taught me about leadership, and why sometimes it is lollipops!
Cheers,