Reflections from a Class of 2017 Graduate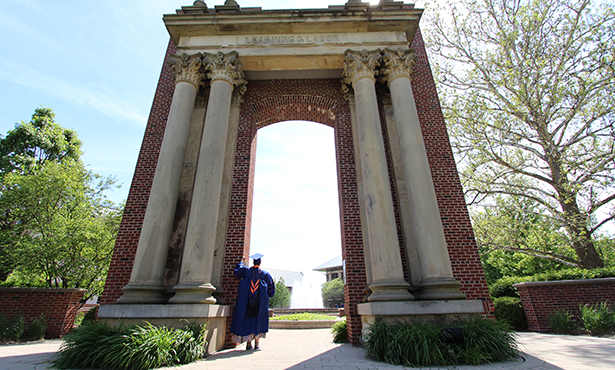 "It's hard to remember your primary objective was to drain the swamp when you're ass-deep in alligators."
—Dad
The above phrase, while not a Dad original, is one he is quite fond of saying. In the parlance of the times, I suppose the kids would call this a "dad-ism" or "dad joke." But all dad jokes aside, this has been my vet school mantra. My primary objective these last four years has been, "Step 1: Graduate vet school." I've had plenty of alligators to distract me. To be fair, I invited many of these gators to my door. I am, after all, an animal-lover at heart! But whenever things got hectic and I felt like I was simultaneously being dragged in ten directions, I was always came back to "Step 1: Graduate vet school." All the other things usually fell into their place of priority because the primary objective is, well, the primary objective.
I will have probably walked across the stage and taken my veterinary oath by the time you read this. I am both elated to be at the end and dumbfounded as to where the time went. I often sit on my porch pondering this nebulous doctor space I now inhabit. I am one of those predictable wanted-to-be-a-vet-since-childhood kids. The idea that my life goal is in my hands, after 30-something years, is insane. It is both terrifying and exhilarating. I am filled with a sense of power and pride that can only come from an accomplishment of this magnitude. It's not every day you knock a major life goal like this off the list. The awesomeness of this reality is something I cannot fathom even though I am here.
Porch time has also sparked reflection on all the alligators. I've taken my education all over the USA to conferences covering everything from harmful algal blooms to bovine respiratory disease. I've left this country to study for a few months in South Africa. I've been through three cars. I got the first pet of my adult life—a chunky little land manatee called Gizmo. I've worked in mosquito control, the college's Poisonous Plants Garden, on private farms bottle-feeding baby deer, and at the college's research farm. I've touched tigers, venomous snakes, exotic birds, and a whole lot of cattle. I garnered super nerdy international acclaim in 2015 when I won the top North American spot for veterinary students in animal welfare judging at the American Veterinary Medical Association's Intercollegiate Animal Welfare Judging/Assessment Contest. Through extracurricular clubs, I've painted dog houses, pulled calves from fake uterus boxes, organized hug booths, consumed my weight in pizza, and brought novel topics to the college. I served on my first Board of Directors, including carpooling to distant meetings with Dean Constable because I was too cheap to drive myself. The other day I was looking at my dog's leg, and I thought about how many things I knew about his leg. His leg is just one leg out of the many species now floating in my brain. Seriously, the amount of knowledge in my brain right now is enough to choke a horse. Trust me on dose and response…after all, I am a doctor now.
Overcoming Struggles
It hasn't always been rosy though. I often joke that coming to vet school has been the best worst decision of my life or maybe the worst best decision. I have dealt with crushing self-doubt, anxiety, depression, isolation, loneliness, and all sorts of other fun thoughts that come knocking during the night. I stopped swimming and started living on a steady diet of frozen ravioli and take-out. It's taken a village to care for my dog during those 12-plus-hour school days or when trips took me far from home. I have endured bullying and other negative vibes from my classmates. I started seeing a therapist and even started taking anti-depressants for a bit. Although people always disagree with me (how kind of them), I am pretty sure I am the worst version of myself that I have ever been. I have had to turn off so many things in my life, like spending time with family and friends, just to keep my eyes focused on the primary objective. The guilt I have felt for having to keep saying "no, no, no" has been overwhelming at times. Luckily, the majority of my people have been with me for the near entirety of this journey, so they know what this means to me, and what I've put into it. It's safe to say most of the guilt is self-inflicted.
I don't even want to think about how much money I now owe the federal government in pursuit of the three degrees I will have by 2018. I am a non-traditional student in the sense that I do not want to pursue a clinical career in small animal medicine and that has also meant sometimes feeling like I was navigating through an unknown wilderness with only dog and cat information to guide me. I often felt like so much was on the line and it has been hard to know if I was doing the right thing. Which, after coming this far, is pretty scary. However, remembering my primary objective always gave me comfort and direction.
A New North Star
So what do you do when you check your life goal off your list by the tender age of 36? I suppose I don't know the answer to that yet, but if you know me, then you know that I probably have a plan (or three) in the works.
When a student becomes a veterinarian, there are a few next-step categories to choose from: internship, practice, and "other." We are all eligible to practice immediately upon graduating, so long as we are licensed. (In this way, veterinary medicine differs from the much longer training for human doctors … although they do earn exponentially more than vets, so maybe it's worth it.)
New vets can choose to do an internship. She/he may follow an internship with a residency. Internships are intended to help hone your skills before you are released into the world. Also, internships are the first step into many specialty programs of study like zoo medicine, surgery, and radiology. Essentially it is impossible to become a surgeon or radiologist without doing an internship and a residency.
New vets can also choose to go straight into practice. My guess is that the majority of people opt for this, with probably 80% to 90% headed into small animal practice. This is the person that most people think of when they hear the word "veterinarian." I call it the "James Herriot model" in the sense that it's a very traditional way of thinking about and doing veterinary medicine.
And then there are the plucky odd ducks that opt for "other." These rare vet med birds can be spotted in non-traditional veterinary positions that are important, but largely unknown. Even other veterinarians don't always understand what we do. I have been asked why I would go through all this school to not be a "real" doctor. To clarify, DVM means a doctor, even if I don't spend my day in a clinic. For me, the rogue veterinary realm is the most exciting place to be. I relish quizzical looks followed by comments like, "but you are a veterinarian…what are you doing here?" What we are doing here is acting as science advisors to legislators, making sure your meat is safe, tracking animal diseases that could harm humans, ensuring high standards of humane animal care, and much more. When I came to vet school, I imagined myself as part of a team of people working on international animal issues where I possessed the veterinary expertise. I also firmly believe that the job I will do in the future has probably not been invented yet. The sky's the limit when it comes to what a veterinarian is capable of, so please don't confine us to a James Herriot-shaped box!
Future Goals Upon Graduation
My next move involves a new primary objective: "Graduate with a master's in public health in one year." A little-known Lynsee-fact is that I have been studying for two degrees, my veterinary degree and a master's of public health (MPH), for the last two years. This pursuit has added more alligators than what the average vet student fends off on any given day. "Though this be madness, yet there is method in't," I swear. I knew taking on an extra degree would be challenging. I knew I would be doing homework when others were out partying or binging Netflix. I knew this plan would add another year to my studies, including the extra school expense. I also know that, because I want to pursue a career in public health, these degrees will open doors for me. I also believe I will be eligible for higher wages because I have an additional degree. I know doing this degree now means I won't have to come back to school later. It was hard enough to come back once, so I don't know if I can do it again. The two years I have been studying online were included in my veterinary tuition, so essentially I am getting a discount on this extra schooling. See, there is a method to the madness.
For the summer I will be doing an internship with the Illinois State Veterinary Medical Association. I will update and expand their disaster management plan. I'm really excited because disaster planning is an area that is integral to public health, quite a hot topic, and something I know nothing about. In August, I will be in Chicago for a year to finish my master's. I am planning on applying for a position with the U.S. Department of Agriculture's Food Safety and Inspection Service (FSIS) so that I can work in a slaughterhouse. I shadowed an FSIS veterinarian a few weeks ago, and I absolutely loved the work she does. Her position has everything I want in a veterinary job: animal welfare, working with live animals, large populations of animals instead of individual animals, food safety, public health, anatomy, pathology, and much more.
Veterinary medicine, like human medicine, is plagued by a culture of poor work-life balance that usually translates into being burnt out and overworked. New veterinarians are especially vulnerable to some of these practices. It's quite unhealthy, which is ironic when you consider our role in promoting health. I'm very wary of being taken advantage of and know that working in a government role will minimize some of my concerns.
My ultimate immediate veterinary goal is to serve in the Center for Disease Control's Epidemic Intelligence Service. This position is a two-year training program that revolves around investigating disease outbreaks of all kinds. The moment I learned about this program I was hooked. It is a perfect match for my skills and interests. I have to complete my master's before I can apply, but I suspect in the next 3 to 5 years I will be on this path. Wish me luck!
Thank-You Note
So the swamp is nearly drained, and all those challenging alligators added depth and a unique flavor to my particular brand of veterinary medicine. At this point, all I can say is thank you. There are too many people to thank, but I suppose I can start with my parents and family. And all those friends that kept me sane by encouraging me to "be the Lynsee" or by just being there. I basically could go on for another 1,000 words of thanks, so in the interest of brevity, I'll just throw a little caps lock on it. THANK YOU SO MUCH TO ALL OF YOU FOR EVERYTHING! These bootstraps don't get pulled up alone or by themselves. See you on the flip side, but this time as Dr. Lynsee Melchi.
—Dr. Lynsee Melchi, Class of 2017