Rats and Bugs: Illinois Faculty Take Action for Human Health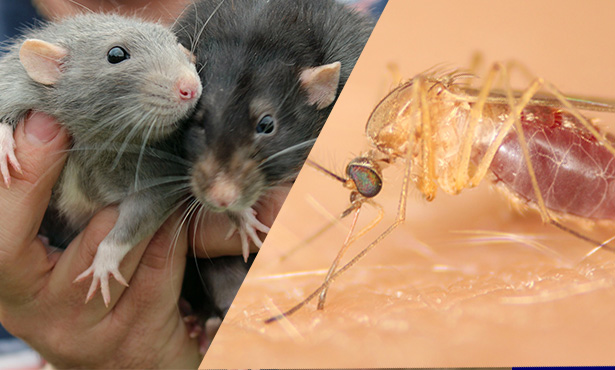 This message appeared in the April 2017 issue of the Chicago Veterinary Medical Association Bulletin.
"Veterinarians are like MacGyver…
We have a lot of experience thinking on our feet and finding solutions."
So stated wildlife clinic medical director and clinical medicine faculty member Dr. Julia Whittington, when asked about her role in the 2017 investigation into a hantavirus outbreak connected to pet rats. Treating wildlife and exotic pets, Dr. Whittington probably relies on ingenuity more than most.
Rats
On one day last January, she bled nearly 100 rats at rat-breeding facilities in two Illinois towns. When the recommended tail prick approach failed to produce an adequate sample, she powered up an anesthesia machine she had brought along "just in case" so she could safely and painlessly draw blood from the mandible vein.
Several faculty members and one fourth-year student assisted in the CDC/Illinois Department of Public Health Seoul virus investigations. They tested rats, humanely euthanized pets exposed to the virus, advised on biosecurity protocols and a statewide response plan, and worked with ISVMA to prepare information about the virus for veterinarians and pet owners.
By mid March, the CDC Seoul virus investigation had expanded to 15 states: Colorado, Delaware, Georgia, Illinois, Idaho, Iowa, Minnesota, Missouri, New Jersey, Pennsylvania, South Carolina, Tennessee, Utah, and Wisconsin. Infections had been identified in 17 people in seven states. Infected animals were also found in Canadian facilities with epidemiological links to U.S. ratteries.
Bugs
On another public health front, Illinois is a partner in the Upper Midwestern Center of Excellence in Vector Borne Diseases, which was recently established through a five-year, $10 million federal grant, spurred by the Zika virus outbreaks. Led by Dr. Marilyn O'Hara Ruiz in our college, the Illinois researchers in the consortium will develop forecasting models and statistical spatial risk maps of regionally important mosquitoes and ticks and the diseases that they cause.
Dr. Ruiz has been working with public health departments in Illinois on modeling to predict the risk of West Nile virus infections in summer months. The new grant builds on that expertise, and expands the contributions our researchers make for human health.
You can be proud of the role your profession and your college actively play in preventing and responding to disease at the intersection of human and animal lives. As Dr. Whittington put it: "[Veterinarians'] breadth and depth of knowledge about animals and zoonotic disease far exceeds what any single public health agency can provide."
College in the News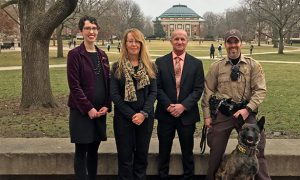 I'm also very proud of the active role that Dr. Maureen McMichael, head of the small animal emergency and critical care service at the Veterinary Teaching Hospital, and Dr. Ashley Mitek, an instructor and member of the Office of Public Engagement, are taking in promoting critical care standards for working dogs. They recently released a training video to educate veterinarians and working dog handlers on how to administer Narcan to dogs exposed to narcotics in the line of duty. They're also collaborating with human emergency doctors on protocols for treating working dogs on the scene of an injury to stabilize the animals and transport them for veterinary care. (In the photo, Drs. Mitek and McMichael are at left, with Dr. Mike Schlosser, Deputy Chad Beasley, and K9 officer Arco.)
You can watch the training video here: youtube.com/watch?v=Al108zZF6nc
One more brag point: If you watch The Voice on NBC, be sure to look for Micah Tryba on Team Blake. Micah completed her undergraduate degree at the University of Illinois at Urbana-Champaign last year and was accepted to enter our veterinary program last fall. She decided to defer her enrollment, however, after earning a berth on The Voice. We are all rooting for her success!
—Dean Peter Constable