Passionate People Move the Profession Forward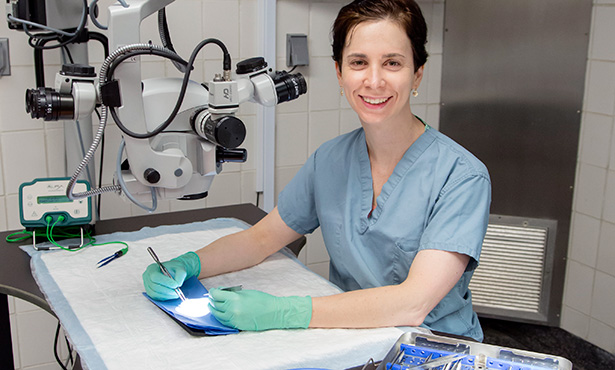 This message will appear in the Fall 2018 issue of the Illinois State Veterinary Medical Association Epitome.
Have you been advised to "find your passion"?
If so, you might want to tweak that advice a little, based on findings from a recent study at Stanford that has generated buzz in the lay press.
Researchers found that people who believe their career interests are inherent and must be discovered may be less successful than people who think of their interests as something to be cultivated and nurtured. Those who expect to "find" a hidden passion appear more likely to abandon a pursuit that does not come easily to them.
In veterinary medicine, passion abounds: passion for animals, for evidence-based medicine, for enriching the lives of people and their companion animals, for delivering wholesome food to a hungry world, and much more.
Microsurgeon with Macro Dreams
Dr. Heidi Phillips, a small animal surgeon who joined the Illinois faculty in 2012, provides a remarkable example of how interests can flower in innovative and impactful ways, fueled by compassion—and hard work.
Dr. Phillips earned her veterinary degree from the University of Pennsylvania in 2001 and eventually joined the Penn faculty, where she gained expertise in microsurgical techniques used for organ transplant and reconstructive surgery.
When she arrived at Illinois, one of her first priorities was to establish her own training program for microsurgery. She wanted to enhance the skills not only of veterinary surgeons, but also of MD surgery residents and especially of biomedical researchers who perform surgical procedures on laboratory animals.
"Training in handling animal tissue is a missing component in most biomedical labs," says Dr. Phillips. "Just as patient outcomes in human and veterinary surgeries greatly improve with advanced surgical skill, so research outcomes benefit from proper surgical training. Surgical training can enhance study results, speed discoveries, and reduce the number of animals needed for research purposes."
Tenure, Investment for Growth Funding
Fast-forward to 2018. Dr. Phillips has achieved tremendous success on multiple fronts.
This summer she was promoted to associate professor. On the basis of the scope, quality, and impact demonstrated in her tenure package, Dr. Phillips received a Campus Distinguished Promotion Award. She is one of only 11 faculty members so designated among more than 100 across campus who were promoted in 2018.
Her research ranges from exploring a novel solution for feline injection-site sarcoma to documenting impacts of brachycephalic syndrome in cats. Her teaching accomplishments include offering a course in minimally invasive surgery to senior veterinary students, a Zoetis Distinguished Veterinary Teaching Award, and the Dr. Beryl D. and Renee Mell Faculty Award. And her clinical service has encompassed working with Professor Emeritus Brendan McKiernan to introduce to the United States laser-assisted turbinectomy for dogs suffering from brachycephalic syndrome.
Also this summer, the University of Illinois campus funded Dr. Phillips's proposal entitled "Advancing Translational Research and Collaboration through Surgical Training and Innovation" through the very competitive Investment for Growth (IFG) Program. This is the second year for the IFG program, which is designed to generate new sources of revenue that align with the university's missions of education, research, and public engagement.
"It has been my dream for a long time to incorporate veterinary expertise into animal research and teaching," says Dr. Phillips, who plans to build a hub for animal surgical models, non-animal simulations, and online surgical training courses with a shared goal of advancing translational research and education. The project unites collaborators from the College of Engineering, the Carle Illinois College of Medicine, boarded laboratory-animal veterinarians in the Division of Animal Resources, and other campus partners.
Global Impact and a Win-Win for Animals
"A great many standard procedures in veterinary surgery have direct applications for existing surgical protocols in biomedical research," notes Dr. Phillips. "In addition, veterinary knowledge can be extrapolated to develop new research models.
"The translational model offers benefits in both directions. A biodevice such as a cardiac implant may be tested first in a mouse model but may wind up with applications not only in human patients but also for companion animals affected by heart disease."
With the grant from campus, Dr. Phillips will leverage technology and online learning to greatly multiply her impact in this area. Whereas her week-long in-person training programs in microsurgery accommodate only three learners per session and are offered only a few times per year, she envisions reaching a global audience and expanding the areas of training and innovation to help advance medical care for animals and humans.
She will tap into the resources in the college's i-Learning Center, developed by Dr. Jim Lowe with funding from a campus Investment for Growth grant received in 2017. He has created a resource for delivering online and blended educational products, beginning with programs focused on livestock system health.
Passionate Students Garner National Research Awards
I'm proud to share that Illinois students took top honors in the national Phi Zeta scholarly article competition in both categories this year. Drs. Jamie Stewart and Mark Byrum won for their basic research and clinical research articles, respectively. Both are Illinois DVM graduates who participated in the college's Summer Research Training Program and entered residencies at Illinois.
Dr. Stewart, who is a boarded theriogenologist, also completed a master's degree at Illinois and is a PhD candidate in the laboratory of Dr. Fabio Lima. During her 9 years at the college as a student and researcher, Jamie has demonstrated incredible commitment to the teaching, research and service mission of the college. We look forward to her continued impact on the veterinary field as she moves to a faculty position at the Virginia-Maryland College of Veterinary Medicine.
Dr. Byrum is currently an oncology resident whose research mentor is Dr. Tim Fan. His interest in cancer research has a very personal origin: his own father died of lung cancer when Mark was a child. As a veterinary student, Mark was the first recipient of the Dr. Casey Cadile Memorial Scholarship, created to honor a 2001 graduate who successfully battled breast cancer during her veterinary studies and went on to become a boarded veterinary oncologist.