PhD Is 'What's Next' for Dr. Storms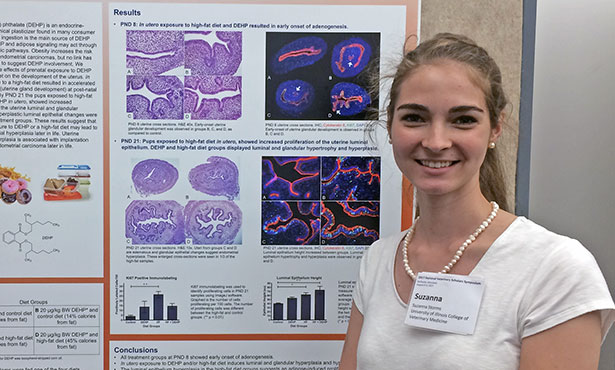 'Always a Forward Thinker'
Note: This profile of 2019 veterinary graduate Dr. Suzanna Storms is one in a series. For others, visit Alumni News.
I think I remember writing a paper in third grade where I said I wanted to be a veterinarian. I grew up on a small farm in Washburn, Ill., about an hour and 45 minutes from Champaign. We had some cattle when I was younger, and I bred sheep and showed them at the state and national level.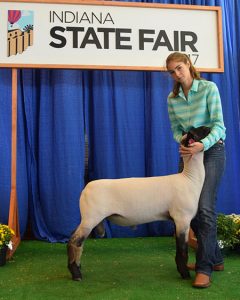 I was always pretty good at picking out what was wrong with them, you know? The first time I put sutures in, I was eight. We had a uterine prolapse. My dad pushed the prolapse back in, I sewed the ewe shut, then I got on the school bus and went to school!
I tried out some other career options, but by my sophomore year of undergrad at U of I, I had decided to be a veterinarian.
'Tried to Do It All'
I had a great time as an animal sciences major in the College of ACES. In January of my freshman year I started working in the research lab of Dr. Rob Knox, doing applied swine reproductive physiology. I worked for him all the way through graduation.
During vet school, I tried to do it all! I took all the equine electives, all the farm animal electives, all the business electives, and did research in the summer. I tried to keep as broad a perspective as I could, but also get some more specialized experience in large animal stuff.
This year I spent a week with Dr. Cliff Shipley traveling in Missouri and South Dakota, learning about laparoscopic artificial insemination in small ruminants: deer, mule deer, white-tail deer. My plans are for this to be a small business for me on the side, this small ruminant business.
PD: Large Swine Farm; PhD: Swine Influenza
In these last few weeks during the professional development period, I did a rotation with the Hord Family Farms in Bucyrus, Ohio. It's a large swine operation, and a recent graduate of Illinois is the herd veterinarian.
This fall I'm going to start my PhD program at Vet Med with Dr. James Lowe, researching influenza A in swine. I believe I was accepted at seven schools, but I chose U of I because it's my in-state school and I've really enjoyed my time there.
Where do I see myself five years from now? Well, I think my PhD program is supposed to last 3½ years, so hopefully I'm not still at school!
Research to Improve Animal, Human Health
I'm really interested in using animals as human models for disease, so I'm hoping my research will advance human medicine as well. The first two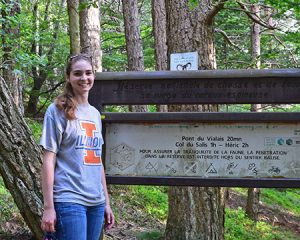 summers during my veterinary degree I did research. I spent one summer doing wildlife parasitology research in Lyon, France (see photo at right), with the Merial Veterinary Scholars Program, and the next summer at Vet Med using mice as human models for endocrine disrupting particles and chemicals (the featured photo at top shows her presenting this research). It was inspiring to see the impact we were having on human medicine, so I'm hoping I will be able to continue with research that improves not only animal health, but human health as well.
I'm excited to graduate, but I've always been kind of a forward thinker. So I'm like, "OK, I've made it this far. Now what? What's next? What's the next thing I can do or learn? What's my next goal?"
As told to Jim McFarlin