Getting Fido from Fat to Fit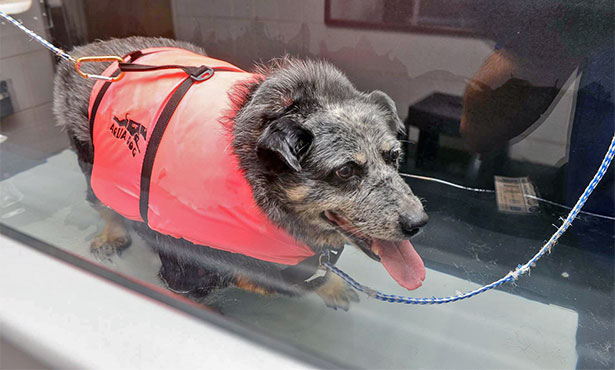 Shape Up, Pup! focuses on portion control, exercise
In the United States, more than two-thirds of adults are considered to be overweight or obese, according to the National Institutes of Health. Unfortunately, our pets are not far behind: last year the Association for Pet Obesity Prevention released data showing that 58 percent of cats and 54 percent of dogs are overweight or obese.
As in people, extra weight in pets contributes to numerous health problems. Ignoring a pet's round shape is not a responsible option.
"Many dogs that are overweight also have arthritis, heart disease, skin disease, or other weight-related problems," says Kim Knap, a certified veterinary technician, certified canine rehabilitation practitioner, and rehabilitation specialist at the University of Illinois Veterinary Teaching Hospital in Urbana.
While most of Knap's animal patients are recovering from a surgery or injury, she also runs the Shape Up, Pup! exercise and weight loss program for dogs. Whether the patient's goal is recovery, weight loss, or conditioning, Knap develops a personalized treatment plan for each patient.
"I see four to eight patients a week for weight loss-related rehab sessions," says Knap.
Some are referred to Knap's program by their veterinarian, while others are brought in by owners who realize they need help keeping their pets' weight in check.
"A large part of what I do is counsel owners and adjust for success. By the time owners come to me, they have usually tried other things without success," says Knap.
"Diets often have a high failure rate, both for people and for pets, due to lack of compliance. With our program the accountability of the client to us and our support often makes a difference in the overall success."
The Shape Up, Pup! program has about a 75 percent success rate, according to Knap, with failures usually resulting from diet and exercise plans not being adhered to.
"We assess each patient and develop a treatment plan that takes into consideration breed, size, lifestyle, and health conditions," says Knap.
"Exercise sessions at the clinic can include anything from land and underwater treadmills and walking up and down the stairs to playing fetch or just going for walks, depending on the needs and the level of fitness of the patient," says Knap. A number of the exercises used for weight loss patients are the same as those used for animals undergoing rehabilitation.
In addition to exercise sessions in the clinic, each client is given a set of exercises to do at home with their pet, tailored to the dog's situation. These exercises may range from playing fetch and taking walks to having the dog swim or use a home treadmill.
Sometimes specialty foods are used to help limit calorie intake for overweight patients. However, the main focus of the Shape Up, Pup! program is on portion control and exercise.
Knap says that she spends a great deal of time finding out what the patient eats at home and the amount of exercise it usually gets. She then calculates how many calories the pet needs per day and adjusts the diet accordingly. With slight adjustments and frequent rechecks, Knap and her colleagues can make sure that each pet is losing weight at a safe and steady rate.
"Again, a very large part of what we do is counseling owners and supporting the lifestyle changes that need to be made for the health and happiness of their pets," says Knap.
For more information about pet weight loss and the Shape Up, Pup! program, visit the Veterinary Teaching Hospital website. Before starting your pet on a weight loss routine, consult your veterinarian for advice and limitations specific to your pet.
By Gina Vecere